EVOLVEO Armor POWER 6A, outdoor Bluetooth loudspeaker
Waterproof active loudspeaker, 6–9 h battery life, 30 W, Bluetooth 4.2, power bank feature
30 W outdoor Bluetooth loudspeaker


The EVOLVEO Armor POWER 6A is a smaller version of the original EVOLVEO Armor POWER 6. The product is equipped with a power bank feature and two active loudspeakers with a total maximum power of 30 W and a 2000 mAH battery. The robust, profiled body is IPX5 certified and can withstand spraying water and rain for maximum protection in bad conditions during everyday use.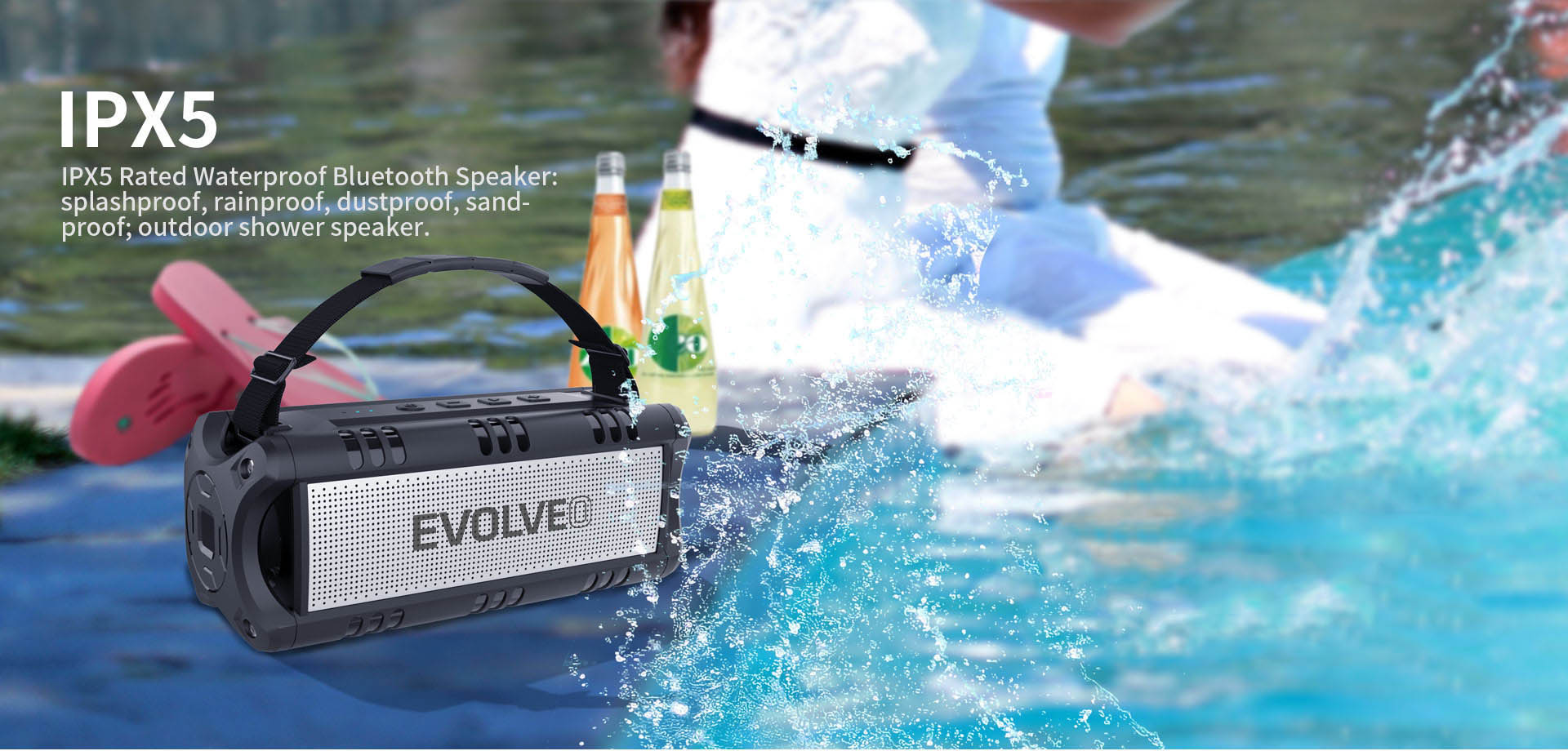 Passive subwoofers

The two active loudspeakers and two passive subwoofers provide a full and powerful sound for you to enjoy at home, in your garden, at a party, or out in the countryside.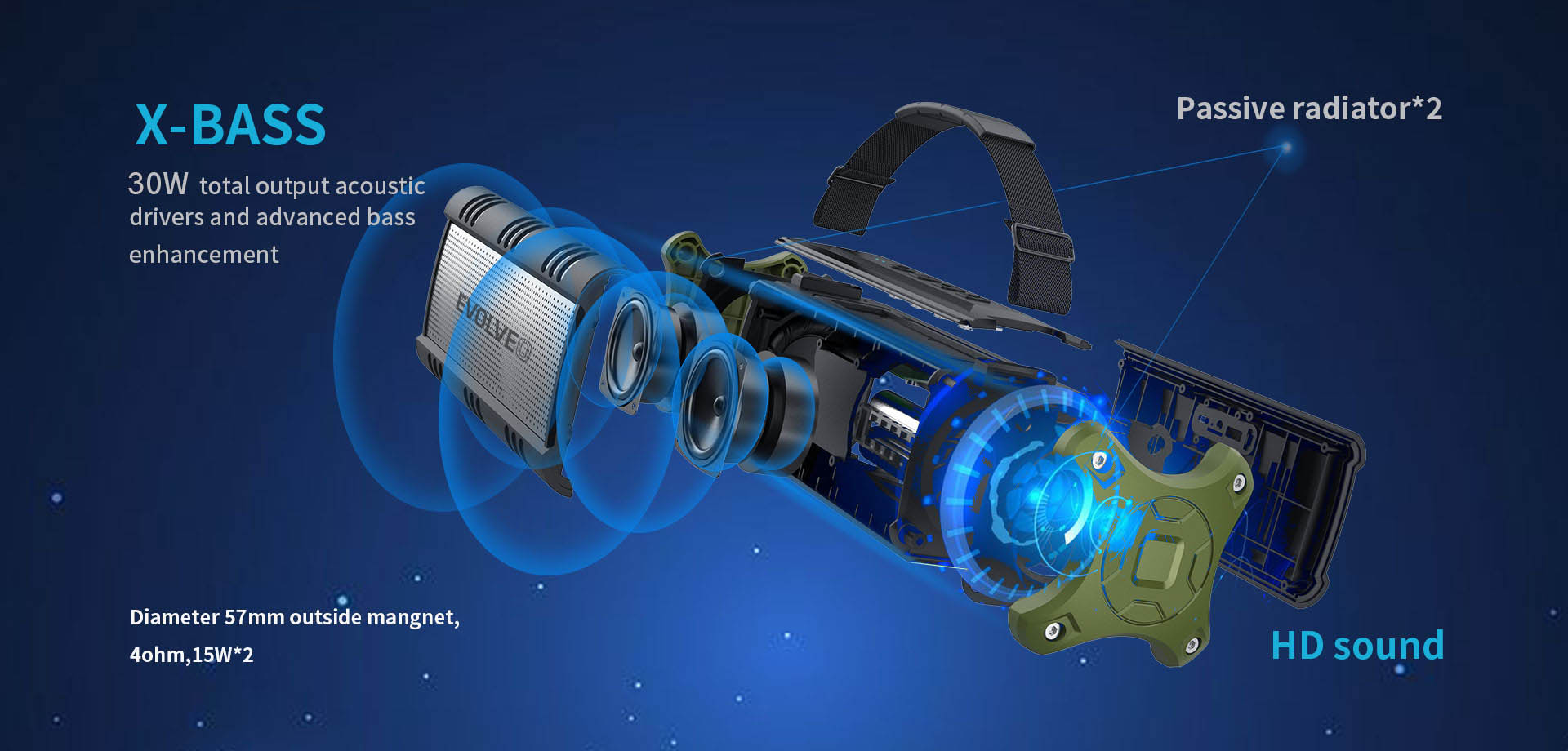 True Wireless Stereo

The loudspeaker supports TWS (True Wireless Stereo) technology, allowing you to connect two loudspeakers in a stereo mode. This way you get twice the power – in stereo quality – for a perfect sound in large spaces or outdoors.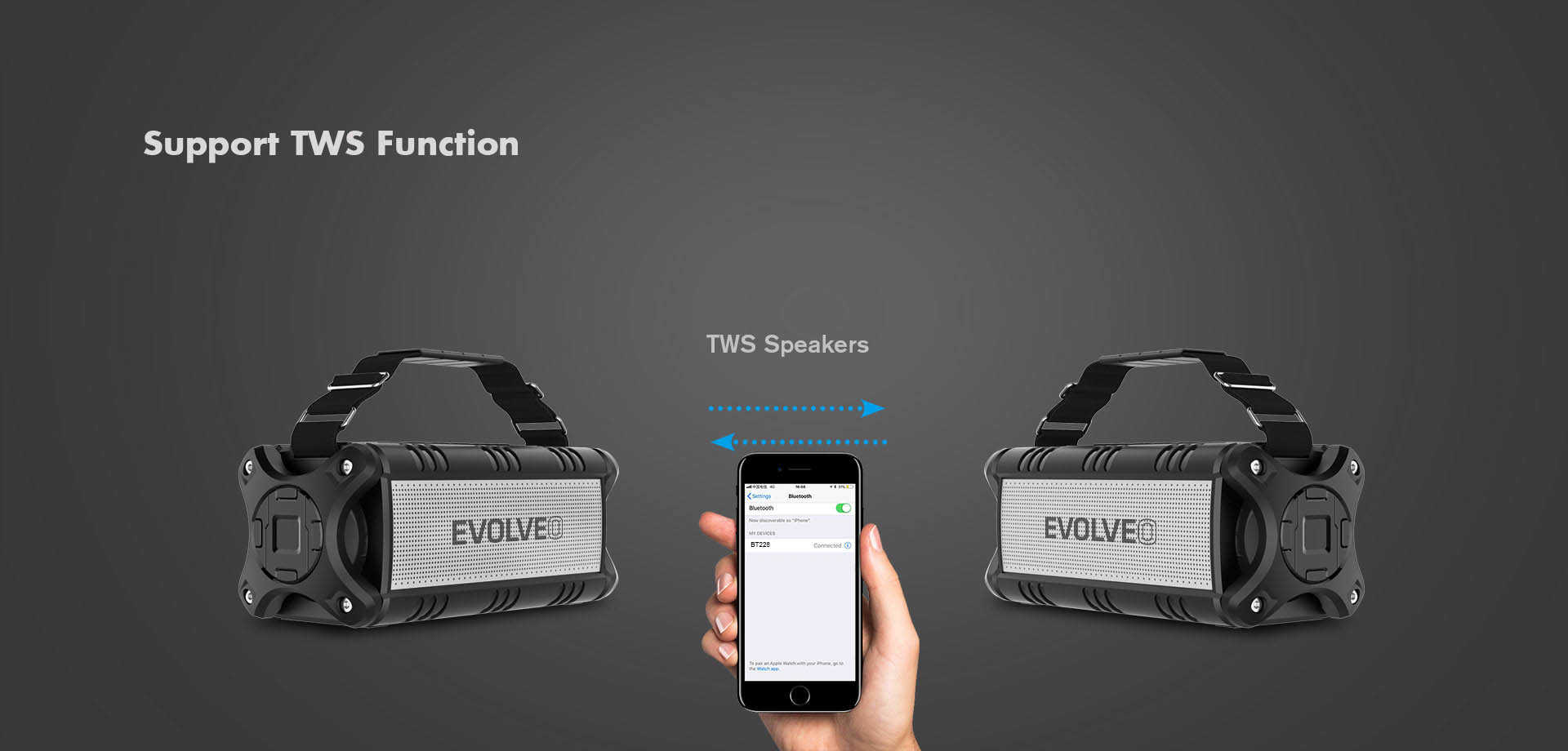 Intuitive control

Intuitive controls are located on top of the device. The large buttons allow full control of the device, while the LEDs indicate battery capacity and loudspeaker status. The loudspeaker can be connected to the music source via Bluetooth 4.2, by cable through the 3.5mm AUX input, through the MicroSD slot with a memory card, or through the USB connector with a flash drive. The loudspeaker gives you fast and easy pairing with mobile phones, and supports most Android, Windows and Apple iOS devices using Bluetooth technology.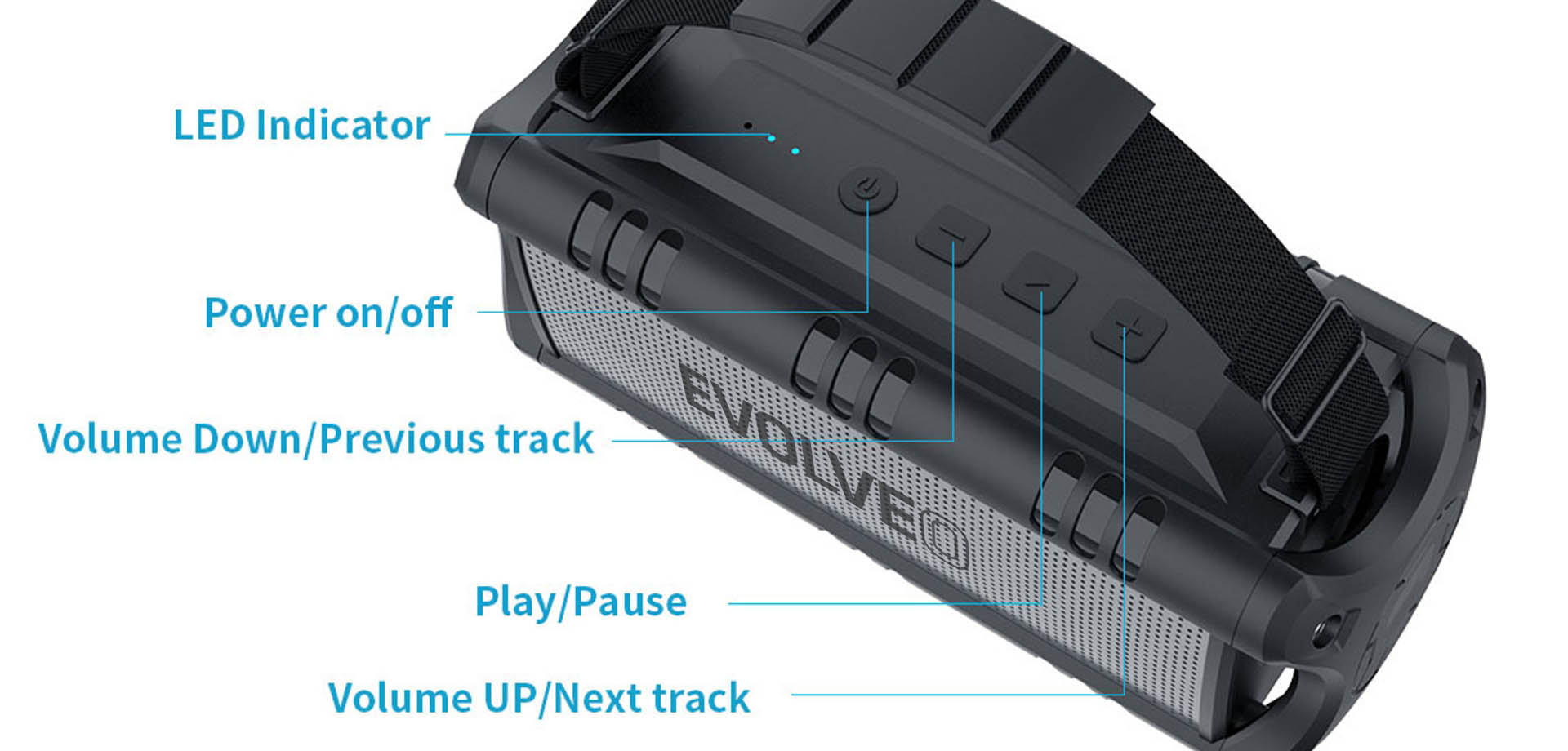 Specifications:

• maximum output power: 30 W (2x 15 W)
• power bank feature
• two passive subwoofers
• supports TWS (True Wireless Stereo), DSP
• power bank feature
• resistant against low-pressure water jet spray, IPX5 certified
• Bluetooth hands-free calling
• battery: 2000 mAh/7.2 V
• Bluetooth 4.2 EDR, supports A2DP V1.2 and AVRCOV 1.4 profiles
• reverse compatibility with older Bluetooth versions: 2.0, 3.0, 4.0 and 4.1
• Bluetooth range up to 15 metres
• supports USB flash drives, 3.5 mm AUX input
• music format: MP3, WAV, WMA, APE, FLAC
• USB-C charging connector
• device play time: 6–9 hours
• Charging time: 4–5 hours
• Weight 1240 g
• Product dimensions: 251 x 95 x 95 mm
Package contents

• EVOLVEO Armor POWER 6A, Bluetooth loudspeaker
• AUX-in cable (3.5 mm)
• USB type C charging cable
• User manual
Be the first who will post an article to this item!
T
Tomáš P.
Parádní reprodruktor v dané cenové kategorii převyšujíc konkurenční výrobky! Má příjemný zvuk při zapínání i při připojení telefonu. Nijak nerušivý, jako je tomu například u JBL či Lamaxu, zde jsou ty zvuky opravdu rušivě výrazné (alespoň co se týče modelů Sounder SO-1 a Solitaire 1). Kryté membrány oproti mechanickému poškození a vypadá i poměrně bytelně. Myslím že za cenu 1200Kč neseženete lepšího hudebního parťáka, kterému nevadí trocha toho vlhka a nemusíte se bát že by jste mu nějak mechanicky poškodily membrány.