EVOLVEO FitBand B5, GPS fitness bracelet with swimming, blood pressure and heart rate measurement
OLED colour display, active GPS, waterproof according to IP68, blood pressure and heart rate monitor, calorie tracker, pedometer, sleep quality monitor, smart notifications, weather forecast, quiet night-mode, localised in Czech and Slovak
Elegant fitness armband for all-day use, ideal for athletes
Set activity-based and sports goals and track your progress with EVOLVEO FitBand B5! The armband will record your footsteps, burned calories, walked kilometres, total activities in time, and the quality of your sleep.
24-hour heart rate and sleep monitoring, and using comprehensive data analysis it will help you adopt a healthier lifestyle. With its 26-gram weight and slim design, you will not even notice it.
Your 24/7 helper
The fitness armband can be wirelessly connected to your phone and set to vibrate to indicate incoming calls, text messages, and app notifications (Facebook, WhatsApp, LinkedIn, Instagram, Twitter) on the large OLED display. You can choose which notifications you want to see and which to ignore.
Be active in every situation.
Whether you are a fan of cycling, running or just taking long walks, the fitness armband will provide you with concise data to motivate you towards better performances! The EVOLVEO FitBand B5 is waterproof according to the IP68 standard, so it is also suitable for swimmers.
Leave your phone at home
The integrated GPS module makes the tracking of outdoor activities even more precise, without having to connect the armband to your mobile phone. You will be able to view your route, total distance, average and current speed, calculate your aerobic zones, and much more.
Mobile app for Android or iOS
Scan the QR code using your mobile phone and you will be redirected to the app download page.

Main benefits of the EVOLVEO FitBand B5
includes active GPS module
tracking 24/7
direct blood pressure and heart rate measurement
clear, colour OLED display
notifications about incoming calls, text messages, Messenger, etc.
localised in Czech and Slovak
Functions
Time and date display
Pedometer
Calories burned calculator
Activity challenges
Automatic activity tracking 24/7
Sports activities: outdoor exercise, cycling, indoor exercise
Aerobic zone calculation
Dynamic heart rate monitoring
Blood pressure monitoring
Automatic sleep monitoring
Notifications about incoming calls/messages
Anti-lost function for your phone
Smart notifications from social media (selected apps)
Weather forecast
Activation by your wrist movement
Remote control of the camera shutter on your mobile phone
Vibrations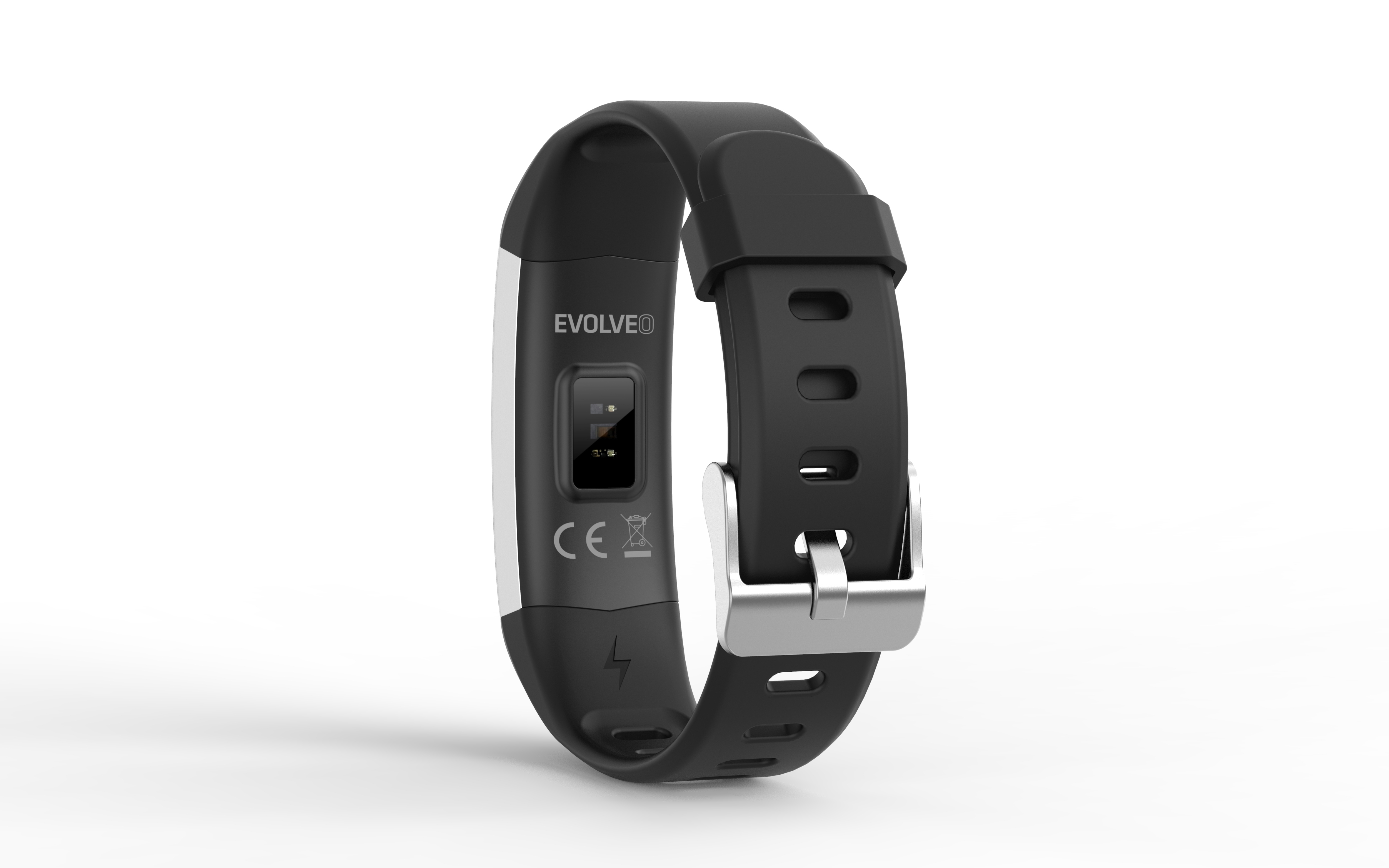 Parameters:
The body of the device is made of ABC polymer and polycarbonate
The band is made of TPU (thermoplastic polyurethane)
Universal band size
Suitable for men and women (unisex)
OLED display size: 2.44 cm (0.96")
Display resolution: 80 × 160 px
Controlled using a single touch button (confirm/hold)
Integrated GPS module
Integrated 120 mAh Li-Pol battery
Standby period up to 15 days
Information saved for up to 7 days
Waterproof according to the IP68 standard
Bluetooth 4.0
Bluetooth range 8–10 metres
Colour: black
Weight: 26 g
USB charging – no need to use an external cable
System requirements for mobile phone
Android 5.1 or higher
iOS 8 or higher The EVOLVEO Fit app is localised in Czech and Slovak
Package includes
EVOLVEO FitBand B5 fitness armband
User manual
E
text message
EVOLVEO
Hello, can I view incoming texts on the armband?
SE
text message
SERVIS EVOLVEO
Hello, can I view incoming texts on the armband?
E
GPS
EVOLVEO
Hello, does the armband have integrated GPS, or use the phone's one? Thank you.
E
GPS
EVOLVEO
Hello, GPS is integrated into the armband.
E
Alarm
EVOLVEO
Does the device support an alarm clock feature, ideally with vibration?
E
Alarm
EVOLVEO
Hello, the band supports an alarm feature. The band will start vibrating when the alarm goes off.
E
Sports
EVOLVEO
Hi, does the armband have any sports features? Like jogging or cycling?
E
Sports
EVOLVEO
Hello, the armband contains indoor and outdoor sports activities, cycling and swimming.
E
How can I connect the fitness armband/watch to the Google Fit app?
EVOLVEO
Start by installing the EVOLVEO Fit app and then follow the pairing instructions for your watch/armband. The next step involves installing the Google Fit app. Open the EVOLVEO Fit app, go to Settings > "More settings", activate "Connect to Google Fit" and select your Google account. Your watch/armband is now logged into the Google Fit application.
Be the first who will post an article to this item!