EVOLVEO FreeTalk XM2, set of 2 walkie-talkies with a dual charging base
supplied with rechargeable batteries, large display, range of up to 8 km in open space, power 0.5 W, PMR 446 standard, VOX, CALL, Roger beep, CTCSS, integrated LED, army camouflage design
Effective communication without fees


The set of two EVOLVEO FreeTalk XM2 walkie-talkies is supplied with rechargeable batteries and a convenient charging stand. The set is perfect for adventurers, hunters, and athletes, for fun and for serious occupational pursuits.
Comfortable switching between the 8 channels, volume regulation, and practical flashlights make these walkie-talkies as effective as can be – everywhere you go. The walkie-talkies have a monitoring channel and a large clear display for data viewing.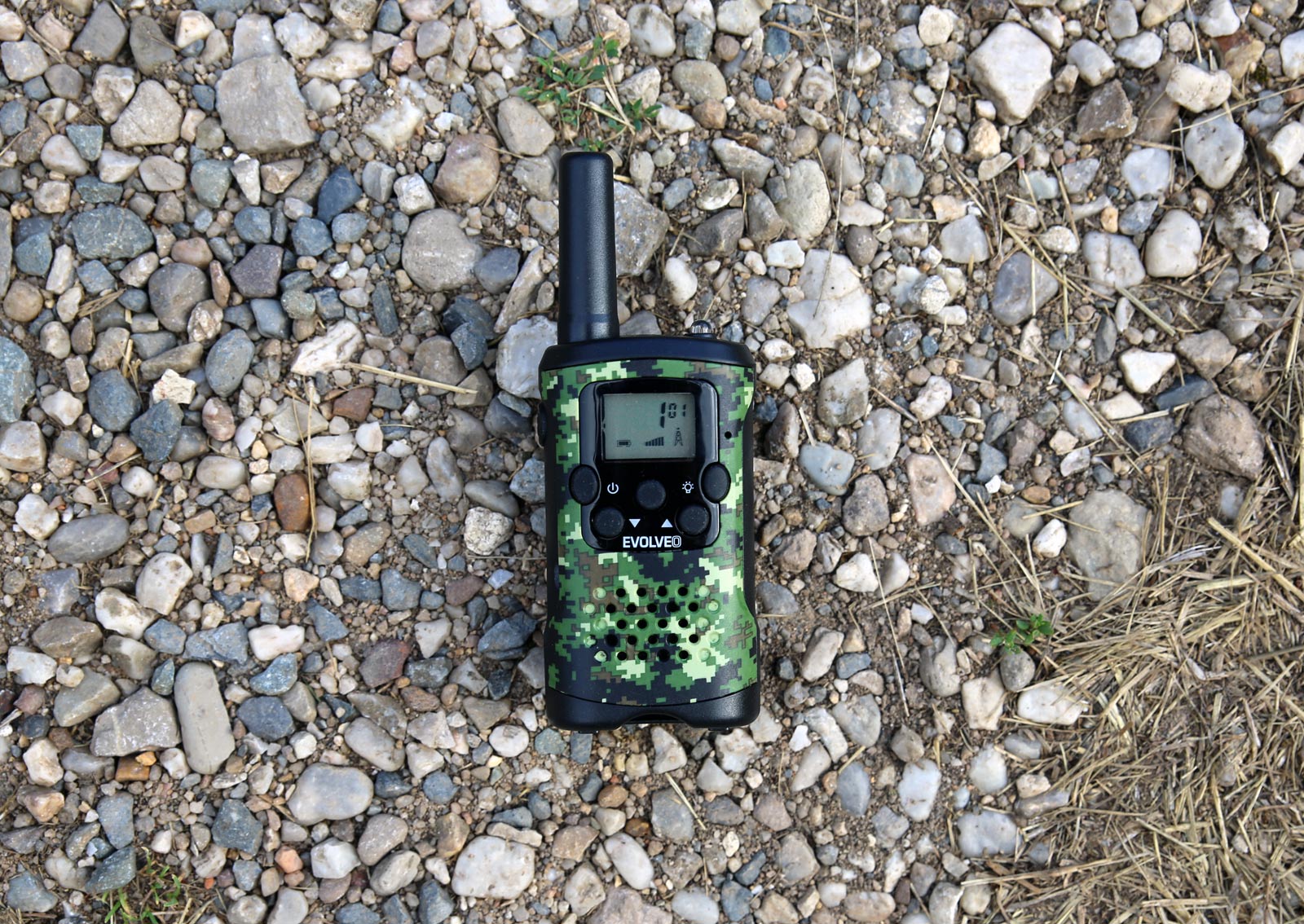 • reliable communication with all PMR446 walkie-talkies
• free connection also abroad
• up to 8 km range – based on battery status, weather, surroundings and obstacles
• large backlit LCD display
• integrated LED light
• 8 channels, frequency 446 MHz
• power output 0.5 W
• rechargeable 800 mAh batteries included
• convenient charging station
• 10 ringtones
• colour: army camouflage



• volume control
• 38 CTCSS subchannels
• VOX mode – activated automatically by voice (3 levels)
• CALL function – 10 calling tones
• confirmation signal/Roger beep
• automatic suppression of ambient noise
• push-button sounds
• channel scanning
• current channel monitoring
• push-button locking
• battery status indicator
• can be attached to a belt


Package contents

• 2x EVOLVEO FreeTalk XM2
• set of rechargeable Ni-MH batteries, 2x
• charging station
• power source 230 V
• 2x belt clip
• user manual
Be the first who will post an article to this item!
MV
Michal Vojtíšek
Top na hraní s kamarády to stačí takhle nejsou to nejlepší vysílačky světa ale hodnocení 1 19/20
RŠ
Roman Škoda
Dárek pro syna super
JŠ
Jaromír Švenda
super
MP
Michal Pražák
Koupeno jako dárek pro děti. Plně vyhovuje.
MŠ
Martin Švanda
Zkoušeno zatím doma , vše funguje jak má.
MD
Martina Davidová
Děti naprosto nadšené,uváděna vzdálenost zatím nevyzkoušená..nicméně prozatím splňují vše,co jsme očekávali.
VF
Věra Fialova
Spokojenost po všech stranách. Rychle dodání, vše v pořádku.
VO
Vítězslav Otto
Bude to dárek tak zatím nevím, ale doba dodání super ????
VK
Veronika Kotrbova
Zatím nemohu hodnotit, bude to dárek od Ježíška ????
VM
Vlastimil Mátl
Spokojenost, fungují velmi dobře, rychlé dodání i v tomto předvánočním čase.
LŠ
Libuše Štechová
spokojenost, vše dorazilo v pořádku a rychle.
MS
Marián Segeč
Dodáni ok,vánočni dárek tak se uvidí.
MP
Michaela Posova
Rychle doručení, spokojenost i s výrobkem.
FB
František Boček
Spokojenost
MD
Martin Dvořák
Dobrá cena, kvalitní zpracování. Spokojenost.
JM
Jana Mocová
Rychlé doručení. Vánoční dárek.
ON
Oldřich Novák
Jsou malé což je super...dětem se budou dobře držet. Odskoušeny - fungují.
IS
Ing. Monika Schwarzová
Zatím zkoušeno doma, bude to dárek, líbí se mi.
SP
Stanislav Patejdl
Zatím nerozbaleno, jedná se o vánoční dárek. Jinak doručení rychlé a v pořádku.
PH
Petr Hlava
Rychlé dodání. Po rozbalení zjištěn jeden vadně vylisovaný kryt a jedna z vysílaček by tak byla nepoužitelná, i když jinak fungovala. Řešeno e-mailovou reklamací. Stačilo foto. Následovalo EXTRÉMNĚ RYCHLÉ dodání (20 hodin) vadného dílu - přes celou republiku. Po prvotním vyzkoušení se jeví jako kvalitní. Zvuk jasný a čistý. Kladně hodnotím i možnost scanování pásma a rozměry. Dosah nebyl zkoušen.
TF
Tomáš Forgo
Zatím vyzkoušeno jen doma. Jinak velmi rychle dodání super.
SO
Soňa Ondečková
Je to dárek, uvidíme až se rozbalí a vyzkouší. ????
MN
Michal Nosek
Odzkoušené pouze doma. Fungují prozatím skvěle. Dobrá velikost pro děti. Osvětlený displej, jednoduché ovládání.
ZV
Zdenek Vinař
Zatím jen vyzkoušené doma. Displej je hezky přehledný a je super, že jsou malé, tak je děti snadno udrží.
LD
Ludmila Donatova
Zatím nerozbaleno, objednávka a doručení velmi rychlé.
VR
Vladimír Raimr
Po dodání jsem vyzkoušel a funguje vše dobře.Tak již se těším na štědrý den na ty vykulený oči.
DO
Dagmar Ondřejová
Ještě nevíme čekáme na Ježíška,ale rychlost doručení byla neuvěřitelně rychlá na druhý den byl balíček doma
VH
Veronika Hanačíková
Zatím nerozbaleno. Vánoční dárek.
JP
Jana Prokopová
Perfektní.