EVOLVEO StrongVision 2GB, GSM/MMS Camera trap/time-lapse camera
Trail camera
2G
8 GB SD
MMS/Email, EVOLVEO Mail server
20 Mpix photos
57° camera lens
Time-lapse camera
Night photo and video
Full HD video
3× PIR sensor 120°
2.4" display
Supports microSD
8x AA battery
IP 65
Category

:

GSM hunting cameras
Baterie

:

8xAA
Dosvit

:

<25m
Externí napájení

:

12V
Lanový zámek

:

Ano (při použití s boxem)
Noční IR přísvit

:

940nm
Ochranný box

:

Ano
Podpora MMS/SMTP

:

Ano
Pohybový snímač

:

PIR
Přenos dat

:

2G/GSM
Rozlišení foto

:

20mpx
Rozlišení snímač

:

8mpx
Rozlišení video

:

FHD
SD karta typ

:

SD
SD karta velikost

:

64GB
Úhel snímání

:

120°
EAN

:

8595683201407
Obj.kód

:

SGV CAM-2GB
30 years of experience
We have 30 years of experience in the industry, which we use to develop and service our products.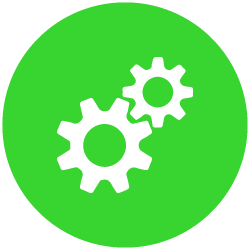 Largest selection of spare parts
As a manufacturer, we keep all the necessary spare parts in stock. We sell selected parts through our e-shop.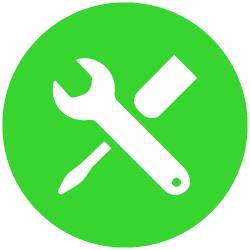 3-day service
We will handle the service request within 3 working days.
Trail/time-lapse camera GSM/MMS
A modern compact trail camera that will allow you to take pictures or record video with sound everywhere that a more traditional camera system cannot be used. Photos will be sent in MMS format to your mobile phone or e-mail. You can easily monitor all movement around your house, cabin, company building, warehouse, as well as construction site and remote areas (to track animals). If the camera detects any motion in its field of view, you will receive a notification MMS/e-mail with a photo. Recording is initiated and saved on an SD card if the camera detects motion, or it is done at set intervals.
Universal security camera
The photo trap can also be used universally to secure your property. Wherever you do not have a fixed internet connection for a regular camera system. For example, at your cottage to build a house, or as security for your garage. Whenever the camera detects movement it will notify you either in an email or MMS according to the settings you have chosen, and will also send you a picture of what is happening in front of the camera. Thanks to the integrated PIR sensors you will not miss any movement and the camera is activated only when it is needed, thus extending the battery life.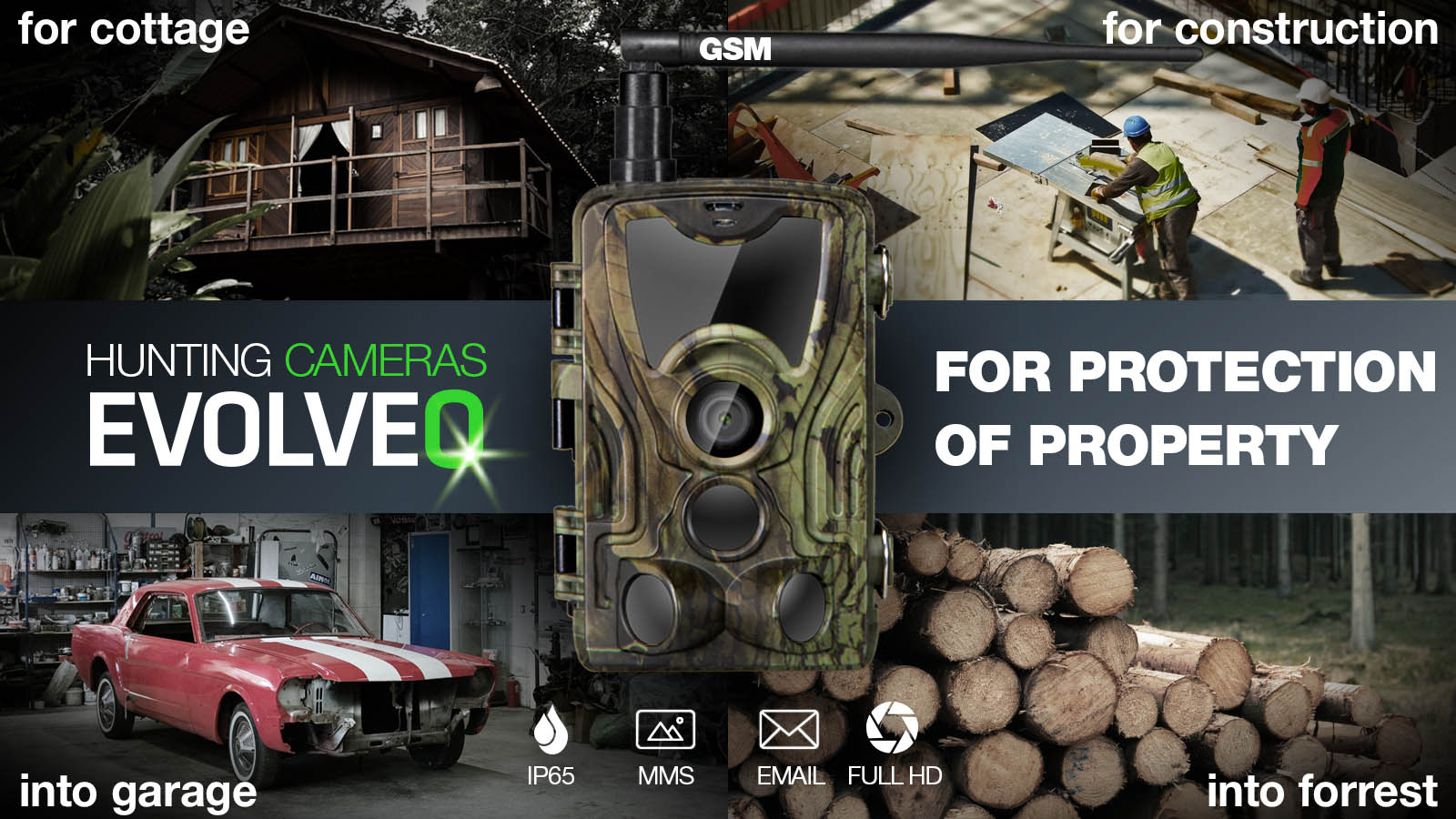 Benefits of the EVOLVEO outdoor camera
High-quality waterproof design with IP65 certification, receiving an MMS/e-mail every time the camera detects activity, easy installation on site, relocating the camera at any time, long battery life that can be extended by adding an external power source.
Evolveo Mail server
To make sending photos from the trail camera easier, we created the EVOLVEO Mail service for you, exclusively for the 2 GB model. Just enter your e-mail address in the EVOLVEO config app and receive photos from your camera. No password or username needed! Communication between the trail camera and our own mail server is 100% secure (located in Czech Republic in EU).
20 Mpx photography and Full HD video
The camera has a resolution up to 20 Mpx for photography and 1080p/30 fps for video, both in day and night modes. In photography mode pictures are snapped in a record time thanks to motion tracking.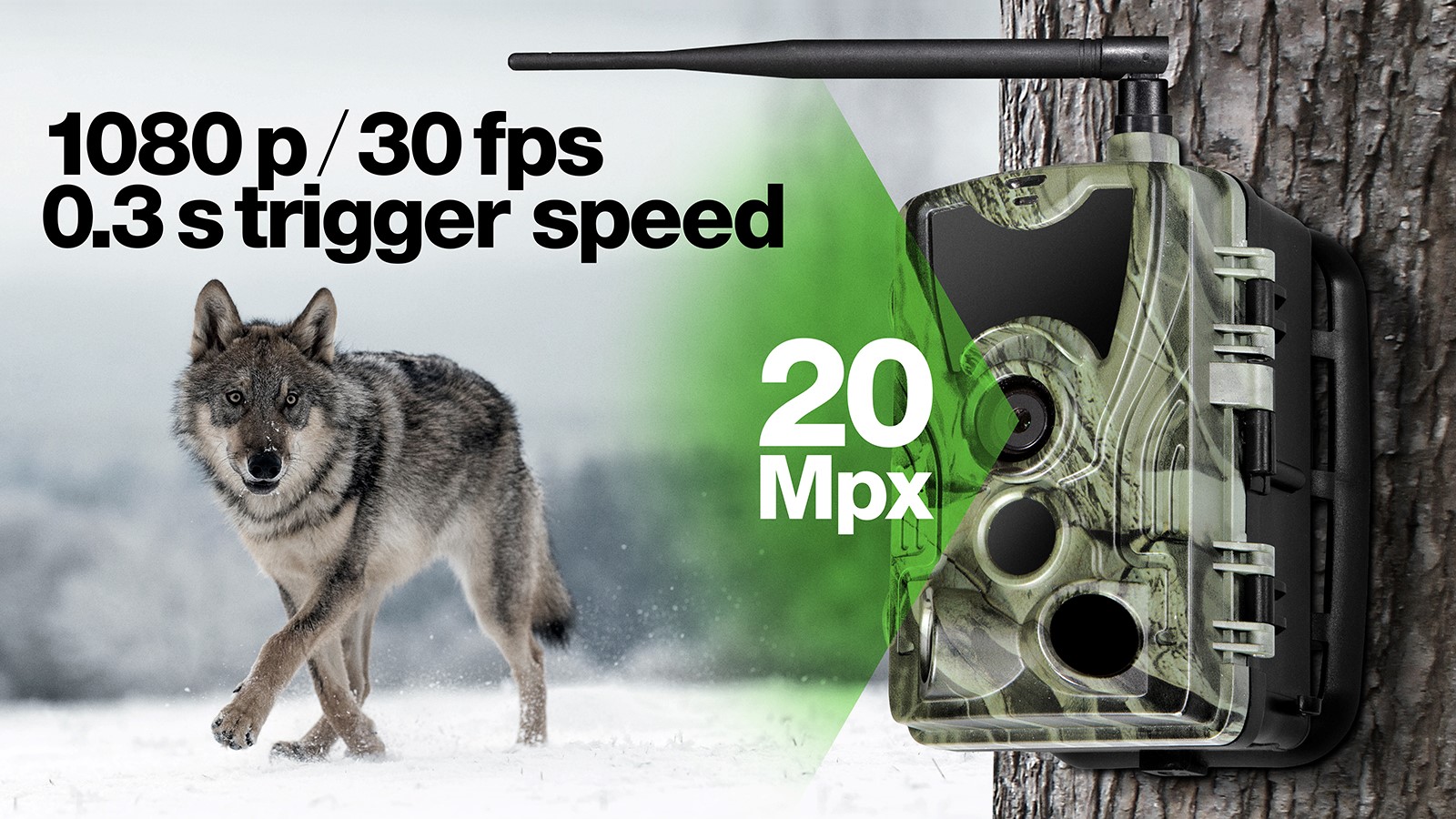 Time-lapse camera
The time-lapse mode allows you to create a photographic record without fuss, e.g. of a building project. Just set a time-lapse interval for the camera to snap a picture every 5, 3 or 60 minutes and save it onto the card.
Accessories
Accessories can not only help protect your camera, but also extend battery life by up to 100%.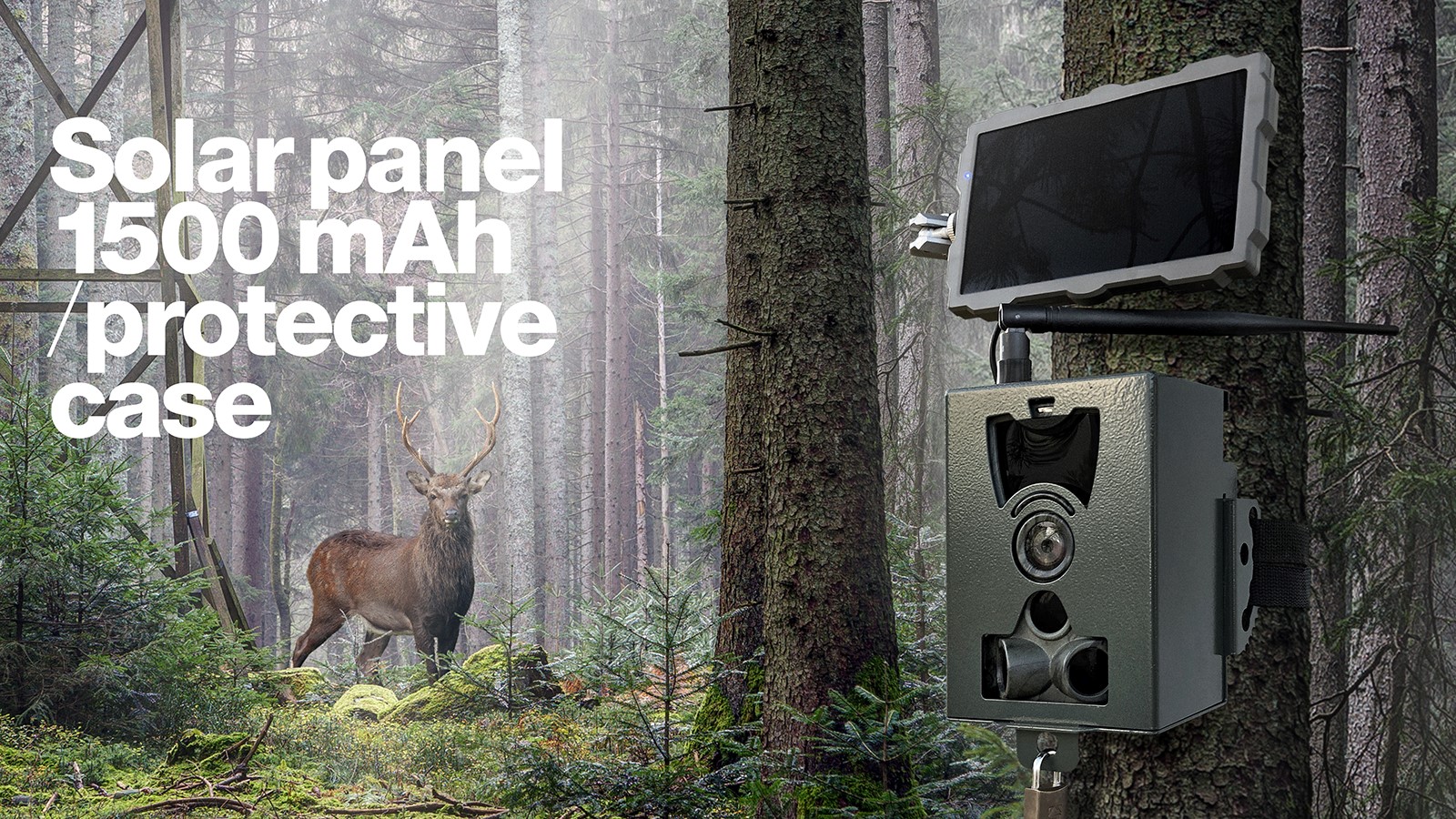 Choose accessories to add to the camera as required: a solar panel, for example, will extend the camera's operating time by up to 100%.
•Solar panel

To protect your trail camera from vandals or the elements, you can buy a lockable metal safety box
•Metal box
High-quality night photography and video with 120° motion tracking
Video can be recorded in Full HD quality, with 36 sensitive 940 nm infrared LED illuminators – invisible to the eyes of potential human intruders or passing game – for night photography or video. All motion in the field of view is tracked thanks to the camera's three 120° PIR detectors.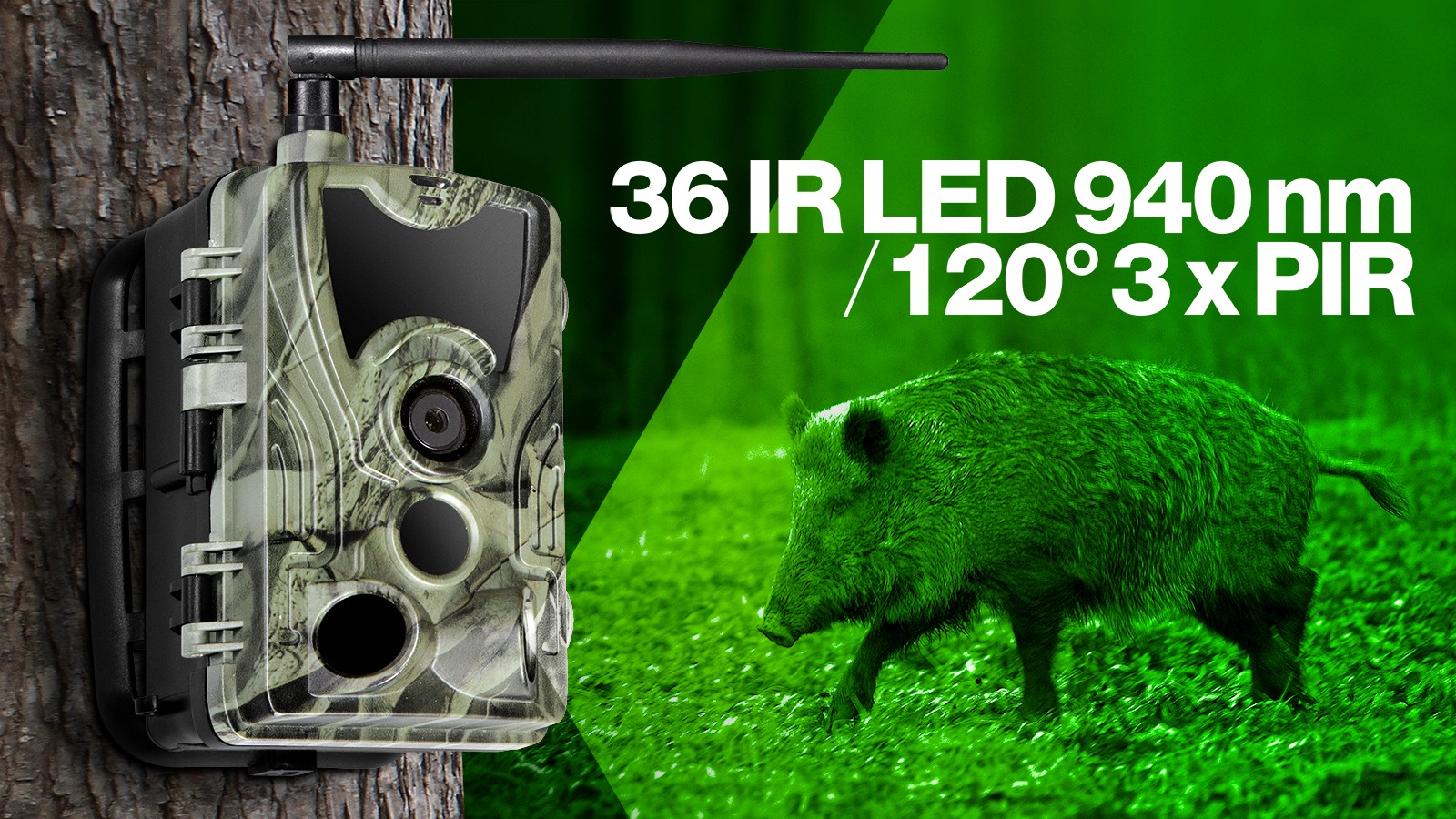 • The MMS/e-mails can be sent to several phone numbers or e-mails at once
• supports 2G GSM networks
• supports TLS 1.0/1.1 for SMTP
• waterproof design IP65
• photography resolution: 20 Mpx, 16 Mpx or 12 Mpx
• 120° camera lens
• 120° field of view
• activated by motion
• trigger reaction time 0.5 seconds
• suitable if you want to monitor motion around your property, including homes and cabins, company buildings, warehouses, construction sites and outdoor areas
• time-lapse camera
• infrared night vision
• 36x 940 nm infrared LEDs invisible to the human eye
• 25 m range of the infrared LEDs
• view your photos and videos on the camera display
• up to 32 GB of photos and videos saved onto the camera's microSD card
• video resolution (including sound): Full HD, HD or VGA
• colour photography in day mode, black and white photography in night mode
• clear 2.4" display
• multishot function: 1, 3, 6 or 9 photographs
• intervals of 1, 5, 10, 30 seconds or minutes
• video length of 10, 30, 60 or 90 seconds
• date, time, temperature and battery status included in every photograph
• four recording modes: photography, video, photo + video, time-lapse
• field of view 120°
• PIR detector range up to 25 metres
• PIN code protection available
• time-lapse recording in adjustable intervals
• time-lapse recording in intervals from 1 second to 30 minutes
• camera can be attached by straps or placed on a stand
• practical integrated lens cap for display protection
• operating temperature -20°C to +70°C
• separate battery box for protecting the electronics
• setting via an app for MS Windows (see the section "For download")
• outputs: AV output for TV, USB, microSD card, power source connector
• power: 4–8 AA batteries (not included) or external
• dimensions 135 x 90 x 76 mm
• weight 290 g (without batteries)


Package contents
• EVOLVEO StrongVision 2GB
• antenna
• 8 GB SD card
• tweezers for removing the SIM card
• fastening strap
• Micro SD card reader
• user manual
Be the first who will post an article to this item!
E
Low quality of incoming photos
EVOLVEO
Hello, I bought from you the trail camera EVOLVEO StrongVision 2GB. The camera works and send photos to my e-mail address, but their quality is very low, very pixelated, and they only have about 50 kb. But in fact I set a resolution of 16 MPx on the camera. I know that the photos sent to my e-mail will have a lower quality, but these 50 kb, pixelated photos seem very bad to me. Is there any way to improve the quality of incoming photos. Thank you for your answer.
SE
Low quality of incoming photos
SERVIS EVOLVEO
Hello, if you are referring to the photo size, the default setting has a smaller resolution to save data. You can adjust the size in the menu of your trail camera: Menu > Settings > Photo size. Have a nice day.
E
EVOLVEO StrongVision 2GB - SIM
EVOLVEO
Hello, I would like to know if I can also use SIM cards from other phone operators to have photos sent from this trail camera to my e-mail address? Or do I need to use the Kaktus one? Does the trail camera enable GPS tracking in the case of theft? Thank you.
SE
EVOLVEO StrongVision 2GB - SIM
SERVIS EVOLVEO
Hello, this model does not have GPS. You can use a SIM card from any mobile phone operator. The package includes a free Kaktus SIM card, allowing you to test all public functions for free.