Wireless camera system EVOLVEO Detective WN8 SMART
Camera system - FULL HD 1920×1080px
2Mpx CMOS Sensor in every camera
HDD format 3.5"/2.5" SATA
4x wireless camera with power adapter
ONVIF support for expansion
SMART app for iOS and Android in EN
iCMS application for Windows
connection via Ethernet
8 channels NVR unit - expandable by 4 more cameras
Factory preset - no need to pair
Category

:

SMART
EAN

:

8595683202831
Obj.kód

:

SEA DET-WNS
Waranty

:

24 months
CAMERA NETWORK IP SYSTEM
The 8 channel EVOLVEO Detective WN8 SMART camera system is the ideal solution for monitoring and security of your home, office, warehouse or business. You can use the system virtually anywhere thanks to wireless technology operating at 2.4GHz and its own private protocol. The range of the cameras is 15-25m from the main unit. In open space up to 50m - there must be no obstruction between the antenna of the main unit and the camera and no electronic interference in the vicinity. The cameras are preset and pre-paired with the NVR unit. You can use its clear image both day and night for protection and monitoring of your family home or business, as well as for surveillance of your shop or for surveillance of public spaces. All events are recorded directly to a hard drive that you insert into the main unit, so you are in full control of your data. You can access the recording using the mobile app for iOS and Android, or the iCMS program for OS WIndows. The recording can also be viewed on a monitor connected directly to the NVR unit via HDMI or VGA cable.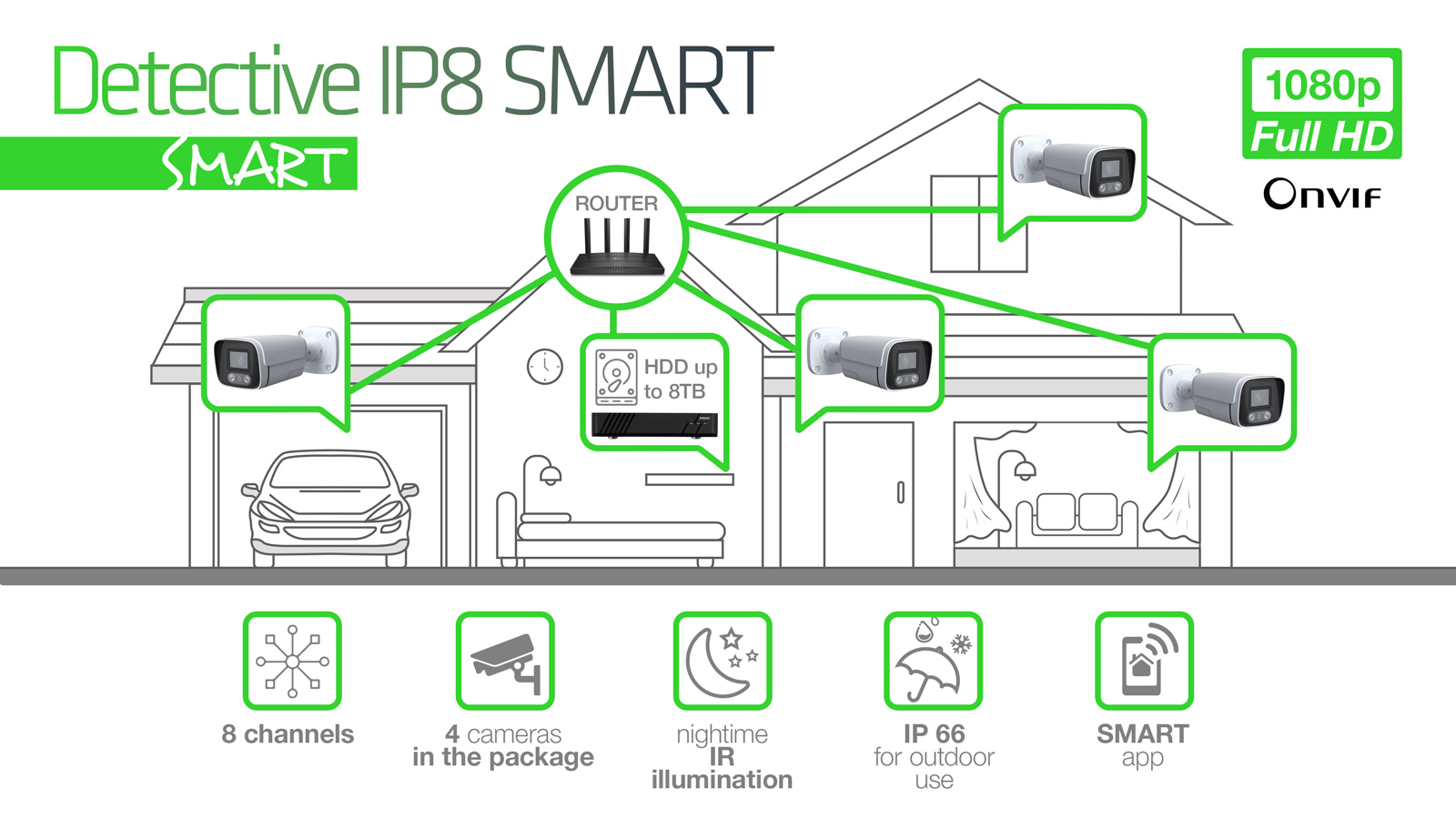 CONNECTION OPTIONS
If you already have IP cameras that support ONVIF and you need to unify the recording system and possibly provide access through the app, there is nothing easier than to add the cameras to the free channels EVOLVEO Detective WN8 SMART, just make sure that the cameras are on the same network as the NVR unit, then you just search for compatible devices, enter the password and the cameras are unified under one interface< including recording to the NVR unit's hard drive, so your footage remains safely stored on local storage.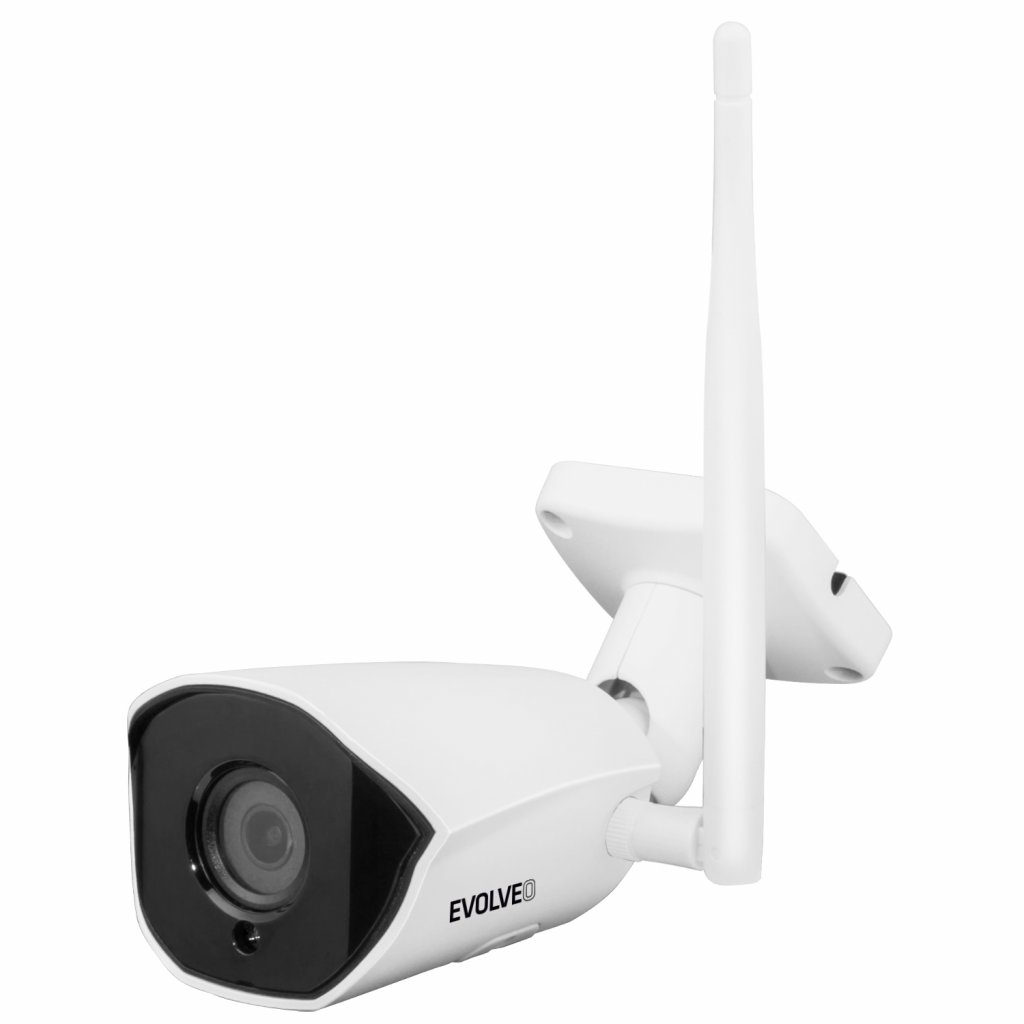 POWERING
Before the first start-up, it is enough to insert a disk into the device, which is not difficult a few screws to remove the cover and then insert the disk in the format of 3.5" or 2.5" can be handled by everyone, only a Phillips screwdriver is needed. Then just connect your mouse, monitor and network cable and you're ready to start setting up your computer. Detective WN8 SMART interface fully localized into English language is a matter of course. A step-by-step guide in English will guide you through the initial setup. The included cameras are already paired with the NVR unit, so you just need to mount them and connect the 230V power adapter.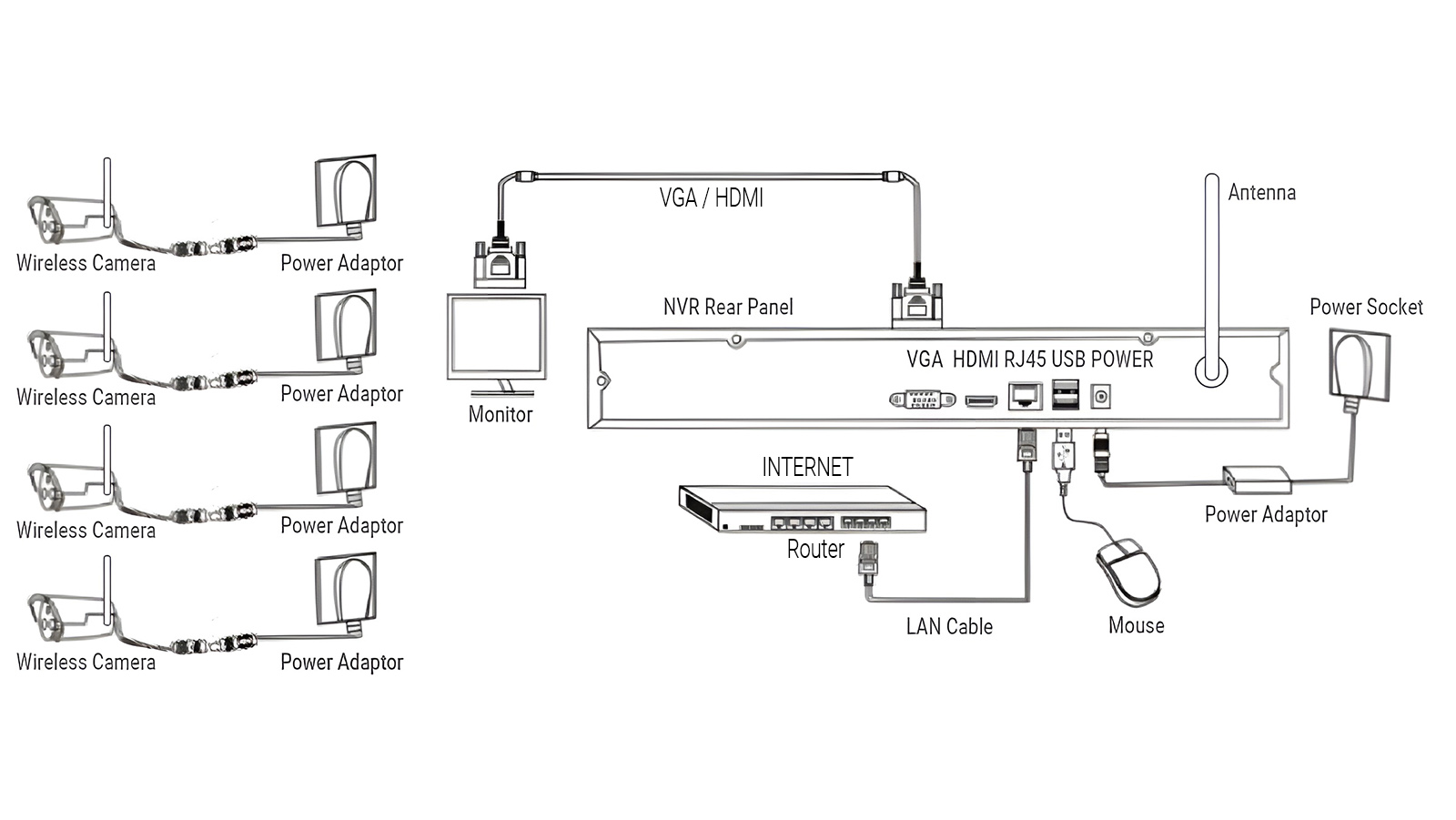 EXTENSION OF ADDITIONAL CAMERAS
If the basic 4 wireless cameras in the package are not enough, or if the camera design is not suitable. The EVOLVEO camera system can be expanded with additional cameras in Antivandal this is network only (needs cable). Or about the EVOLVEO Detective WIP 2M SMART, which is fully self-contained and supports ONVIF protocol to add it under one camera system in the network.

Thanks to the SMART solution, the device can be connected to other devices such as EVOLVEO ALARMEX PRO, where you can use the SMARTLIFE app's scenarios to link individual device functions to each other. All devices can be found in the category SMART.
8-channel Full HD NVR with wireless camera connectivity
4× outdoor all-metal camera - Additional ones can be purchased
Microphone for sound recording -not available for wireless camera
IR night light 850nm 24x IR LED

Dosvit IR 15-20m

1/2.9" 2Mp CMOS sensor
Lens f=4mm, fixed, horizontal angle 78°, vertical angle 49.5°
Full HD 1080p 30fps footage
H.265 record compression
Hisilicon

Hi3536DV100

USB mouse support (mouse included)

1× SATA 3.5" or 2.5" HDD bays - Up to 8TB
LAN, 2× USB, VGA, HDMI

Antenna for wireless transmission

Smartlife (Tuya) app in EN for iOS and Android

iCMS Program for Windows OS
Support Onvif protocol

Movement recognition from image

Cable IP Antivandal camera or wifi camera from the range EVOLVEO

Operating temperature-15°C/+50°C

Dimensions NVR WxHxD: 235x49x225mm

Camera dimensions WxHxD: 70x62x194mm, screw spacing for mounting 47x47mm

Weight of NVR without HDD: 720g

Max consumption of NVR without HDD: 24W

Max camera consumption: 12W

Without embedded HDD
Contents of the Package:
NVR unit with 8 channels, SATA connection for up to 8TB drive
4x Wireless Bullet IP66 Camera with Night Light
4x Antenna for wireless camera 2.4G 5db
1x DC 12V 2A power adapter for NVR
4x power adapter for cameras
4x camera mounting kit
4x bayonet sealing cap for RJ45 connector
1x Antenna for NVR unit
1xUSB mouse
1xSATA cable for HDD connection
1x User Manual
Be the first who will post an article to this item!
Be the first who will post an article to this item!