Wireless camera system EVOLVEO Detective BT4 SMART
Range up to 100m from base
5000mAh battery in each camera
32GB storage directly in homebase
Full HD 1080p recording
EVOLVEO smart product connects with other SMART devices
Bidirectional audio
Siren in every camera
EVOLVEO Detective BT4
Home security is becoming an integral part of all modern homes and apartments, but we don't always manage to plan a classic CCTV system right from the start, which needs network cables and sockets to operate. The EVOLVEO Detective BT4 is just such a solution, making installation easy and bringing the same features as a classic wired NVR system.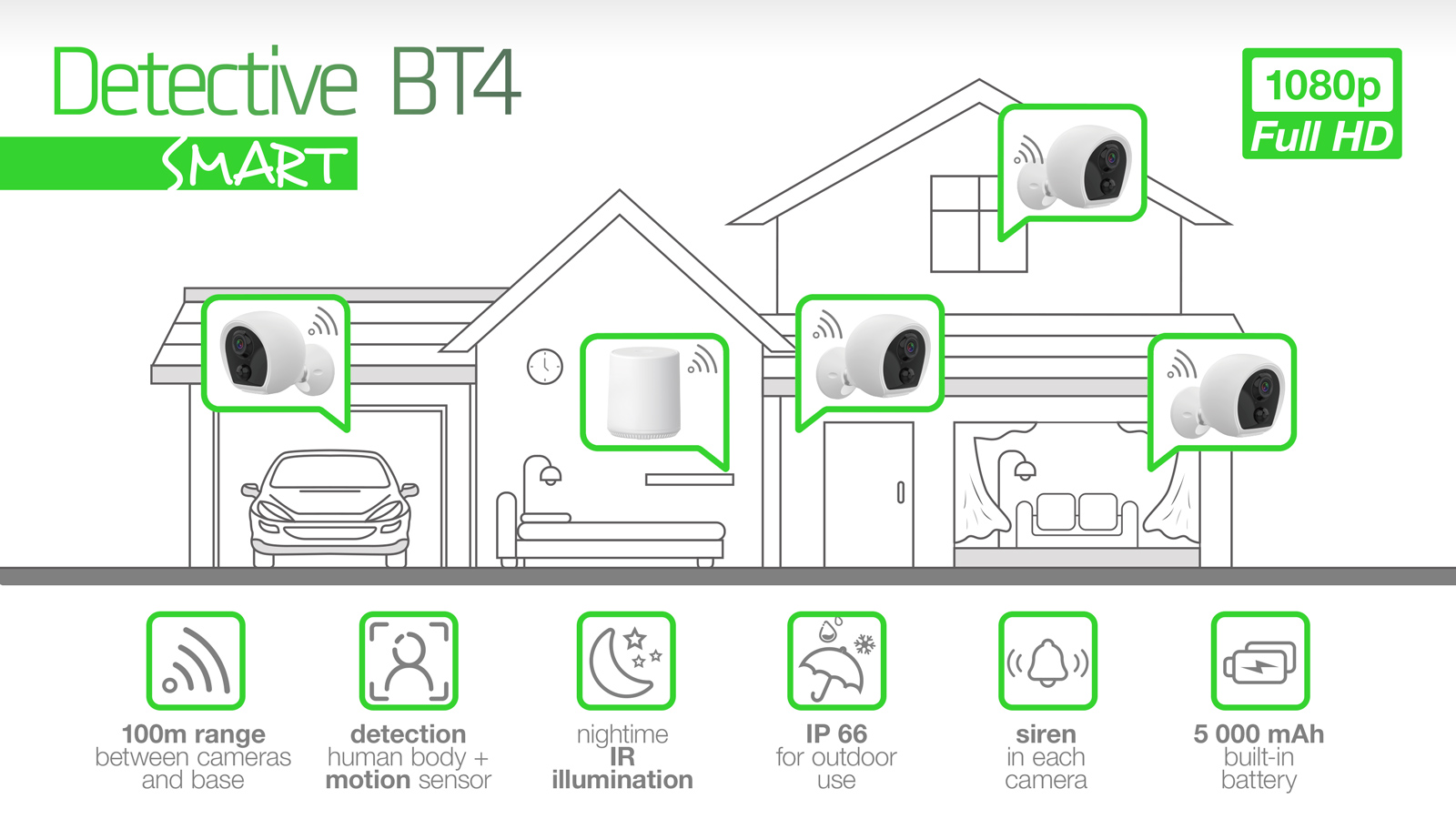 The entire system is based on proprietary wireless technology in the 2.4Ghz band, which is used for secure and stable transmission of images in FHD 1080p quality. The distance of individual cameras from the "HomeBase" can be up to 100m depending on the development and obstacles. All data is stored on 32GB storage directly in "HomeBase", where your data is safely stored. So whenever someone damages or steals your individual cameras, the footage will always be safe<nbsp; on EVOLVEO Detective BT4 storage.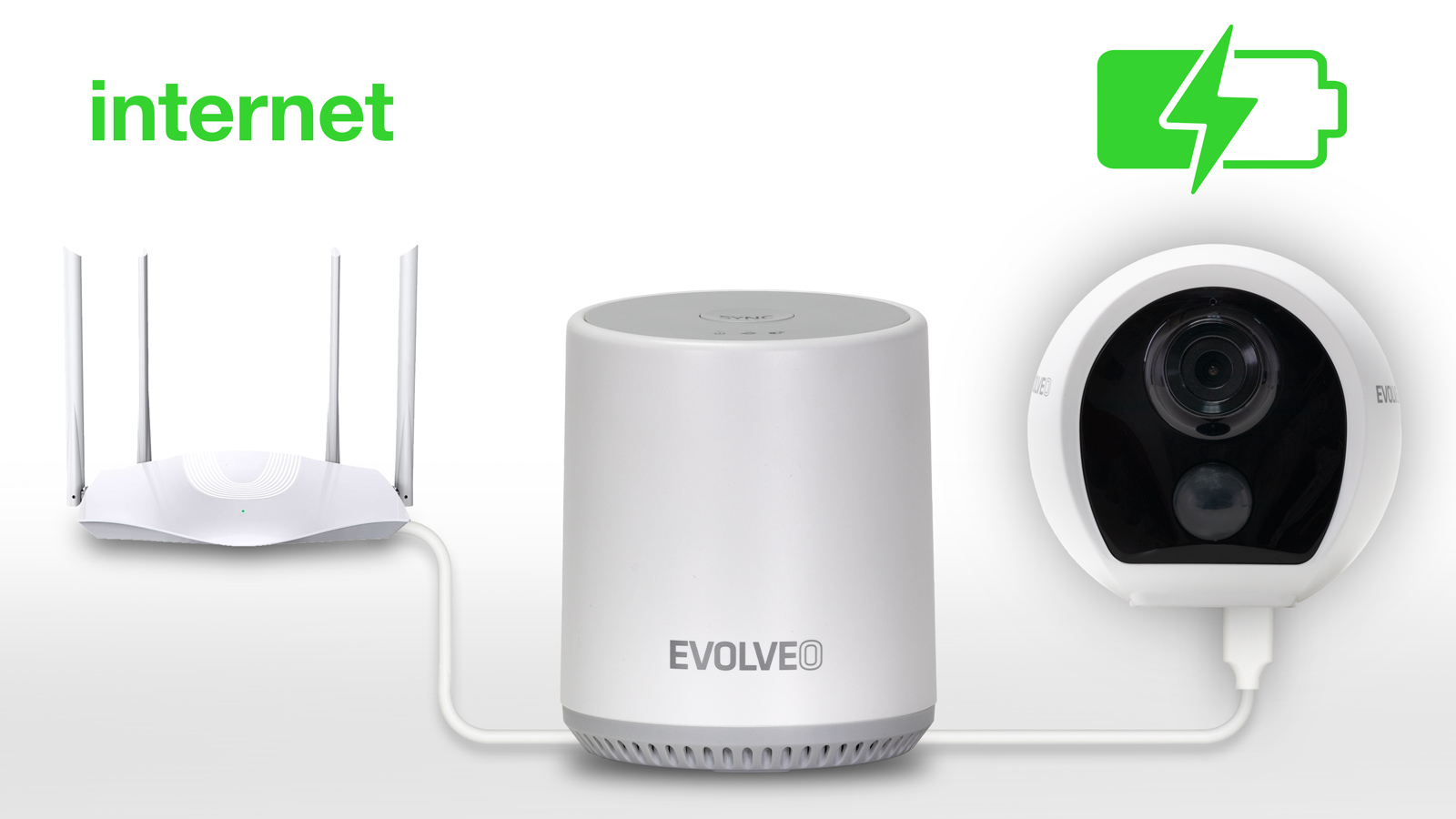 The camera then just needs to be charged before first use using the included USB-C cable plugged into the Homebase base. Each camera immediately pairs with the base and starts transmitting video as soon as it is turned on. If the two cameras included in the basic package are not enough, you can add additional EVOLVEO Detective BT1 cameras. Up to 4 separate cameras can be paired with the base. All information regarding setup and commissioning can be found in the user manual.
Each camera is equipped with two Li-Ion batteries with a total capacity of 5000 mAh, which will serve you for a long life on a single charge. In the app, you can set multiple modes of operation for each camera, which can extend the battery life by using a PIR motion sensor that activates recording when it detects motion. To avoid false notifications of motion detection, the Human Figure Detection Mode can be activated, where the camera starts recording only when a human enters the field of view, this mode is already more demanding in terms of power consumption, because the camera has to work for a longer time to recognize a moving object.
Once motion is detected, the camera captures footage that is stored on the HomeBase internal storage. You can access the recording using the app and view the individual recorded sequences using the Playback function, all clearly sorted by date and time of recording. Each camera is equipped with a 60db siren that can be set to activate whenever motion is detected.
| | |
| --- | --- |
| | The basic package includes a HomeBase with 32GB storage, two cameras and their accessories for easy installation. Connect HomeBase to your internet-connected router using the included 2m Ethernet cable and use the Smartlife app to add it to your smart home. Individual cameras are then easily attached using the OneClick Mount and a set of stickers for easy attachment anywhere on the wall, pergola beam or roof overhang.... |
Thanks to the Smartlife app, you can create scenarios where, based on the motion detection from the EVOLVEO Detective BT4, you can, for example, use the EVOLVEO Terra NV4 to trigger lighting, or activate an alarmEvolveo Alarmex Pro and its associated siren. The full range of EVOLVEO SMART products can be found here.
Packaging:
Homebase 32GB
2x Camera with PIR and 5000mAh battery
2x Camera holder
UTP Kabel
1x USB-C cable for charging cameras
Adapter
2x Set of dowels and screws
2x Sticker for easy drilling of mounting holes
Be the first who will post an article to this item!
Be the first who will post an article to this item!