EVOLVEO DoorPhone AP1- 2 wire video phone with app
Home videophone set
Connection only 2 wires
32GB of internal memory
7" Monitor s Wifi
Smart Life app (Tuya)
Remote opening of Doors, gates, gates
Lower design of the outdoor unit
Videophone EVOLVEO AP1 is a modern videophone with SMART LIFE application for remote management, Full HD video, a pair of relays for controlling the opening of the entrance gate and the entrance gate. Thanks to its simple wiring with only two wires, its installation can be done by anyone. In addition, the monitor is equipped with an internal 32GB memory for recording events in front of the camera, so you will not miss any mailman with a package.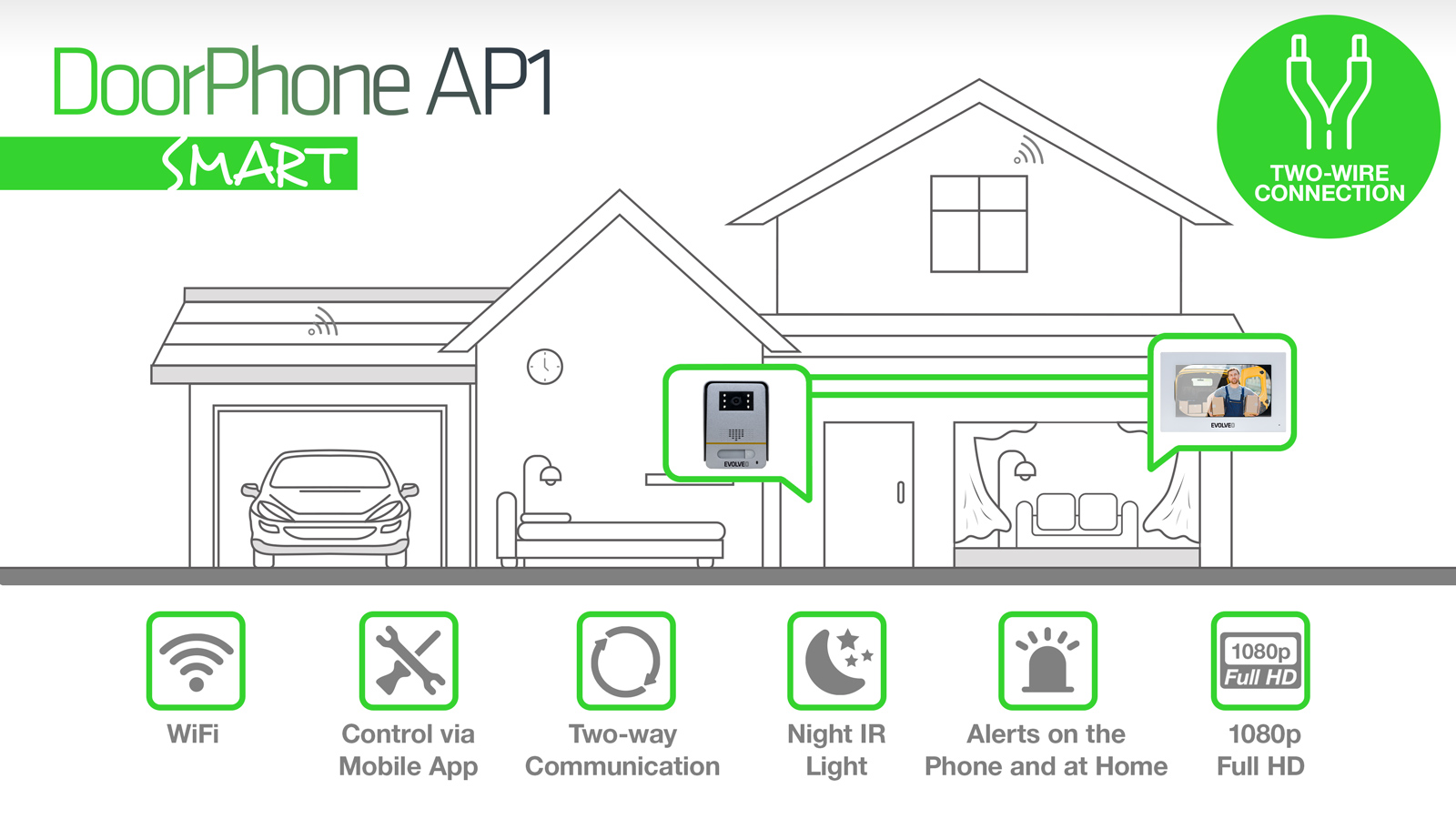 Only two wires are enough.
Installation has never been easier, only two wires are needed to connect the door unit and monitor. The video phone can also be connected to the original doorbell with a two-line cable. In addition, there is no need to watch the polarity of the wires, just use the prepared lever clamps and quickly connect everything. The power adapter plugs into the side of the monitor. Both the door unit and the monitor are designed for mounting on a standard KU68 installation box.
Quality durable design,
The door - outdoor unit with push button and camera is made of durable aluminium alloy. When properly mounted using the supplied gasket, the device achieves IP65 weather protection. The camera is equipped with night invisible illumination, so you can see who came to visit you at night.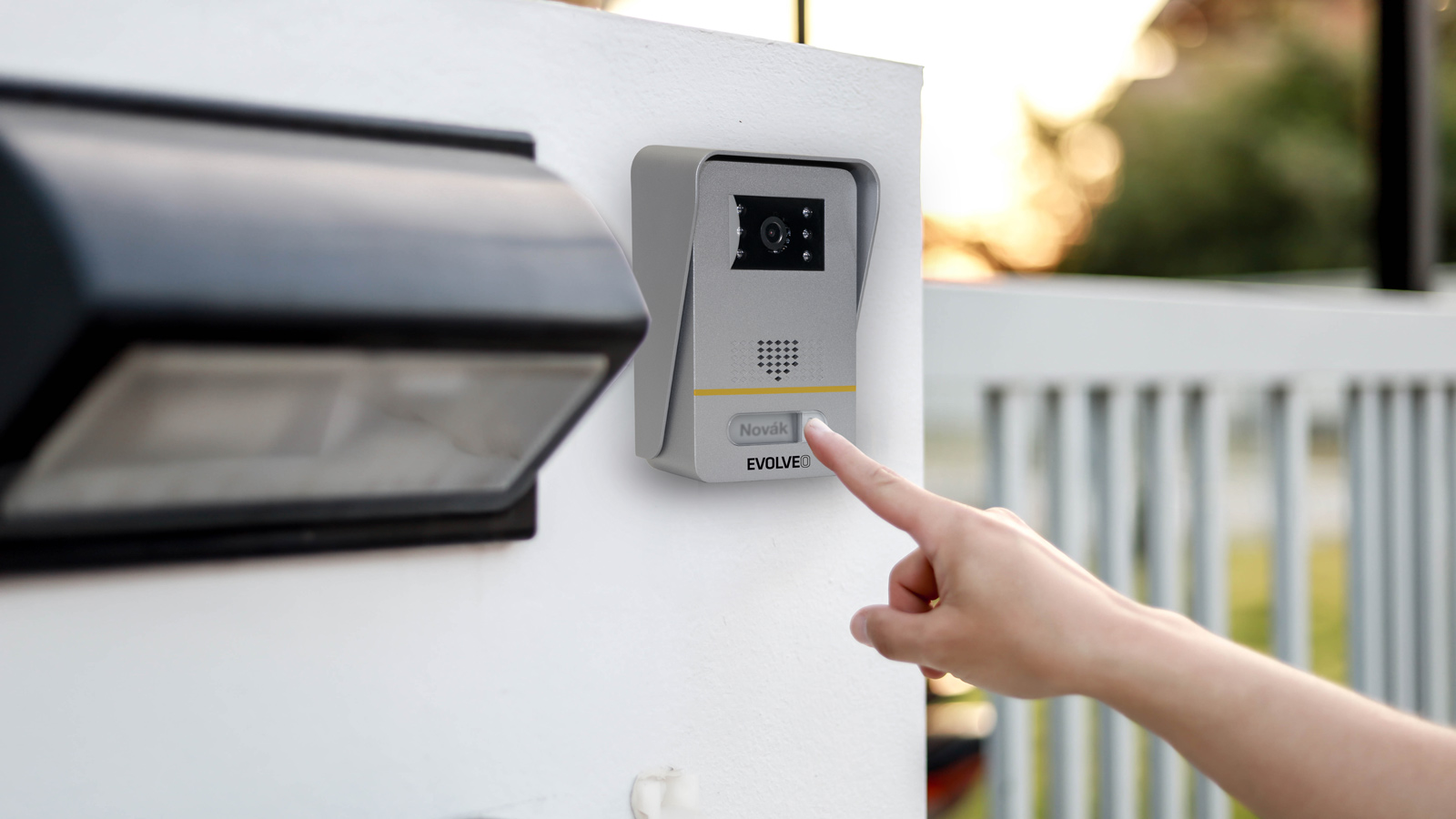 Easy to use
The weather-resistant overhead panel is equipped with a button and camera for guests to call you. When a guest presses the call button on the outdoor station, the monitor rings, at the same time the visitor's image appears on the screen, you decide whether to open the door or not. This amazing feature gives you a complete access control system.
Balení obsahuje vše co je potřeba k jednoduché instalaci: vnitřní monitor, venkovní jednotku s kamerou, sadu šroubů a hmoždinek, svorky na kabely s páčkou.
Main functions of the input panel:
Kamera: CMOS 1/3 sensor, 1.22mm
Image resolution: 1080P
Microphone: Yes - two-way voice communication
Selectable ringtones: yes 6 ringtones
Internet connection: WiFi 2.4Ghz monitor
Monitor colour: white
Monitor size: 7"
Door panel colour: aluminium
Intercom function: yes (communication between monitors)
Remote Management: yes Smart Life (Tuya platform)
Nepolar, two-wire system for simplified installation
Model with 1 button
Equipped with clamps to add a button to open the gate
Night IR illuminator - night black and white photo
Surface mounting with gasket
Weatherproof - IP65
Large backlit nameplate
2x 5A relays for gate and gate opening
Monitor power supply: 18V DC
Adapter cable length: 120cm
Menu in languages: CZ,SK,EN,HU and RO
Monitor dimensions: 130x200x40, VxŠxH(mm)
Mounting the monitor: using a bracket with spacing on the wiring box KU68
Dimensions of the door unit: 100x138x40 HxWxD(mm)
Panel mounting: using a bracket with 4 screws spacing 45x100mm
Package contains:
1 x 7″ monitor
1 x entrance panel, door unit
1 x power supply
1x set of screws and dowels
1x set of cables for connecting units
1x User Manual
Be the first who will post an article to this item!
Be the first who will post an article to this item!