EVOLVEO StrongPhone Z6, waterproof rugged Dual SIM phone, black-orange
Display 2.8"
Dual SIM
USB-C (Type-C) charging connector
Waterproof (IP68 resistance)
Rubberised durable surface
4000 mAh battery
Powerbank features
Strong flashlight
SOS button
Localization of location
FM tuner
Category

:

Rugged feature phones
Bluetooth

:

Ano
Budík

:

Ano
Čtečka knih

:

Ne
Digitální záznamník zvuku

:

Ano
Doba nabíjení

:

5 h
Dotykový displej

:

Ne
Dual SIM

:

Ano
FM rádio

:

Ano
Fotokontakt

:

Ne
GPS

:

Ne
Hlasitost reproduktoru

:

98 dB
Hlasitý reproduktor

:

Ano
Hmotnost

:

199 g
Hudební přehrávač

:

Ano
Chipset

:

MTK6261D
Jack konektor (3,5 mm)

:

Ano
Jazykové verze firmwaru

:

CZ, SK, EN, HU, RO, IT, BG, HR
Jazykové verze manuálu

:

CZ, SK, EN, HU, RO, DE, IT, BG, GR
Kalendář

:

Ano
Kalkulačka

:

Ano
Kapacita baterie

:

4000 mAh
Konstrukce

:

Tlačítkový
Lupa

:

Ne
MMS

:

Ne
Nabíjecí konektor

:

USB-C
Nabíjecí stojánek

:

Ne
Nabíječka

:

Ano
Napájení

:

5 V / 1 A
Počet kontaktů

:

200
Počet SMS

:

50
Počet uživatelských profilů

:

Ne
Podporovaná pásma

:

GSM/GPRS: 850/900/1 800/1 900 MHz
Podporované sítě

:

2G
Prohlížeč obrázků

:

Ano
RAM

:

32 MB
ROM

:

32 MB
Rozlišení displeje

:

240 x 320 px
Rozlišení fotoparátu

:

2 Mpx
Rozměry

:

143,6 x 64,4 x 19,3 mm
Rychlé kontakty

:

Ne
Seznam úkolů

:

Ano
SOS senzor pádu

:

Ne
SOS tlačítko

:

Ano
Stereo sluchátka s hands-free

:

Ano
Stopky

:

Ne
Stupeň krytí IP

:

IP68
Světové hodiny

:

Ne
Svítilna

:

Ano
Telefon

:

Ano
Typ

:

Odolný, Outdoorový, Pracovní
Typ panelu

:

TN
Typ SD karty

:

Micro SDHC
Uživatelský manuál

:

Ano
Velikost displeje

:

2,8
Velikost SIM karty

:

MiniSIM
Video přehrávač

:

Ano
Výdrž v pohotovostním režimu

:

25 d
Záznam videa

:

Ano
EAN

:

8595683203913
Obj.kód

:

SGM SGP-Z6-BO
Waranty

:

24 months
Extreme endurance
StrongPhone Z6 is a phone with truly extreme endurance. And not only because of its durable body with IP68 waterproof rating, which can withstand drops, water, mud or snow, but mainly thanks to its large 4 000 mAh battery. All of this is complemented by a large 2.8" display, power bank function, SOS button and many other advantages that this model offers.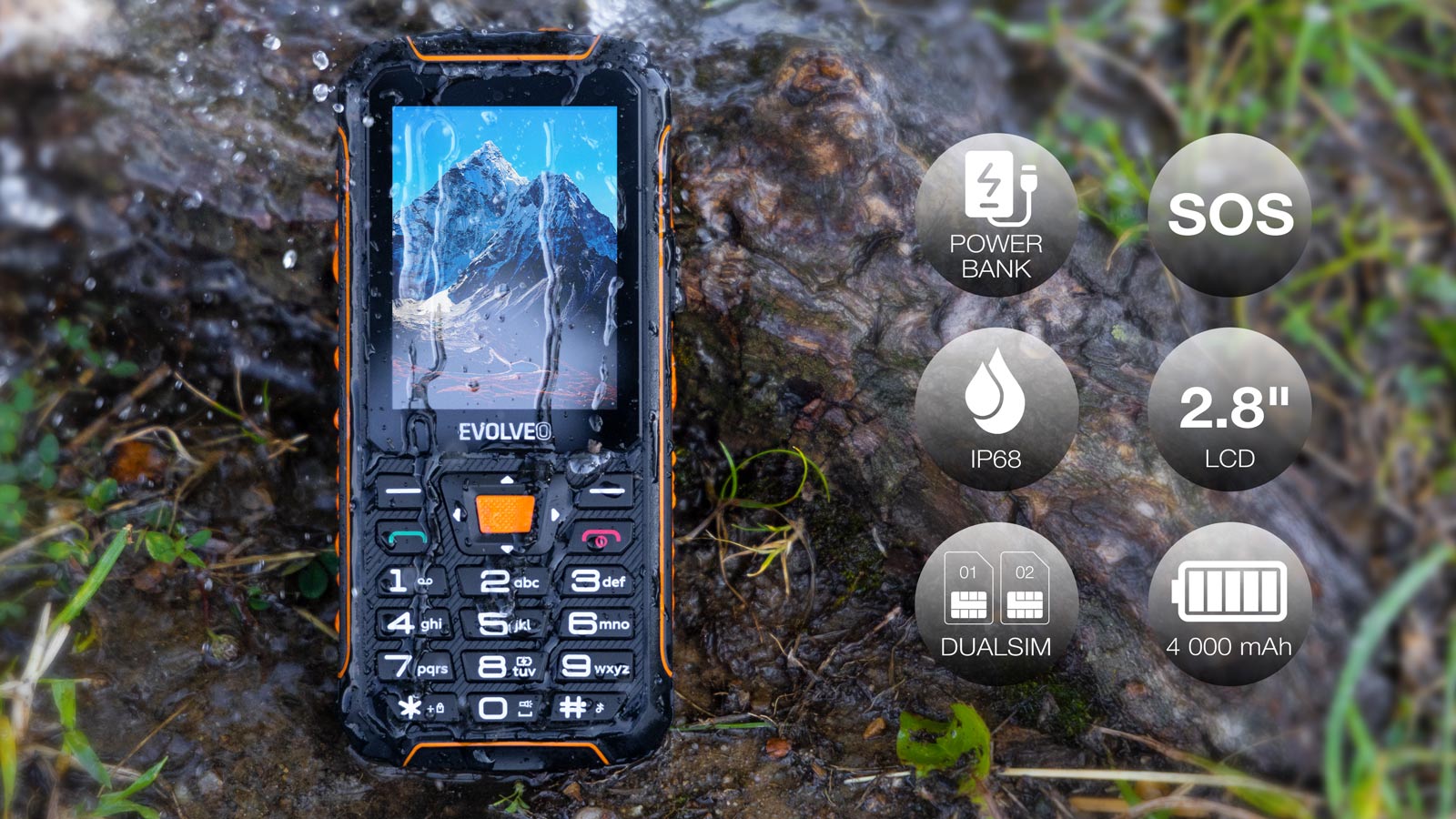 Large 4,000 mAh battery and powerbank function
The extra-large 4,000 mAh Li-Ion battery allows you to use your phone for up to four weeks. And that's not all. StrongPhone Z6 offers a power bank function to easily recharge other devices.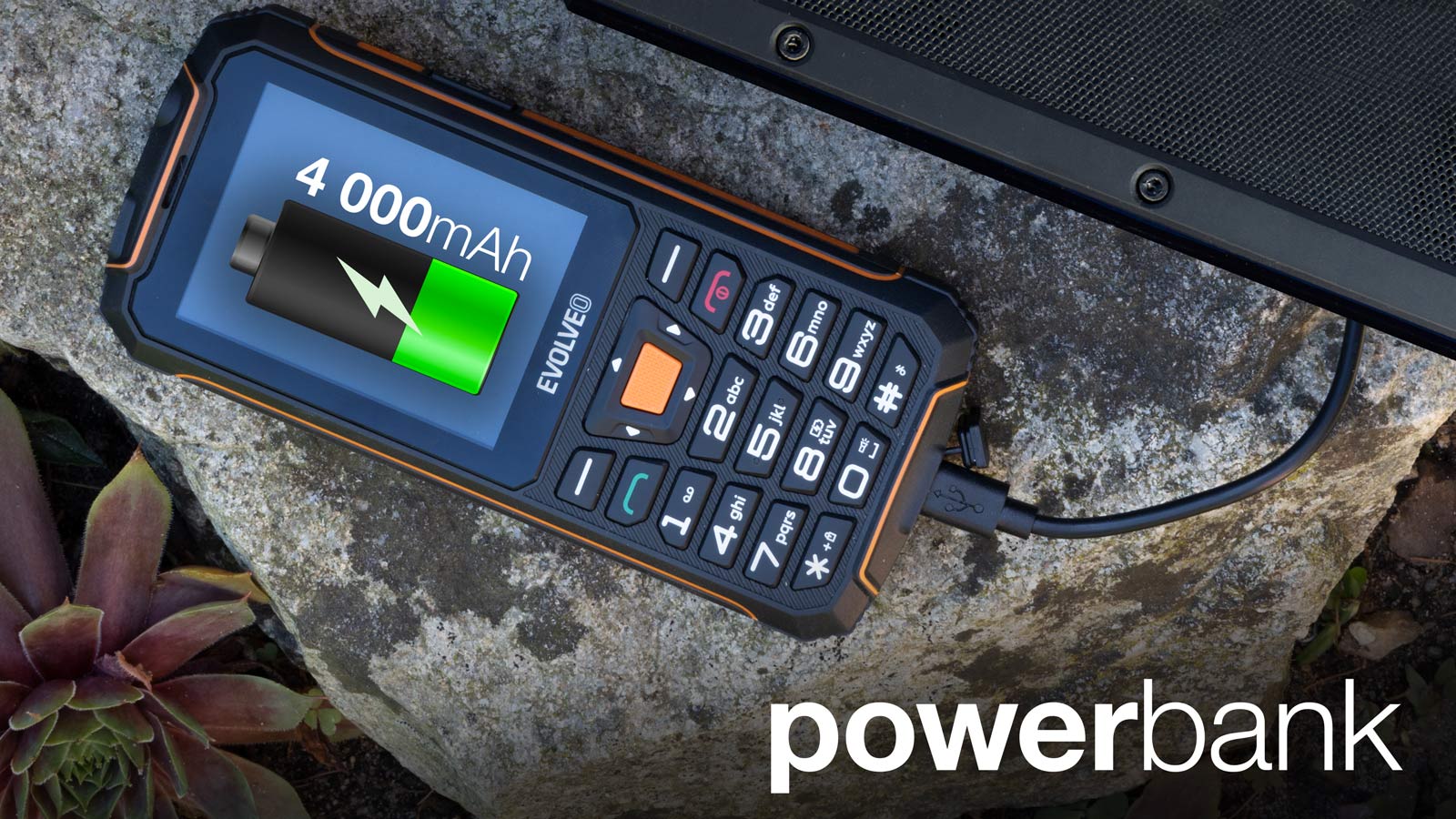 Large 2.8" display
Another advantage of the StrongPhone Z6 is the large 2.8" display with increased scratch and pressure resistance. The clear and simple menu combined with the large display makes the phone easy to use in any conditions.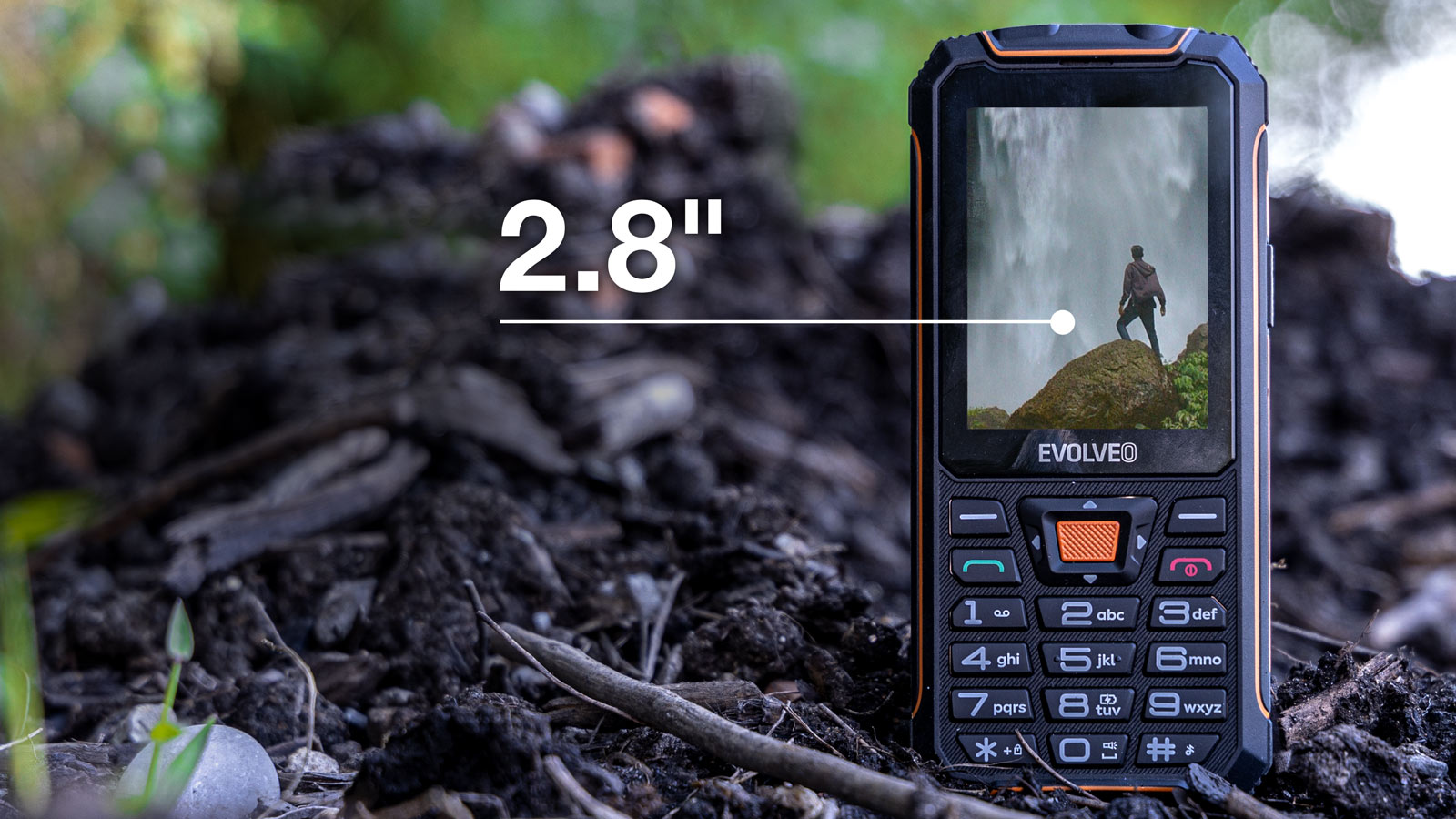 SOS call and SMS emergency message with location localization
StrongPhone Z6 is equipped with an emergency SOS button that can call for help in case of danger. When you press the button, your phone automatically dials the numbers you have dialed and sends an emergency message to them, including your approximate location. The accuracy of the location depends on the density of GSM network coverage - in cities the accuracy is tens to hundreds of meters, outside cities the accuracy is lower.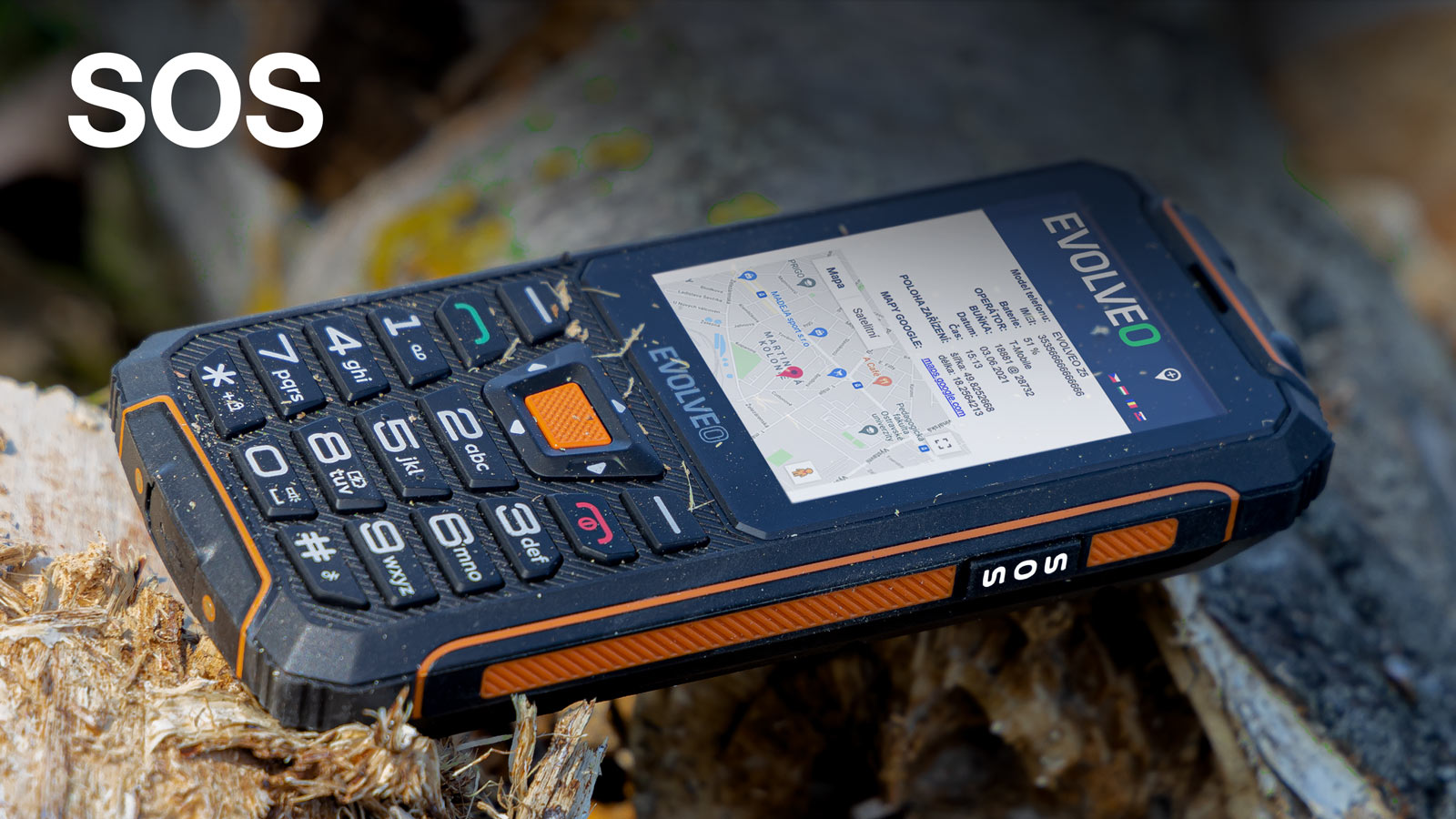 Multimedia equipment
The rugged phone features a 2 megapixel camera, powerful LED flashlight or built-in FM radio with integrated antenna and automatic station tuning. Other features include a calendar, alarms, notes and a calculator.
Technical Specifications:
The perfect mobile phone for travellers, adventurers, athletes and craftsmen
Waterproof (IP68 resistance)
Two SIM card support (Dual SIM)
Mini SIM size
User replaceable Li-Ion battery (included)
Battery capacity: 4000 mAh
The battery can also serve as a power bank
Cable adapter to powerbank included (USB-C -> USB-A)
Easy to use and ergonomic design
Rubberised durable surface
Colour 2.8" display with enhanced scratch and pressure resistance
USB-C (Type C) charging port at the bottom of the phone
USB-C (Type C) -> USB-A charging cable included
USB-A charging adapter included
2 megapixel camera
Contact storage capacity: 200
Capacity for SMS messages: 50
Quick dial for easy dialling of loved ones
Number of presets for quick selection: 8
Side SOS button for emergency calls and SMS messages with location localization
Number of SOS contact preferences: 5
Independent FM radio with built-in speaker
Automatic radio tuning
Dedicated buttons for flashlight, volume, power bank and phone unlock
Loud powerful speaker for listening to FM radio and ringtones
Number of ringtones: 5 + custom
Stay in standby mode up to 35 days
Battery charging: 5 hours
Display resolution 320 x 240 px
Separate keypad buttons for easy operation
Confirmation button
Strong flashlight at the top of the phone
Coverage of GSM 850/900/1 800/1 900 MHz bands
SMS messaging support
SIM Toolkit support
Bluetooth version 3.0
Four user profiles

General
Tichý
Meeting
Venka

Blacklist to block selected contacts
Vibrating ringtone
Open for strap
Image viewer (jpg, gif)
Video recorder (avi)
Video player (mp4, avi, 3gp)
Music player (mp3, wav, amr)
Digital sound recorder/dictaphone (wav)
Hands-free headphones included
Automatic setting of the exact time
Calendar, alarm clock, calculator, notes
Games: snake
MicroSDHC card slot for expanding memory and options
3.5 mm headphone input at the top of the phone
Language versions of the manual: CZ, EN, HU, RO, IT, GR, BG, DE
Language mutations of firmware: CZ, SK, EN, IT, HU, BG, HR, RO
Charging cable length: 100 cm
Length of cable adapter to powerbank: 15 cm
Phone dimensions (l × w × h): 144 × 65.4 × 21.4 mm
Weight incl. battery: 202 g
Scope of the package:
Mobile phone
High capacity battery
Instruction manual (CZ, EN, HU, RO, IT, GR, BG, DE)
Charging adapter + charging cable
Powerbank cable adapter
Mini screwdriver for battery replacement
Hands-free headphones
Be the first who will post an article to this item!
Be the first who will post an article to this item!