EVOLVEO EasyPhone FP, 2.8" flip-up mobile phone for seniors with charging stand (black)
Tilt-out design with large buttons, 2.8" colour display and always-on auxiliary display, SOS button with advanced position localization, SOS fall sensor, 3.0Mpx camera with flash, FM radio, Photo contacts, MMS, Bluetooth, microSDHC, powerful flashlight, charging cradle
Category

:

<3,5"
Bluetooth

:

Ano
Budík

:

Ano
Čtečka knih

:

Ne
Digitální záznamník zvuku

:

Ano
Doba nabíjení

:

2 h
Dotykový displej

:

Ne
Dual SIM

:

Ne
FM rádio

:

Ano
Fotokontakt

:

Ne
GPS

:

Ano
Hlasitost reproduktoru

:

91 dB
Hlasitý reproduktor

:

Ano
Hmotnost

:

93 g
Hudební přehrávač

:

Ano
Chipset

:

MTK6260A
Jack konektor (3,5 mm)

:

Ano
Jazykové verze firmwaru

:

CZ, SK, EN, HU, RO, DE, IT, BG, GR, HR, SL, PL, ES
Jazykové verze manuálu

:

CZ, SK, EN, HU, RO, BG, GR, HR, SL
Kalendář

:

Ne
Kalkulačka

:

Ano
Kapacita baterie

:

1 000 mAh
Konstrukce

:

Tlačítkový, Véčko
Lupa

:

Ne
MMS

:

Ano
Nabíjecí konektor

:

Micro USB
Nabíjecí stojánek

:

Ano
Nabíječka

:

Ano
Napájení

:

5 V / 0,5 A
Počet kontaktů

:

300
Počet SMS

:

100
Počet uživatelských profilů

:

4
Podporovaná pásma

:

GSM/GPRS: 850/900/1 800/1 900 MHz
Podporované sítě

:

2G
Prohlížeč obrázků

:

Ano
RAM

:

64 MB
ROM

:

64 MB
Rozlišení displeje

:

320 x 240 px
Rozlišení fotoparátu

:

3 Mpx
Rozměry

:

120 x 58 x 14 mm
Rychlé kontakty

:

10
Seznam úkolů

:

Ano
SOS senzor pádu

:

Ano
SOS tlačítko

:

Ano
Stereo sluchátka s hands-free

:

Ano
Stopky

:

Ne
Stupeň krytí IP

:

Ne
Světové hodiny

:

Ano
Svítilna

:

Ano
Telefon

:

Ano
Typ

:

Pro seniory
Typ panelu

:

TFT
Typ SD karty

:

Micro SDHC
Uživatelský manuál

:

Ano
Velikost displeje

:

2,8
Velikost SIM karty

:

MicroSIM
Video přehrávač

:

Ne
Výdrž v pohotovostním režimu

:

7 d
Záznam videa

:

Ano
EAN

:

8595683202305
Obj.kód

:

SGM EP-770-FPR
Waranty

:

24 months
The item has been sold out…
EasyPhone FP - Elegant flip phone with 2.8" display, precision SOS positioning, drop sensor and additional display
The EasyPhone FP is similar to the EasyPhone XG, but with a flip-up design. In addition, it offers an additional energy-saving display that keeps you informed of all the necessary data.
Great readable 2.8" display, easy to use and clear menu
EVOLVEO EasyPhone FP has a clear and simple menu, large practical buttons and a gently profiled surface that facilitates handling and prevents slipping out of your hand. Eight speed dials can be set for calling favourite numbers or use the Photo Contacts function.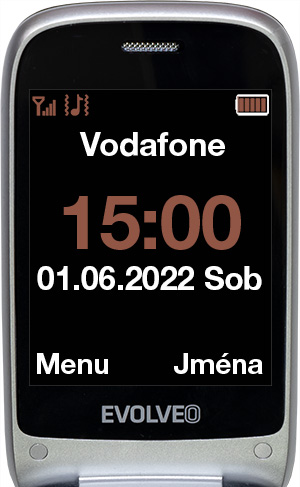 With the additional display, you won't miss a thing
The phone is equipped with a second additional display that is always on. With your phone closed, you can see the current time, date, notifications of incoming calls, missed calls, incoming texts, battery status and signal quality. The phone is optimized to avoid rapid battery drain even when data is constantly displayed on the secondary display.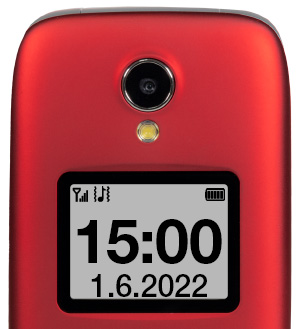 SOS call and SMS with location tracking
The phone is equipped with an SOS button, after pressing which the phone automatically dials the preset numbers and sends an emergency message to them, including information about its location. It is possible to select up to five phone numbers to be called and sent SMS.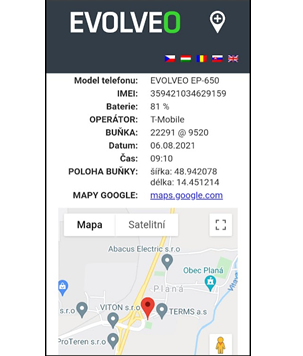 Three levels of location localization
The phone uses three different technologies to determine its location depending on their current availability - GPS signal, WiFi and GSM mobile network. Each of these technologies is limited for determining location, but by combining them, the phone is able to give the most accurate result at any given time. For example, the GPS signal doesn't work reliably in buildings, so the phone can pinpoint your exact location using WiFi. If at least two WiFi networks are available within range of the phone, the phone will determine the exact location even in the building. This significantly increases the success rate of finding them.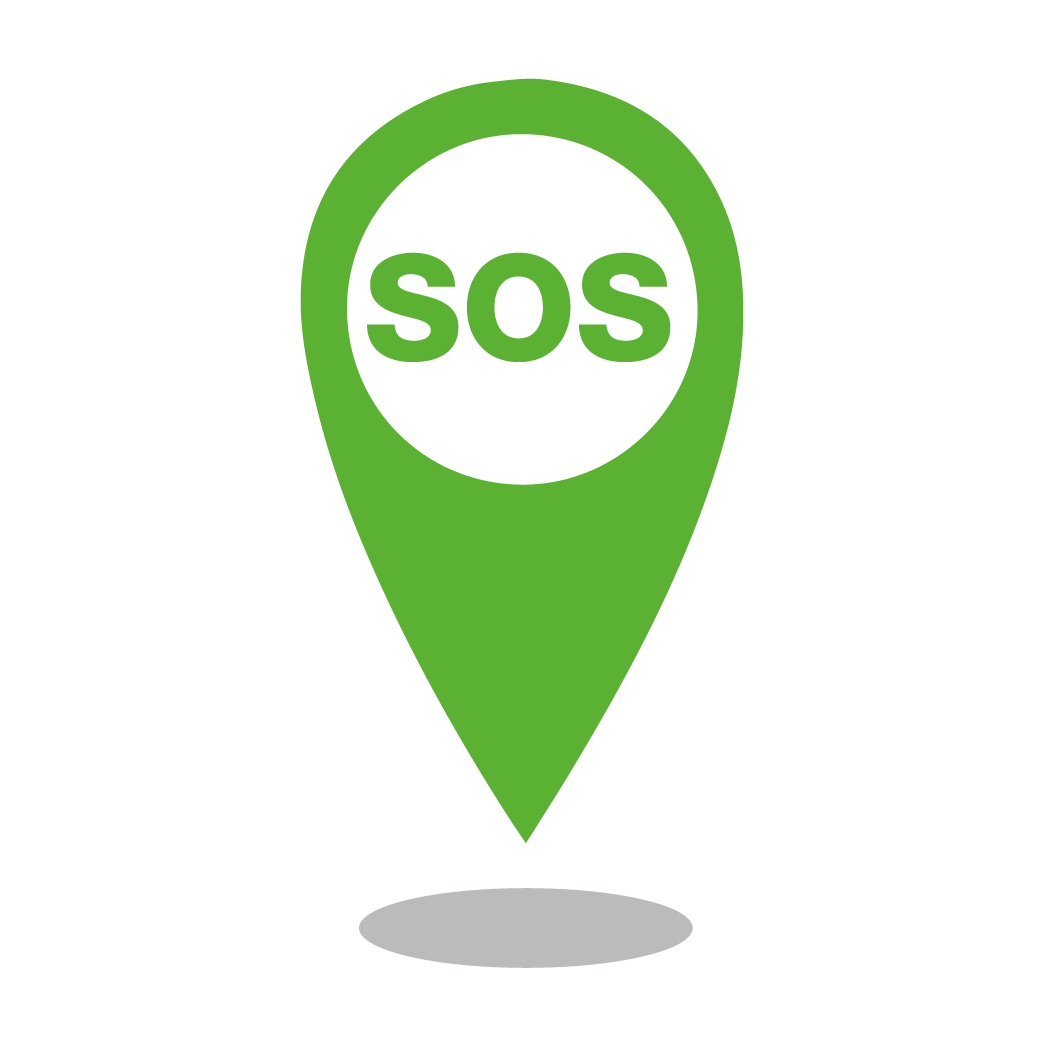 Getting your current GPS location from another phone
The phone allows you to send an SMS with your current location to another phone. This can be important if, for example, you cannot contact the owner of the phone. You can set up contacts in your phone for people who are authorised to check this location.
SOS fall sensor
One of the situations when you need to call for help may be a fall down the stairs or on ice. For these situations, the phone is equipped with a fall safety sensor. A smart sensor can assess if a crash has occurred and automatically start dialling pre-dialed numbers and sending SMS. If it is a false alarm, the function can be easily deactivated.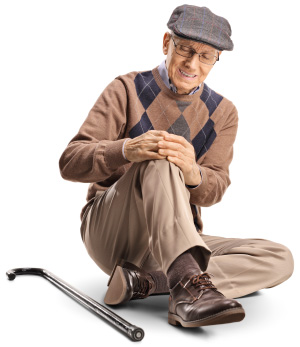 3.0Mpx camera with flash
The phone has a high-quality camera with a powerful LED flash that can be turned on with a separate button on the phone and used immediately. Photos can then be saved or sent as an MMS message, for example.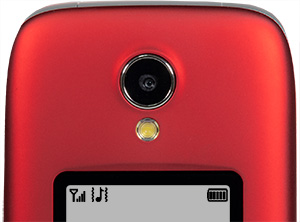 FotoContacts and Quick Dial
For easy calling, the phone is equipped with the Photo Contacts feature. A photo can be added to the eight selected contacts to make it easier to identify the caller. Simply press one button to call up the photo contact menu. The other ten contacts can be assigned speed dial buttons corresponding to numbers 2-9 and buttons M1 and M2.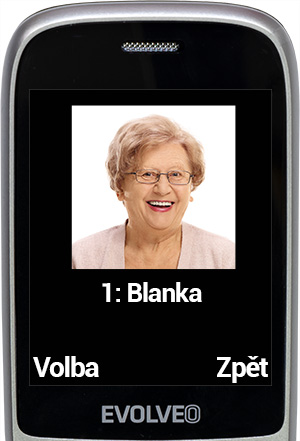 Dedicated buttons for easy operation
To make it really easy to operate the phone, it has several separate buttons. The mechanical unlock button makes it easy to unlock or lock the keypad. Other buttons are for volume control, flashlight, camera or photo contacts.
Built-in FM radio
Built-in FM radio with automatic station tuning in conjunction with a powerful speaker makes listening to your favourite station more enjoyable.
Key Features
easy to use
large 2.8" colour display
still on additional display
quality 3.0Mpx camera with flash
Fotocontacts
SOS button for SOS calls and SMS with location localization
SOS fall sensor
getting GPS location from another phone
FM radio
powerful speaker for FM radio and ringtone
stand for easy charging
Long battery life with 1000 mAh battery
Display resolution 320 x 240 px
separate keyboard buttons
Light with the possibility of lighting even when the phone is switched off
Dedicated button for Camera and Photo Contacts
GSM/GPRS 850/900/1 800/1 900 MHz
MMS messaging support
Bluetooth
four user profiles
Quick access to 10 popular phone contacts
vibrating ringtone
image viewer
music player
digital audio recorder (dictaphone)
calendar
alarm clock
task list
calculator
ability to insert a microSDHC card
SIM card size: microSIM
maximum number of contacts stored in the phone: 300
3.5 mm headphone input
Li-ion battery 1 000 mAh
phone dimensions 120 x 58 x 14 mm
Weight 93 g with battery
Package contains
Evolveo EasyPhone FP mobile phone
charging stand
230 V mains charger
stereo headset with hands-free
User manual
Be the first who will post an article to this item!
Be the first who will post an article to this item!