EVOLVEO StrongPhone Z4, waterproof rugged phone
2.8" IPS display, IP68, SOS button, power bank, LED light, FM tuner, Bluetooth, dual Sim, microSDHC, charging stand, 2500 mAh battery
Category

:

Rugged feature phones
Bluetooth

:

Ano
Budík

:

Ano
Čtečka knih

:

Ne
Digitální záznamník zvuku

:

Ano
Doba nabíjení

:

4,5 h
Dotykový displej

:

Ne
Dual SIM

:

Ano
FM rádio

:

Ano
Fotokontakt

:

Ne
GPS

:

Ne
Hlasitost reprodutkoru

:

95 dB
Hlasitý reproduktor

:

Ano
Hmotnost

:

169 g
Hudební přehrávač

:

Ano
Chipset

:

MTK6261D
Jack konektor (3,5 mm)

:

Ano
Jazykové verze firmwaru

:

CZ, SK, EN, HU, RO, IT, BG, HR
Jazykové verze manuálu

:

CZ, SK, EN, HU, RO, DE, IT, BG, GR, HR, PL, TR
Kalendář

:

Ano
Kalkulačka

:

Ano
Kapacita baterie

:

2500 mAh
Konektivita

:

USB micro, Jack 3.5 mm
Konfigurace SIM

:

Dual SIM + paměťová karta
Konstrukce

:

Tlačítkový
Lupa

:

Ne
MMS

:

Ne
Nabíjecí konektor

:

Micro USB
Nabíjecí stojánek

:

Ne
Nabíječka

:

Ano
Napájení

:

5 V / 1 A
Odolnost

:

Voděodolný, Vodotěsný
Počet kontaktů

:

100
Počet SMS

:

50
Počet uživatelských profilů

:

5
Podporovaná pásma

:

GSM/GPRS: 850/900/1 800/1 900 MHz
Podporované sítě

:

2G
Prohlížeč obrázků

:

Ano
RAM

:

32 MB
ROM

:

32 MB
Rozlišení displeje

:

240 x 320 px
Rozlišení fotoparátu

:

2 Mpx
Rozměry

:

143,6 x 64,4 x 16,5 mm
Rychlé kontakty

:

Ne
Seznam úkolů

:

Ne
SOS senzor pádu

:

Ne
SOS tlačítko

:

Ano
Stereo sluchátka s hands-free

:

Ano
Stopky

:

Ne
Stupeň krytí

:

IP68
Stupeň krytí IP

:

IP68
Světové hodiny

:

Ne
Svítilna

:

Ano
Telefon

:

Ano
Typ

:

Odolný, Outdoorový, Pracovní
Typ panelu

:

IPS
Typ SD karty

:

Micro SDHC
Uživatelský manuál

:

Ano
Velikost displeje

:

2,8
Velikost SIM karty

:

MiniSIM
Video přehrávač

:

Ano
Výdrž v pohotovostním režimu

:

15 d
Záznam videa

:

Ano
EAN

:

8595683201513
Obj.kód

:

SGM SGP-Z4
Waranty

:

24 months
Rugged phone with a 2.8" IPS display
The resilient StrongPhone Z4 is the best choice for everyone who wants more from their phone. Its durable body with an IP68 rating, a superbly readable 2.8" IPS LCD display, power bank function, SOS button and large 2500 mAh battery make the phone a perfect choice for workshops, construction sites, fieldwork, and extreme temperature and humidity conditions. Phone deals excellently with water, mud, snow and rough handling.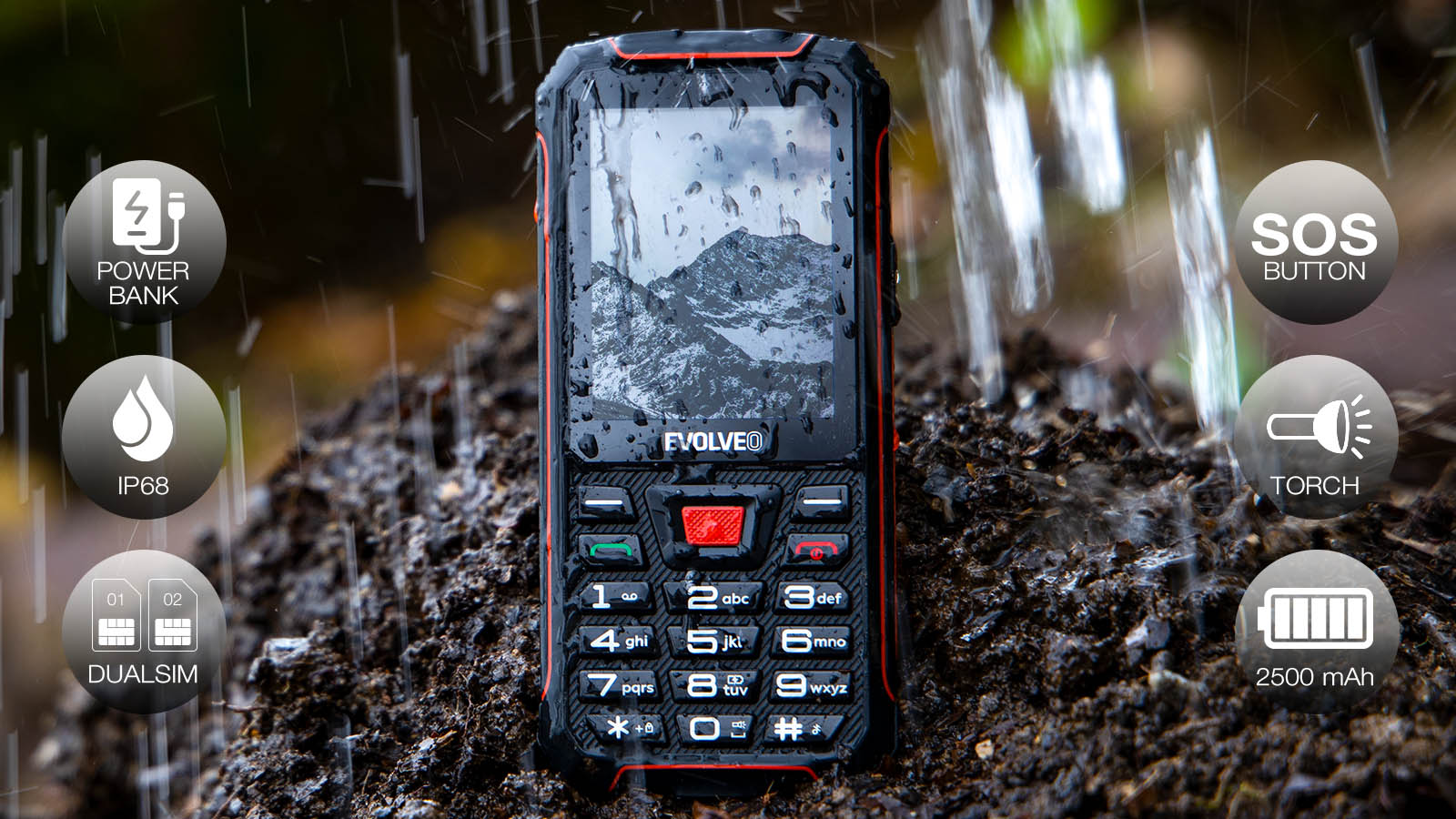 Superbly readable 2.8" display
One of the StrongPhone Z4's biggest benefits is a large 2.8" display with IPS technology that protects it from getting scratched or suffering pressure damage. The IPS technology also provides realistic rendering of colour, wide viewing angles and low power consumption. Thanks to all this, your phone will be easy to use whatever the conditions.
2500 mAh battery/power bank
The 2500 mAh battery provides a life of up to 2 weeks and more. The StrongPhone Z4 is equipped with a power bank function, providing enough capacity to charge other devices from your phone.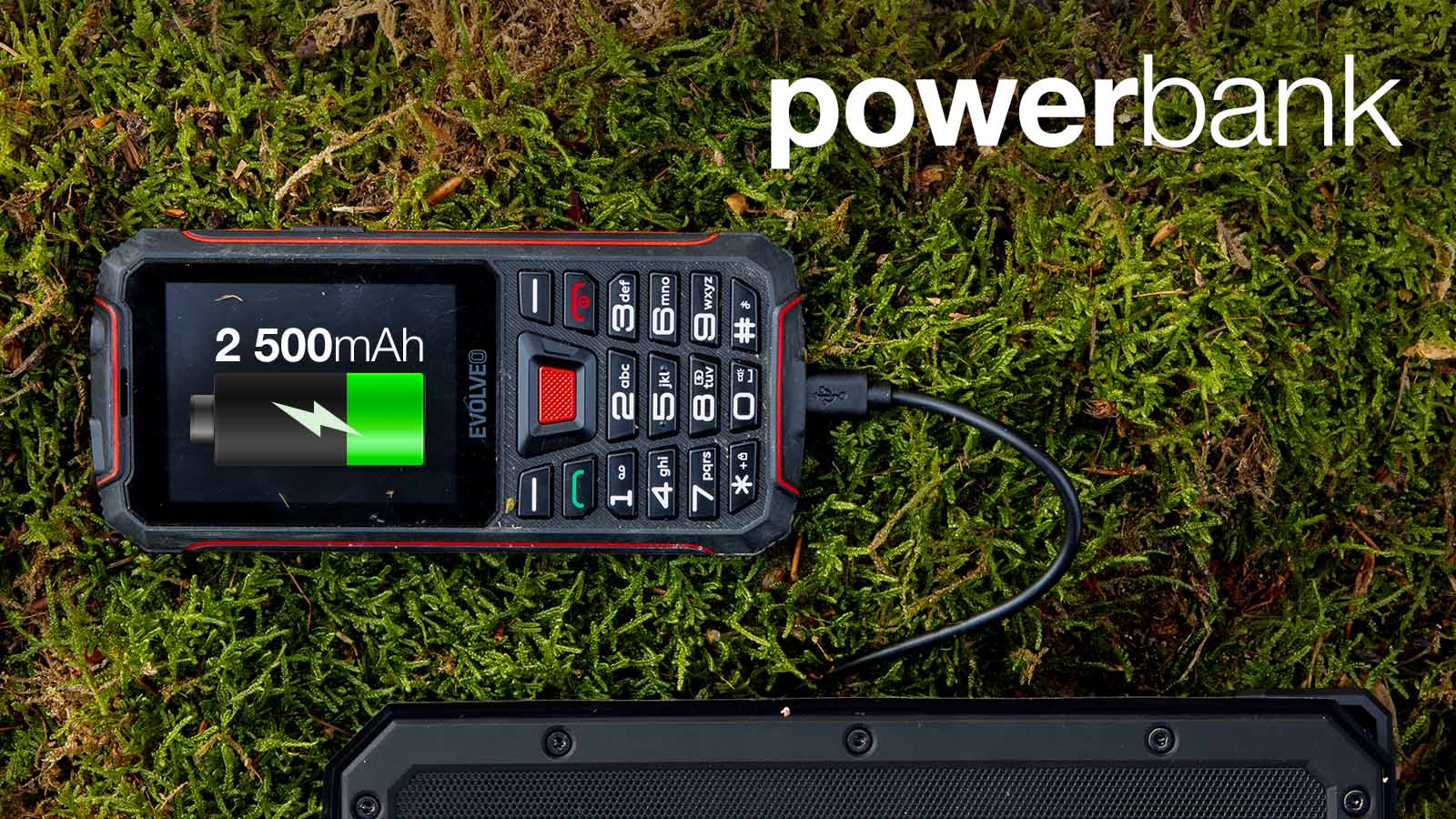 SOS call/text message

StrongPhone Z4 has an SOS button for you to easily get help in case of emergency. Pressing the button automatically dials preset numbers and sends out an SOS text message.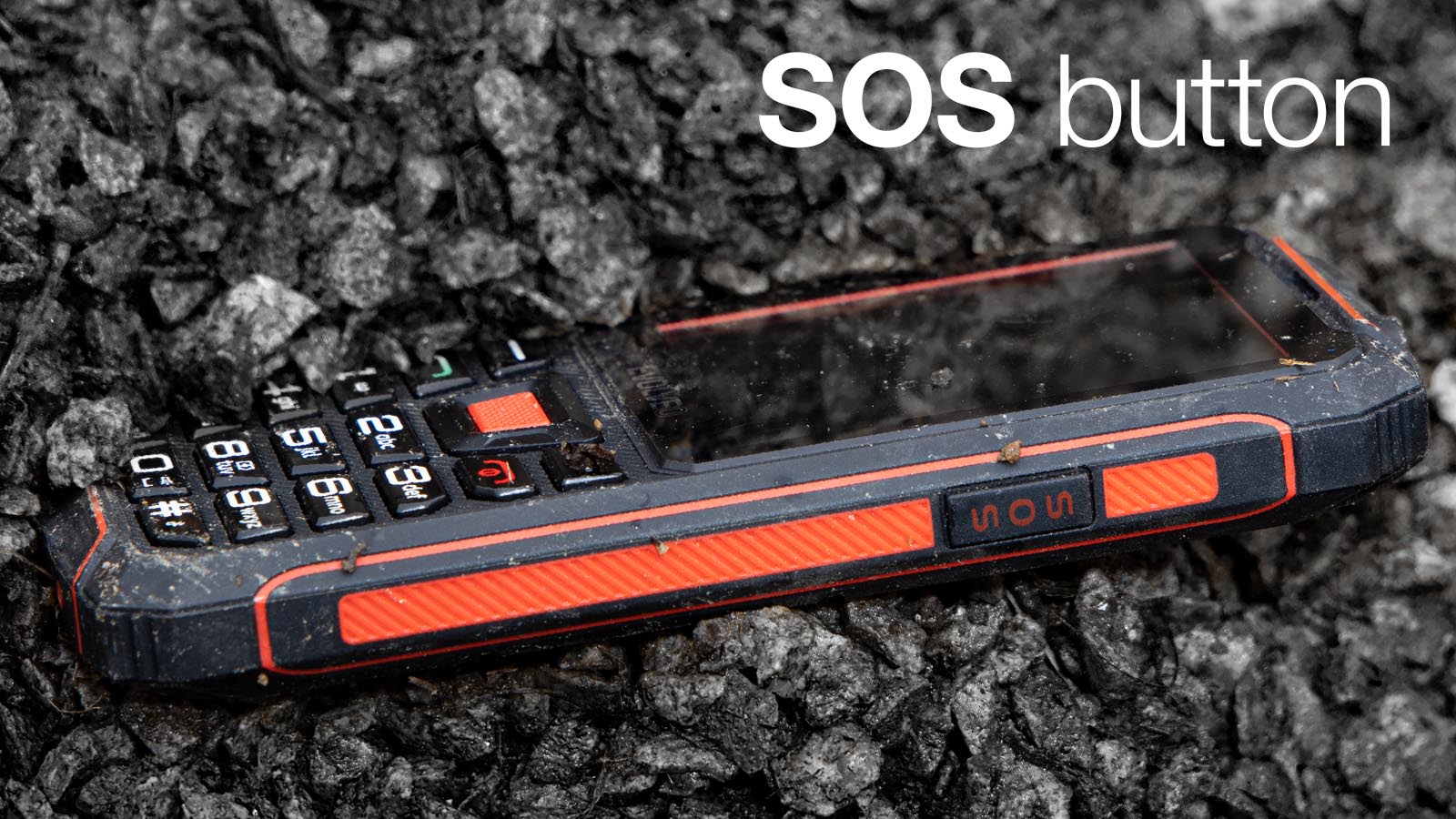 Multimedia accessories
The phone has a 2 Mpx camera, a powerful LED light, and an FM radio with an integrated antenna and automatic station tuning. Calendar, alarm, and calculator functions are also included.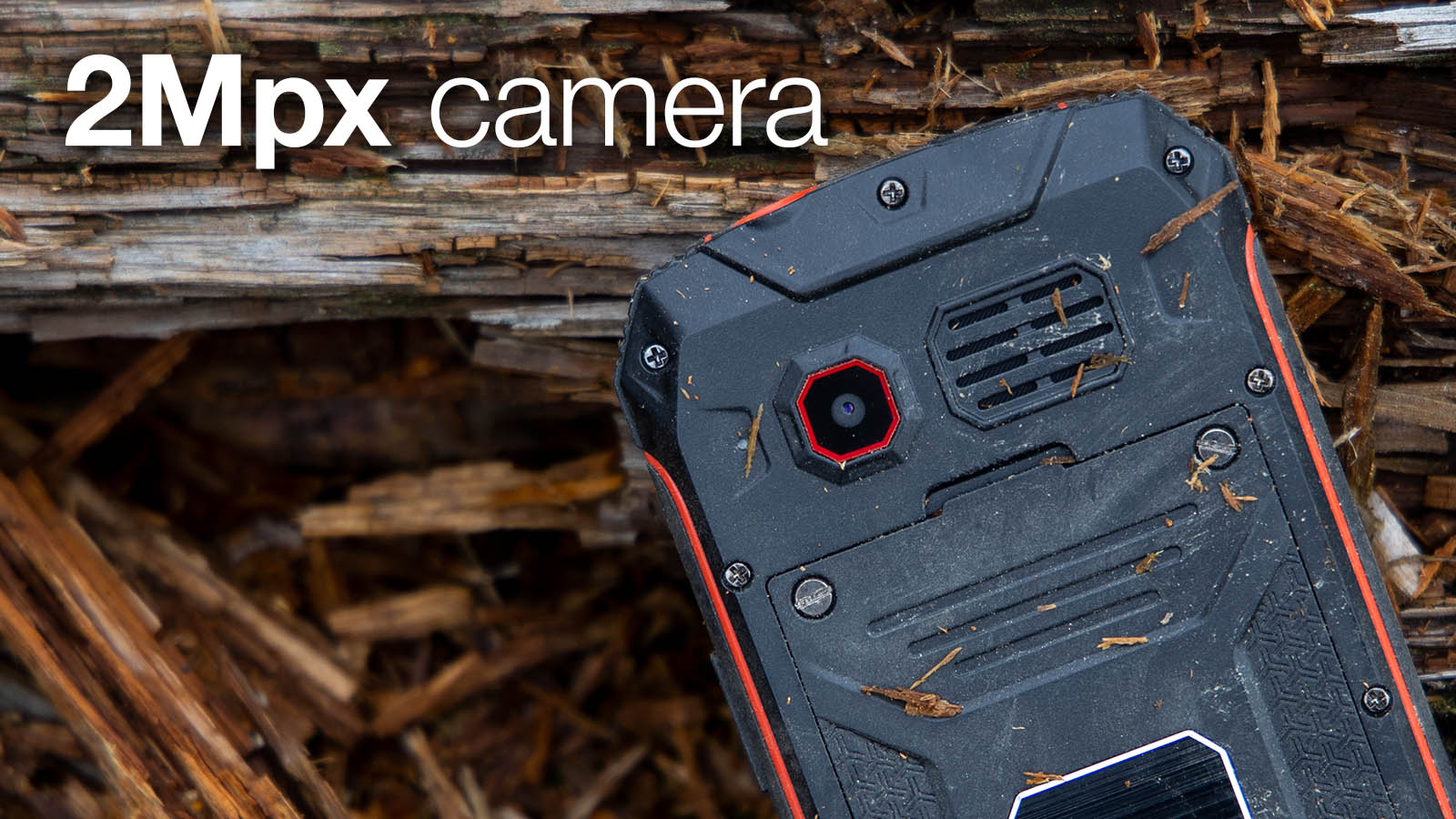 Charging stand
To make charging easier, we have added a charging stand to this model. It helps you charge your phone easily, without using a USB cable.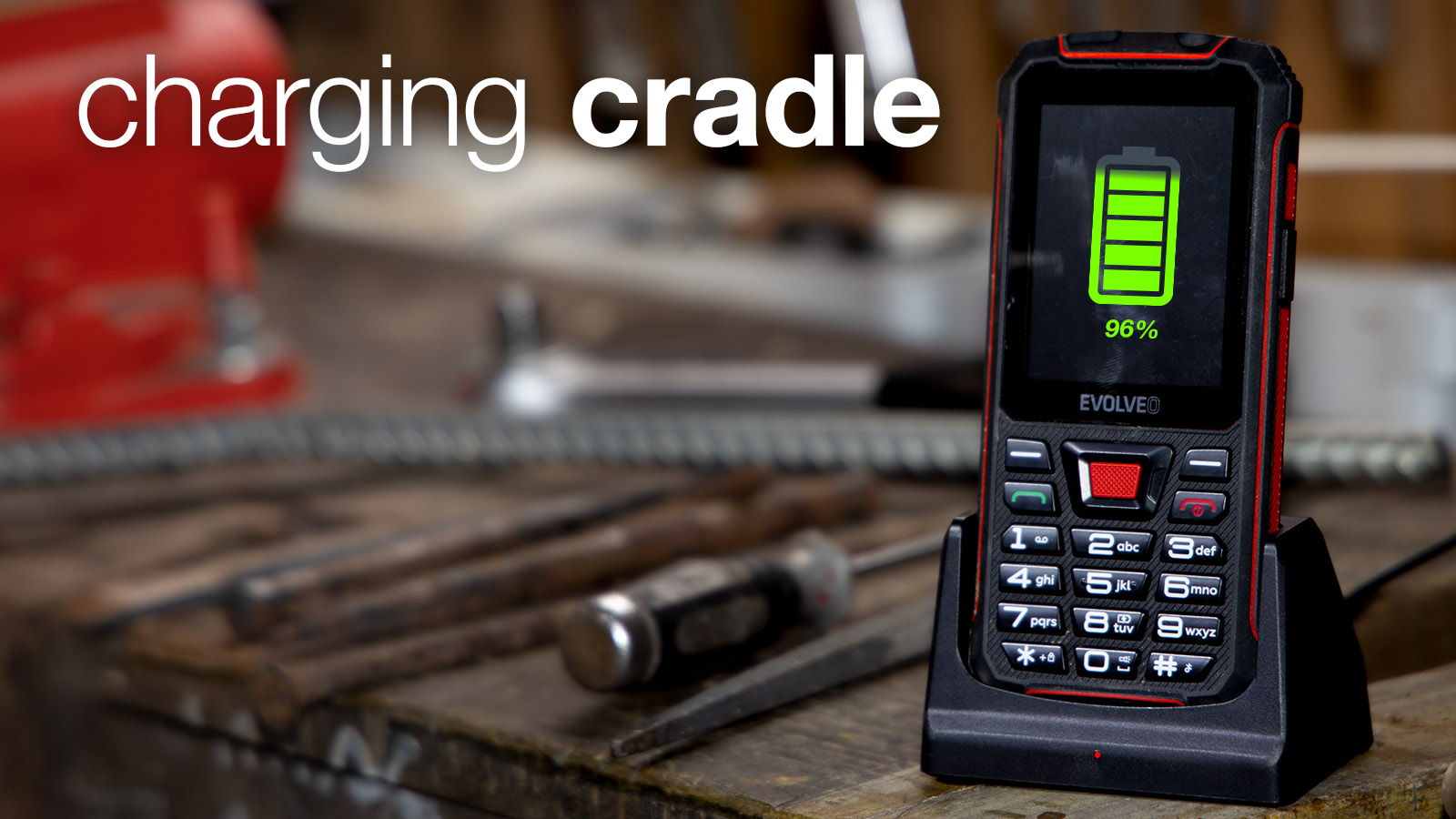 IP68 waterproof specification
Waterproof certification according to the IP68 standard, which means dustproof and waterproof when submerged under 1.2 m (4 ft) of water for 30 minutes.
large 2.8" IPS anti-scratch display resilient to pressure
power bank function
SOS call/text message
resilient to blows and vibrations
IP68 waterproof specification
durable rubber covered surface
strong 2500 mAh battery
charging stand
Dual SIM
GSM 850/900/1800/1900 MHz
2.0 Mpx camera
Bluetooth
SMS
supports microSDHC cards
FM radio
calendar
alarm
calculator
photo browser
video recorder
video player
audio player
digital answering machine
polyphonic ringtones/vibrations
hands-free calling + microphone integrated in the headphones cable
3.5 mm audio jack
2500 mAh high-capacity battery
dimensions 143.6 x 64.4 x 16.5 mm
weight 169 g
Package contents
EVOLVEO StrongPhone Z4
2500 mAh high-capacity battery
stereo headphones with integrated hands-free calling design
network charger
charging stand
power bank cable
user manual


Be the first who will post an article to this item!
E
Most recent firmware
EVOLVEO
The most recent firmware with several improvements is available in the "Download" tab.