Wireless WiFi/GSM security device EVOLVEO Alarmex Pro is a new addition to the EVOLVEO Smart range of products for smart home. The EVOLVEO Alarmex Pro represents a new generation of alarms, it is a fully expandable system with Czech language support, a mobile app for Android and iOS and which supports up to 200 sensors.
EVOLVEO Alarmex Pro uses a 4.3″ color, IPS touchscreen display with an interactive UI and wide viewing angle. Important menu commands on the display are supported by voice output, which means that the system "talks" to the user. The alarm can be remotely managed via smartphone app and sends SMS messages to up to five phone numbers. The alarm supports up to 200 different sensors with a range of up to 100 metres. Functional and fast hardware is provided by a built-in, high-performance processor with a core frequency of up to 600 MHz. EVOLVEO Alarmex Pro has an attractive and functional control panel design with a thickness of only 12 mm. In addition, the alarm supports Amazon Alexa and Google Assistant services and works with other smart devices within the Tuya Smart (Smart Life) platform.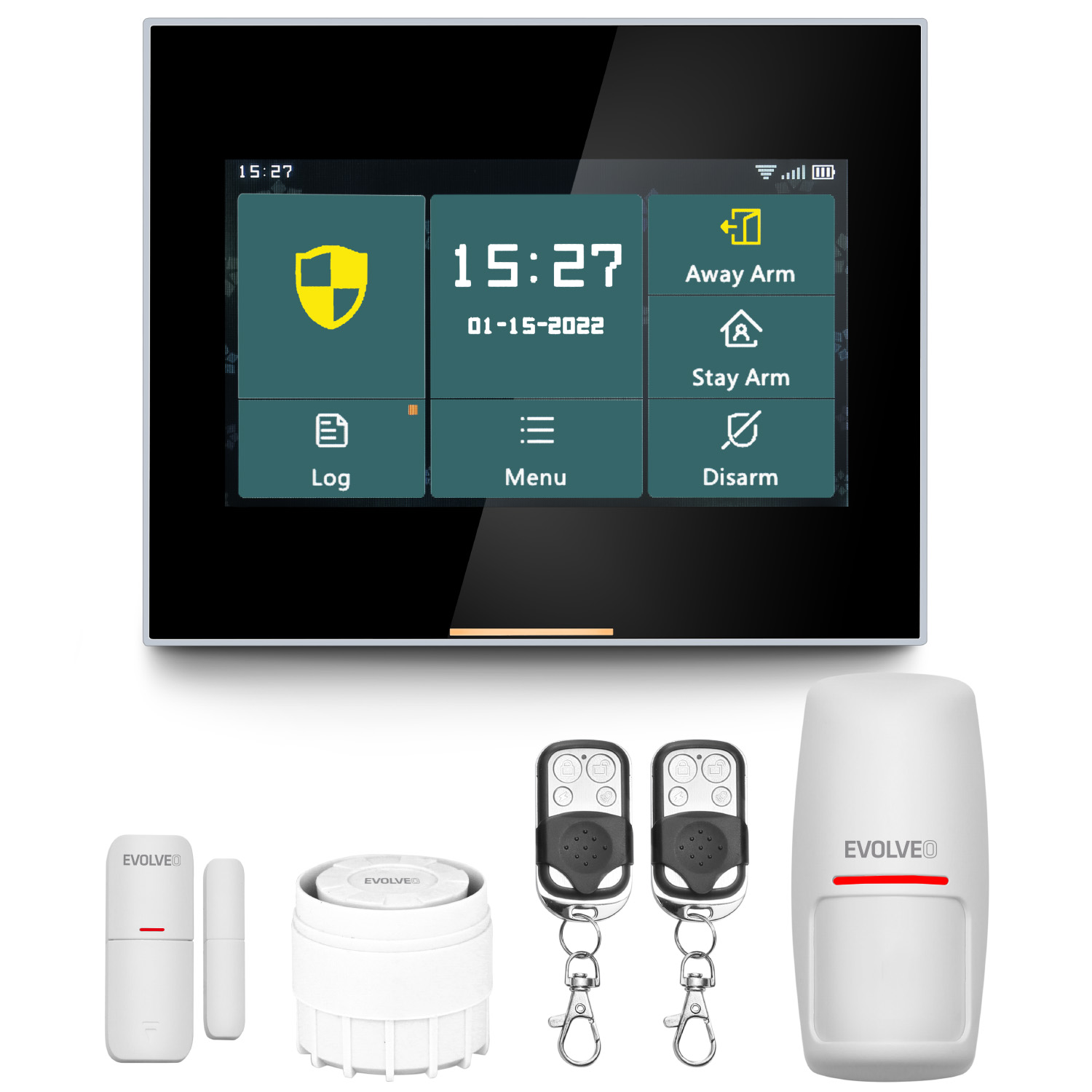 EVOLVEO Alarmex Pro reliably secures a house, apartment, cottage or office space. The alarm set includes a control panel, two remote controls, one door/window sensor, one motion detector and a mini siren. Alarmex Pro supports all detectors and peripherals from other manufacturers on standard 433 MHz frequency or Wi-Fi smart detectors on Tuya Smart technology.
The EVOLVEO offer brings a comprehensive range of accessories that can be connected to the alarm to create a complete system for controlling a home, apartment or office space. The alarm can be connected to smoke detectors, motion detectors, gas detectors, water sensors, camera systems, video doorbells or other smart devices. As a result, the user gets a comprehensive smart home system. Thanks to the Smart Life app, you can use scenes to connect Alarmex Pro with other EVOLVEO products such as a robotic vacuum cleaner, smart socket or radiator heating head.
Availability and Price
Security System Kit EVOLVEO Alarmex Pro is part of the EVOLVEO Smart range, which includes products for the smart home. EVOLVEO Alarmex Pro is available through a network of online stores and selected retailers for 236 EUR including VAT.
Main Features
Built-in high-performance core processor, core frequency up to 600MHz, strong performance, fast and smooth operation
4.3″ IPS colour display, wide viewing angle
Convenient operation thanks to capacitive touch screen
New interactive UI
Built-in Wi-Fi 2.4Ghz, app notification support, GSM for phone/SMS notifications
Supports up to 200 radio detectors, remote controls and doorbells
Automatic date and time synchronization
Alarm delay, activation delay
Bell function
SOS emergency call
Event history (150 alarm records, 50 shelter and suppression records)
Set up to five phone numbers for SMS and calls
Warning of power failure, low battery, when removing the central unit
Gong function when opening doors/windows
Alarm notification via app notification
Wired/wireless siren support
Hidden password input function
Remote control via app
Multi-language support
Online OTA updates supported
LED notification LED
Safety panel
Power supply: 5 V, 1 A, micro USB
Wi-Fi: IEEE802.11b/g/n; Frequency band 2.4 G
Built-in lithium battery: 3.7V 500mAh
Operating temperature: -10℃~+50℃
Consumption during activation: 3 W
Relative humidity: <95% (non-condensing)
Wireless connection: 433 MHz, range up to 100 m (unobstructed)
Panel dimensions: 120 × 98 × 12 mm
Sim card slot