Button EVOLVEO EasyPhone LT< is the first 4G phone for seniors from EVOLVEO. The phone is equipped with two nano SIM slots for the possibility of using two different phone numbers at the same time. In the event of an SOS alarm, the phone locates itself using the GPS module and uses available Wi-Fi networks to refine its position, then immediately sends the information in an SMS message. You can store up to two thousand contacts on your phone, plus ten photo contacts. With the inclusion of the new EasyPhone LT model in its range of push-button phones, EVOLVEO confirms the market's continued interest in push-button senior phones.
Easy to use, clear and simple menu
EVOLVEO EasyPhone LT has a clear and simple menu on a large, colourful 2.8-inch display. The large practical buttons are separated from each other, making it easier to write SMS messages and enter phone numbers. Eight speed dials can be set for calling favourite numbers or use the photo contact function.
SOS call and SOS SMS with location localization
The phone is equipped with an SOS button, after pressing which the phone automatically dials the preset numbers and sends an emergency message including location information. It is possible to select up to five phone numbers to be called and sent an SMS message.
Three levels of location localization
The phone uses three different technologies to determine its location depending on their current availability - GPS signal, WiFi and GSM mobile network. Each of these technologies is limited for determining location, but by combining them, the phone is able to give the most accurate result at a given time and place. This significantly increases the success rate of localization.
Getting the current GPS location from another phone
The phone allows you to send an SMS with your current location to another phone. This may be important if the phone holder cannot be reached in any other way. You can set up contacts in your phone for people who are authorised to check this location.
Photo contacts, speed dial and 2,000 saved contacts
For easy calling, the phone is equipped with a photo contact function. A photo can be added to the ten selected contacts to make it easier to identify the caller. Simply press one button to call up the photo contact menu. The other eight contacts can be assigned speed dial buttons corresponding to numbers 3-9 and M1 buttons. The phone is equipped with a large memory that allows you to store up to two thousand contacts.
Dedicated buttons for easy operation
To make it really easy to use, the phone is equipped with several separate buttons. There are buttons on the phone to control volume, flashlight, camera or photo contacts.
Built-in FM radio
Built-in FM radio with automatic station tuning in conjunction with a powerful speaker makes listening to your favourite station more enjoyable. There is no need to connect headphones to receive the radio signal, the antenna is integrated directly into the device.
Availability and Price
Button phone for seniors EVOLVEO EasyPhone LT is available in two color options (black and red) and is available through a network of online stores and selected retailers, as well as at the https://eshop.evolveo.cz/ The recommended end price of the EVOLVEO EasyPhone LT button phone is CZK 1,790 including VAT.
EVOLVEO EasyPhone LT:
4G phone
simple operation
Large 2.8" TFT colour display
quality 2.0Mpx camera with flash
photocontacts
SOS button for SOS calls and SMS with location localization
getting a GPS location from another phone
Memory for 2000 contacts
FM radio without headphones with automatic tuning
Dedicated buttons for flashlight, camera, volume and photo contacts
powerful speaker for listening to FM radio and ringtones
Dual Nano SIM
stand for easy charging
USB-C connector
Long lasting 1200 mAh Li-Ion battery
internal memory 128 MB
Display resolution 320 x 240 px
separate keyboard buttons
GSM 2G:850(B5)-900(B8)-1800(B3)-1900(B2)
WCDMA 3G:2100(B1)-900(B8)-1900(B2)-850(B5)
LTE 4G:B1(2100)-B2(1900)-B3(1800)-B5(850)-B7(2600)-B8(900)-B20(800)-B28a(700)
Bluetooth v 2.1+EDR
The Wi-Fi module is only used to determine the location of the device
five user profiles
image viewer
music player
digital audio recorder (dictaphone)
calendar
alarm clock
calculator
possibility to insert a microSDHC card (32 GB max.)
Li-ion battery 1 200 mAh
phone dimensions 140 x 56 x 12 mm
Weight 105 g with battery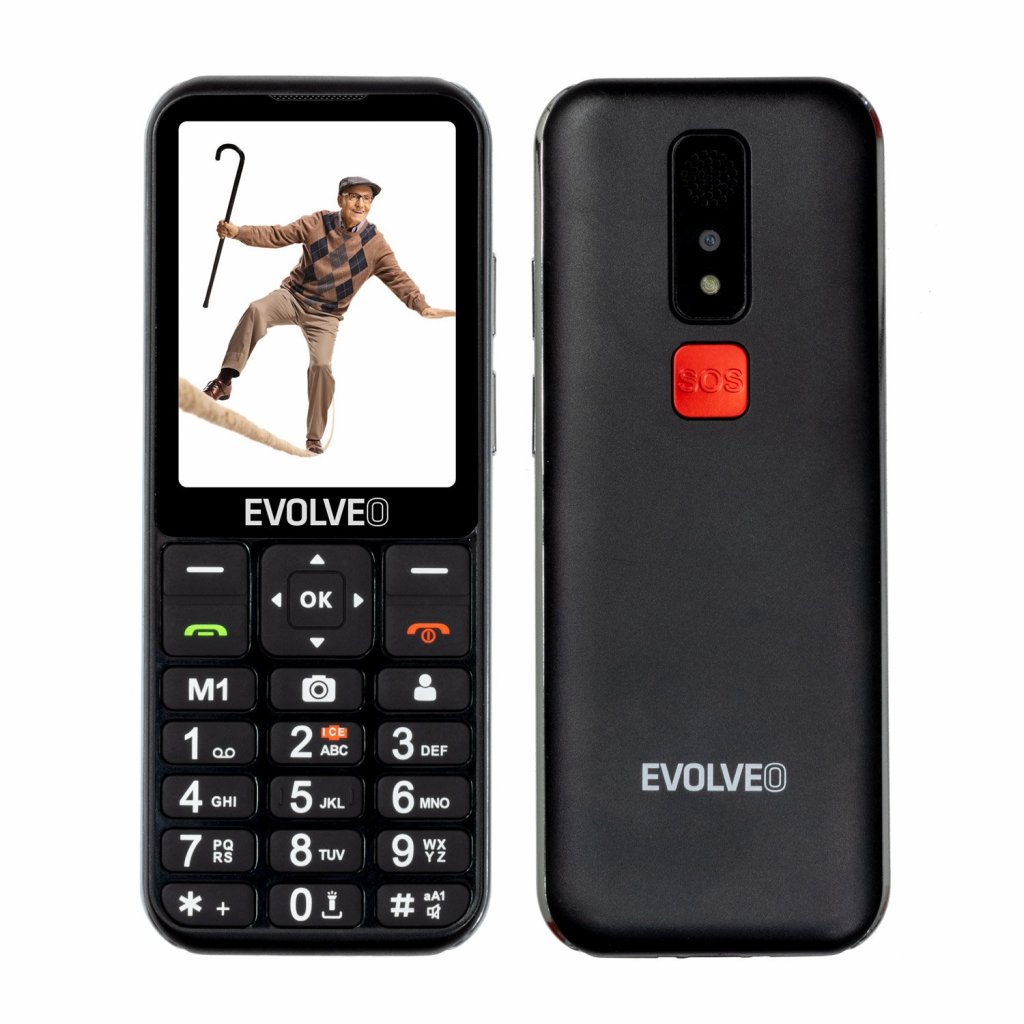 EVOLVEO EasyPhone LT,
mobile phone for seniors with charging stand