EVOLVEO launches a range of graphic tablets, featuring fast response, high sensitivity and resolution of the sensing layer. This ensures smooth and precise strokes. All EVOLVEO Grafico series tablets (T12, T8 and TW) include a wireless pen with 8,192 pressure levels and 233 PPS response. The sensing layer has a resolution of 5,080 LPI with pen detection 15 mm above the work surface. In addition, 30 spare tips and a graphic glove are included. All EVOLVEO Grafico tablet worksurfaces allow inversion for left-handed work. The tablets are powered via USB and support devices with PC, Mac OS and Android operating systems.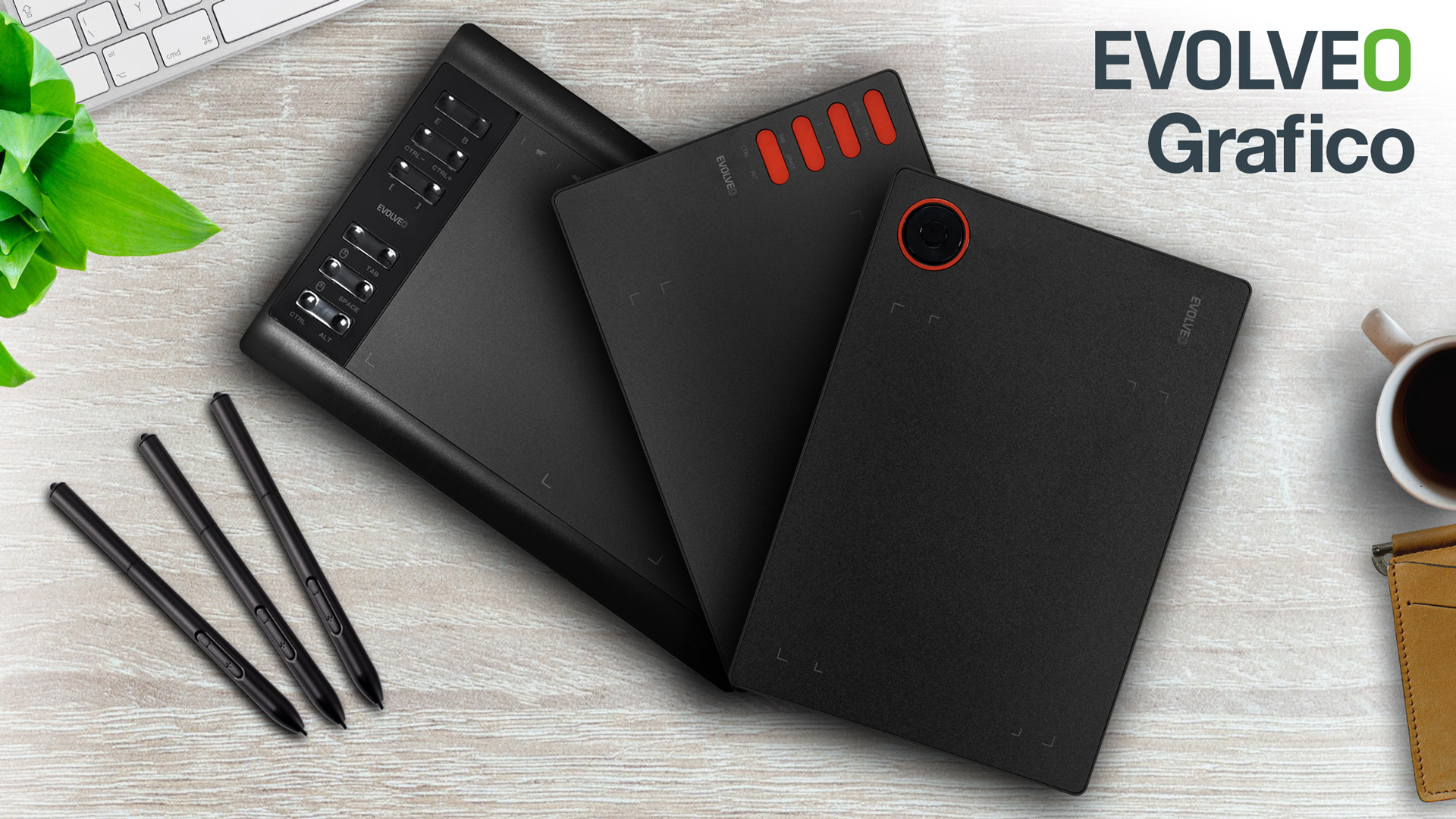 EVOLVEO Grafico T12 is a professional graphic tablet with twelve programmable keys and a multimedia touch bar that will be appreciated by both novice and experienced graphic designers. Tablet drivers are loaded directly inside the device and are immediately available when connected to a Windows or Mac OS computer or Android device. The basic function of the keys can be changed according to your own needs and preferences. The active working area of the Grafico T12 is 250 × 150 mm.
EVOLVEO Grafico T8 with eight programmable keys and two active pen keys is an intuitive tool for beginners and advanced graphic designers. Thanks to the implemented drivers, there is no need to download additional software. The preset keys can be easily adapted to individual needs. The active working area is 193 × 143 mm.
EVOLVEO Grafico TW is a graphic tablet with an interactive circular menu. Active working area 195 × 145 mm. Due to its weight and size, the Grafico TW is easily portable.
Availability and price
The EVOLVEO series of Grafico tablets are currently available in three versions through a network of online stores and selected retailers, as well as on the eshop website.evolveo.cz. EVOLVEO Grafico T12 has a recommended end price of 1 459 Kč including VAT. Grafico T8 has a recommended retail price of 1 359 Kč including VAT and Grafico TW then 1 350 Kč including VAT.