EVOLVEO EasyPhone XG, mobile phone for seniors with charging stand (red colour)
Colour display 2.4", SOS button with advanced localization, SOS fall sensor, 3.0 MP flash camera, FM radio with an integrated antenna, adding photos to contacts, MMS, Bluetooth, microSDHC, powerful flashlight, charging stand
Category

:

Senior phones
Bluetooth

:

Ano
Budík

:

Ano
Čtečka knih

:

Ne
Digitální záznamník zvuku

:

Ano
Doba nabíjení

:

2 h
Dotykový displej

:

Ne
Dual SIM

:

Ne
FM rádio

:

Ano
Fotokontakt

:

Ano
GPS

:

Ano
Hlasitost reproduktoru

:

83 dB
Hlasitý reproduktor

:

Ano
Hmotnost

:

93 g
Hudební přehrávač

:

Ano
Chipset

:

MTK6260A
Jack konektor (3,5 mm)

:

Ano
Jazykové verze firmwaru

:

CZ, SK, EN, HU, RO, DE, IT, BG, GR, HR, SL, PL, ES
Jazykové verze manuálu

:

CZ, SK, EN, HU, RO, BG, GR, HR, SL
Kalendář

:

Ano
Kalkulačka

:

Ano
Kapacita baterie

:

1 000 mAh
Konstrukce

:

Tlačítkový
Lupa

:

Ano
MMS

:

Ano
Nabíjecí konektor

:

Micro USB
Nabíjecí stojánek

:

Ano
Nabíječka

:

Ano
Napájení

:

5 V / 0,5 A
Počet kontaktů

:

300
Počet SMS

:

300
Počet uživatelských profilů

:

4
Podporovaná pásma

:

GSM/GPRS: 850/900/1 800/1 900 MHz
Podporované sítě

:

2G
Prohlížeč obrázků

:

Ano
RAM

:

64 MB
ROM

:

64 MB
Rozlišení displeje

:

320 x 240 px
Rozlišení fotoparátu

:

3 Mpx
Rozměry

:

120 x 58 x 14 mm
Rychlé kontakty

:

10
Seznam úkolů

:

Ano
SOS senzor pádu

:

Ano
SOS tlačítko

:

Ano
Stereo sluchátka s hands-free

:

Ne
Stopky

:

Ne
Stupeň krytí IP

:

Ne
Světové hodiny

:

Ano
Svítilna

:

Ano
Telefon

:

Ano
Typ

:

Pro seniory
Typ panelu

:

TFT
Typ SD karty

:

Micro SDHC
Uživatelský manuál

:

Ano
Velikost displeje

:

2,4
Velikost SIM karty

:

MicroSIM
Video přehrávač

:

Ne
Výdrž v pohotovostním režimu

:

8 d
Záznam videa

:

Ano
EAN

:

8595683201995
Obj.kód

:

SGM EP-650-XGR
Waranty

:

24 months
EasyPhone XG – precise SOS localization, SOS fall sensor, and high-quality flash camera
The Easyphone XG is an upgrade of the popular EasyPhone XD with new advanced functions that make it one of the best-equipped mobile phones for seniors on the market.
Easy operation, clear and simple menu
The EVOLVEO EasyPhone XG has a clear and simple menu with convenient, large buttons. Individual push-buttons are generously spaced, which makes texting and entering phone numbers easier. You can set eight speed dials for calling your favorite telephone numbers, or add photos to your contacts.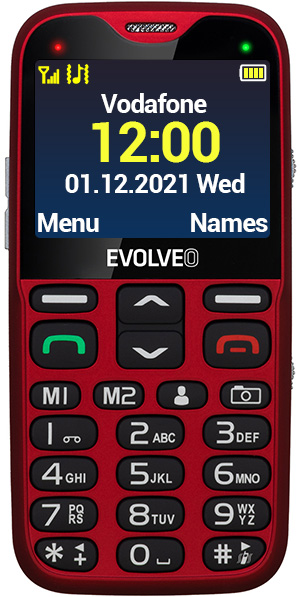 Sends SOS call and text message verifying your location
The mobile phone is equipped with an SOS button that automatically dials preset numbers and sends out an emergency text message containing information on the user's location. It is possible to select up to five telephone numbers that will be called and will receive the SOS message.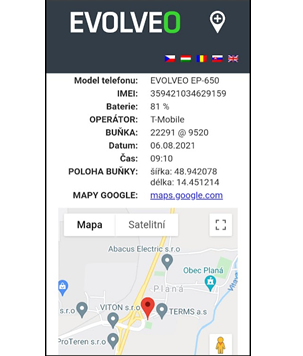 Three levels of localization
The phone uses all available localization options – GPS signal, WiFi, and the GSM mobile network. Each of these technologies has its limitations, but combined, they can provide you with the most precise localization possible at any given moment. For instance, the GPS signal is less reliable inside buildings, so the phone will use WiFi instead. If there are at least two WiFi networks available, the mobile determines its location precisely – even indoors. This increases the chance for the user to be found quickly.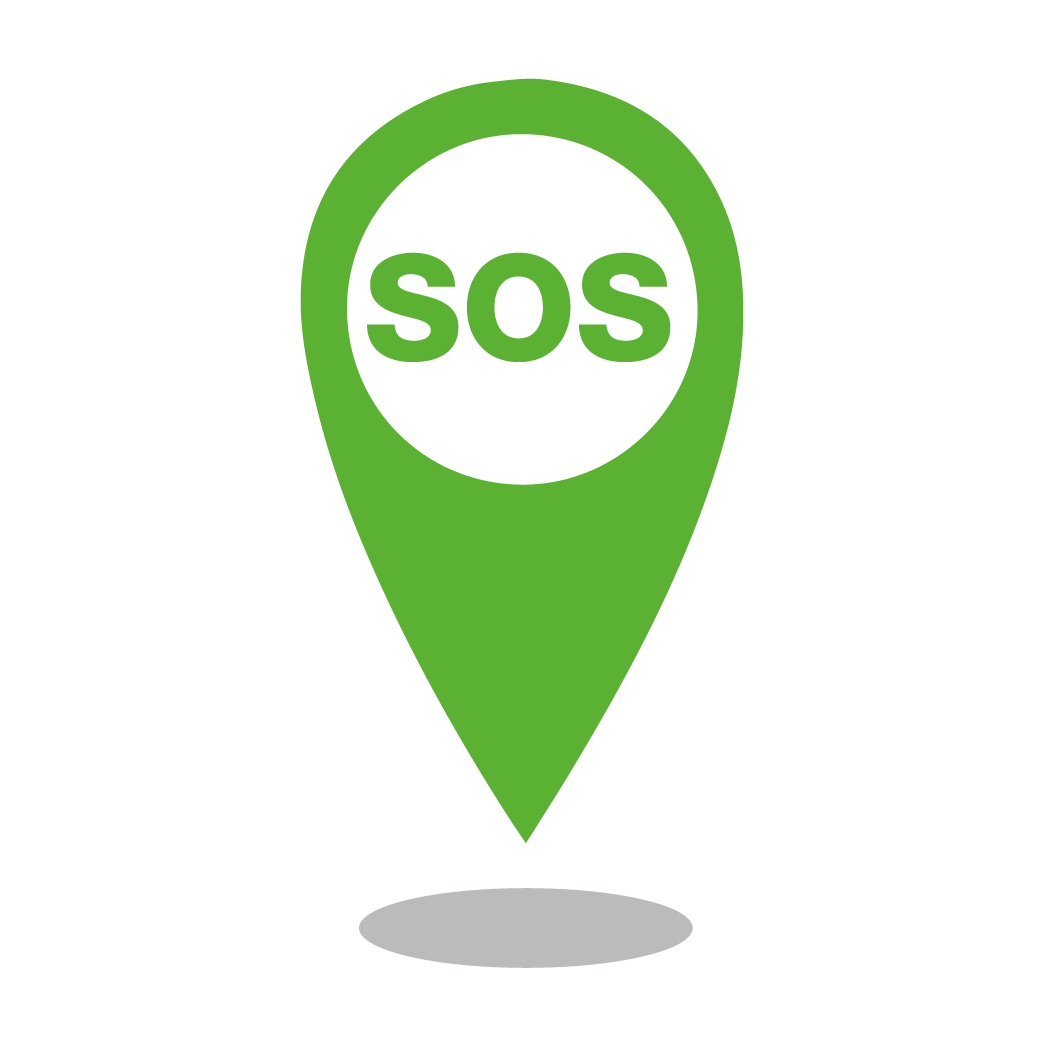 GPS localization from another phone
The phone can send a text message with its current position to another phone. This can be important if you cannot get through to the phone's owner. As the user, you can choose which contacts will be able to locate you.
SOS fall sensor
An elderly user might need to call for help after falling downstairs or on an icy pavement. The phone is equipped with a safety fall sensor for these situations. The smart sensor can tell if there has been a fall and automatically starts dialing your preset phone numbers and sending out text messages. In case of false alarm, just turn off the function.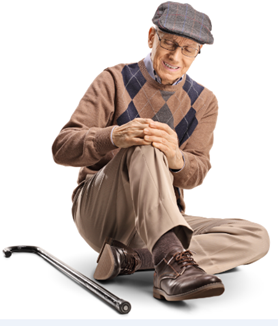 3.0 MP flash camera
The mobile phone is equipped with a camera with a powerful LED flash, turned on using a designated button for immediate use. Photos can be saved or sent as MMS.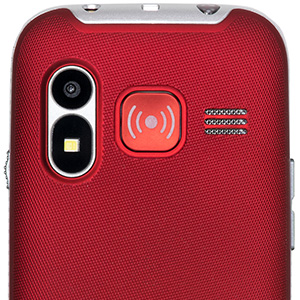 Adding photos to contacts and speed dial
To make calling easier, the phone enables you to add photos to contacts. You can choose up to eight contacts and match them with photos to identify callers more easily. Press just one button to display your contacts with added photos. You can add speed dial buttons for ten more contacts, paired with the digits 2–9 and the M1 and M2 buttons.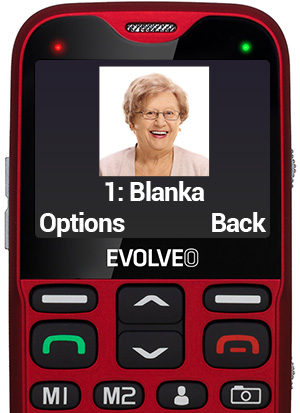 Dedicated push-buttons for easy control
To make operating your phone as simple as possible, it is provided with several independent buttons. A mechanical button easily unlocks or locks the keypad. Other buttons control the volume setting, flashlight, camera, and contacts with photos.
Integrated FM radio
The integrated FM radio with automatic station tuning and a powerful loudspeaker makes listening to your favorite station a hugely enjoyable experience. No need to connect earphones to receive radio signal: an antenna is integrated into the device.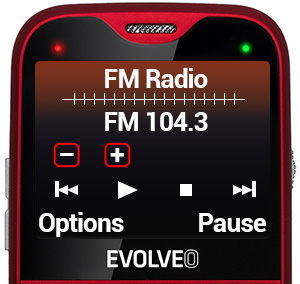 Key properties
easy to operate
large, colour 2.4" display
quality 3.0 MP flash camera
possibility of adding photos to contacts
designated SOS button and SOS text message with your location
SOS fall sensor
GPS localization from another phone
FM radio with automatic or manual tuning – no need to plug in headphones to receive signal
designated buttons for flashlight, camera, volume, and unlocking the phone
powerful loudspeaker for FM radio and ringtones
notification LED that lets you know if you miss a call
stand for easy charging
long operating time thanks to a 1000 mAh battery
display resolution 320 x 240 px
widely spaced push-button keyboard
flashlight that can also be activated when the phone is off
sliding keypad lock button on the left-hand side
sliding flashlight button
volume setting buttons
designated button for camera and contacts with photos
GSM/GPRS 850/900/1,800/1,900 MHz
supports MMS
Bluetooth
four user profiles
quick access to 10 favourite phone numbers
vibration ringtones
photo viewer
music player
digital sound recorder
calendar
alarm
task list
calculator
magnifier
possibility to insert a microSDHC card
3.5 mm headphone jack
1000 mAh Li-ion battery
phone dimensions 120 x 58 x 14 mm
weight 93 g (with battery)
Package includes
EVOLVEO EasyPhone XG mobile phone
charging stand
network charger 230 V
user manual
Be the first who will post an article to this item!
Be the first who will post an article to this item!