EVOLVEO StrongVision PRO 4G, photo trap / security camera
30 MP photos, 4K Video 30 fps
SD card up to 256 GB
Live video view
Android and iOS app, free cloud storage
10,000 mAh Li-ion battery
58 IR LED 940 nm for nighttime photography
4G LTE
App in EN, CZ, SK, HU and RO
Category

:

GSM hunting cameras
Baterie

:

Li-Ion 10 000 mAh
Cloud

:

Ano - zdarma
Dosvit

:

<25m
Externí napájení

:

12V
Lanový zámek

:

Ano
Noční IR přísvit

:

940nm
Ochranný box

:

Ano
Podpora MMS/SMTP

:

Ne
Pohybový snímač

:

PIR
Přenos dat

:

4G/LTE
Rozlišení foto

:

30mpx
Rozlišení snímač

:

8mpx
Rozlišení video

:

4K30fps
SD karta typ

:

SD
SD karta velikost

:

256GB
Úhel snímání

:

120°
EAN

:

8595683202244
Obj.kód

:

SGV CAM-PRO
Waranty

:

24 months
StrongVision PRO
Thanks to the new 8 MP CMOS sensor, the camera can shoot videos in 4K at 30 frames per second. Whenever the video is black and white, the camera shoots this quality both day and night. Photos can be up to 30 MP, but you can change to a lower resolution to save space on your memory card. We have listened to our customers and included a full-size SD card slot for easier manipulation, enabling capacity up to 256 GB.
LiveView
Thanks to the fast 4G connection and the innovative chipset, you can now use the LiveView feature. It allows you to watch footage online in real time, provided there is a good enough connection. You can also use this feature as a viewfinder when installing the camera trap. No more guessing when installing the camera! You can install it just the way you want on the first try. As soon as you connect to LiveView, you can remotely access files stored on the device and can copy, move, or delete them.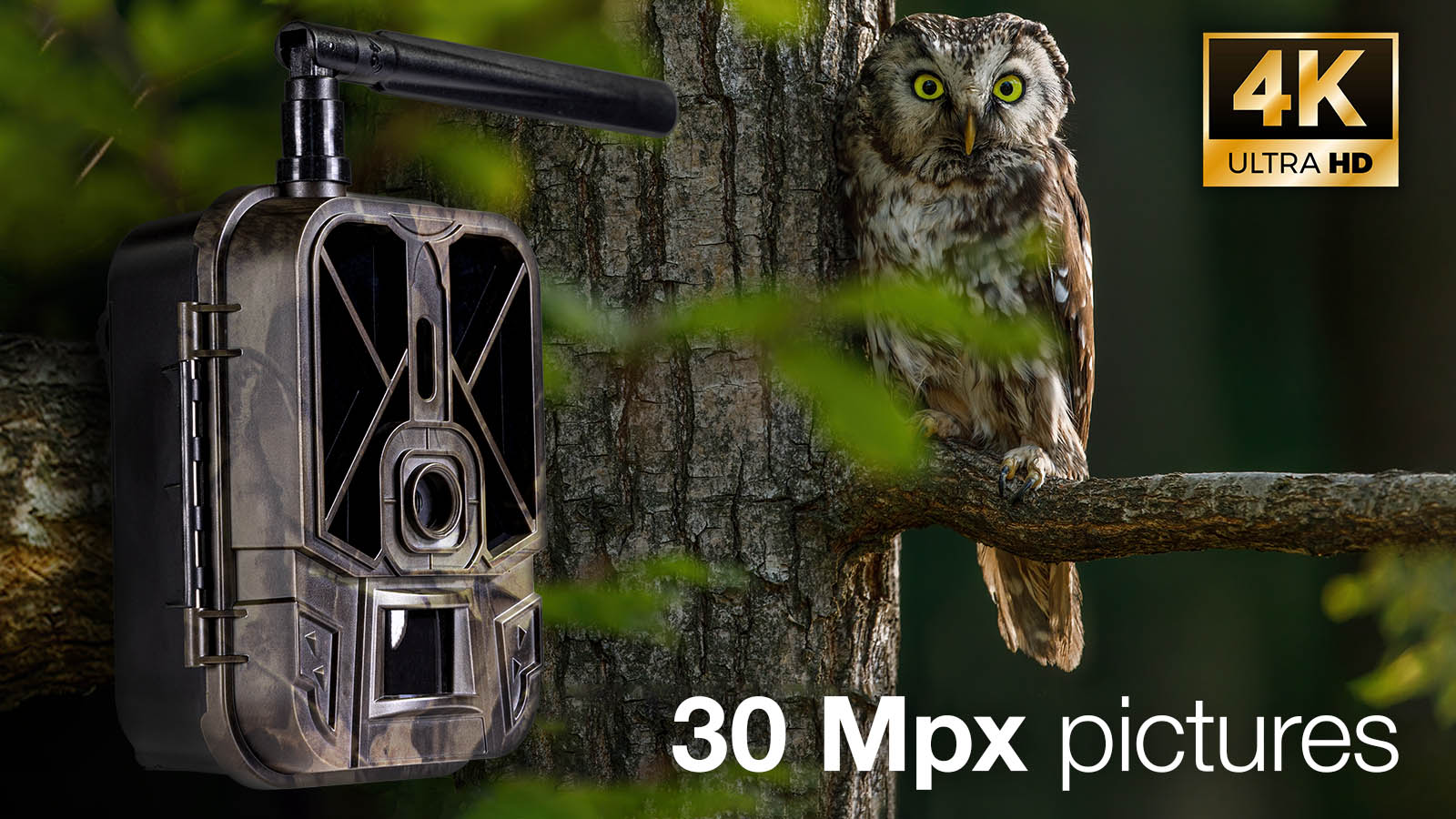 Universal security camera
The photo trap can also be used universally to secure your property. Wherever you do not have a fixed internet connection for a regular camera system. For example, at your cottage to build a house, or as security for your garage. Thanks to the integrated PIR sensors you will not miss any movement and the camera is activated only when it is needed, thus extending the battery life.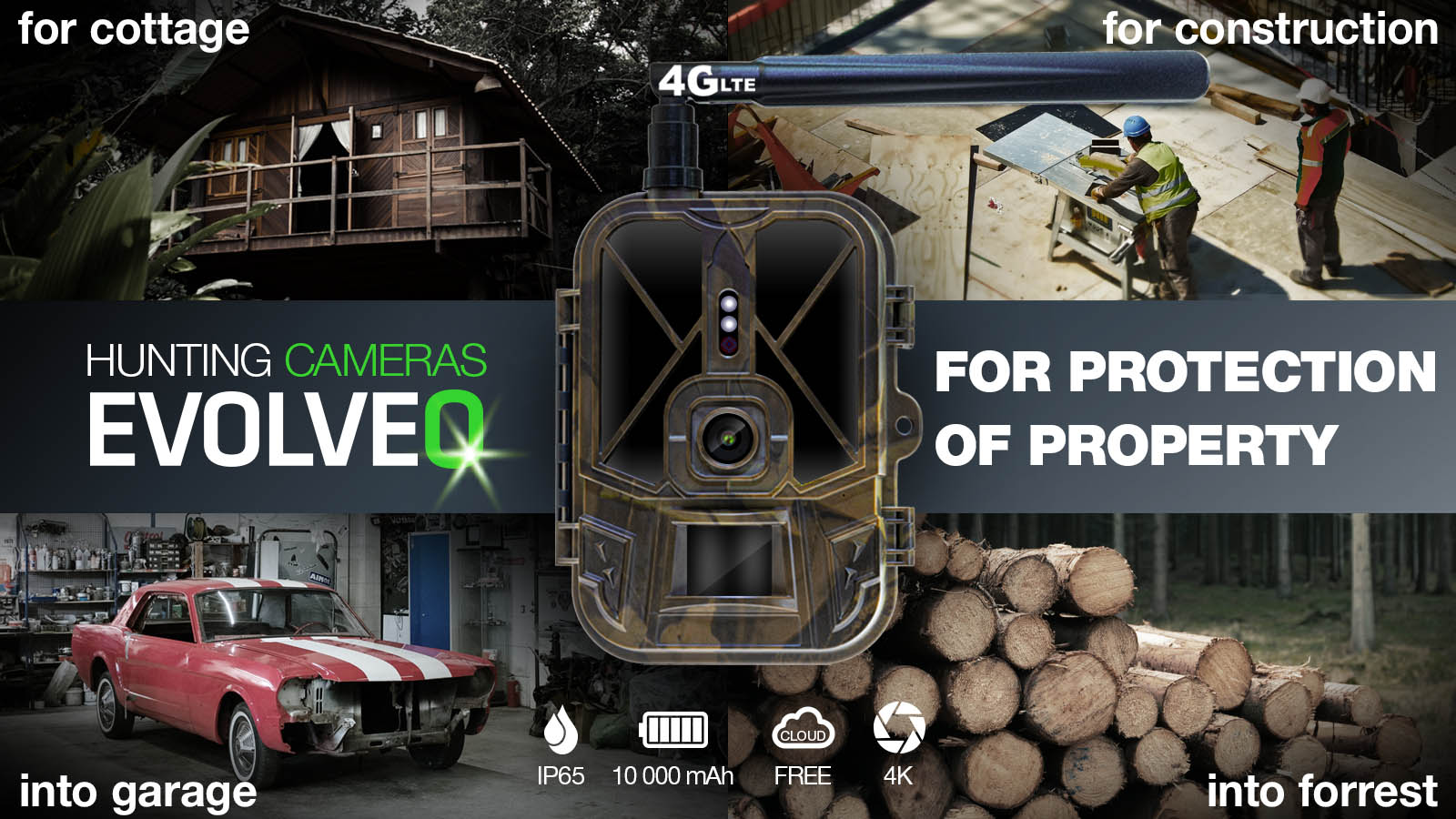 Li-Ion 10, 000 mAh
To increase battery life even further, we decided to upgrade the Li-ion battery to 10,000 mAh, which gives you a lot of battery time on one charge. You can remove the battery and charge it independently. You can also buy an extra battery if you really do not want to be limited by capacity, just keep one charged up at home and swap it now and again with the one in the device. Not relying on AA batteries means you save on operating costs. Battery life depends on the settings used (frequent videos) and on the surrounding temperature, since battery life decreases around a zero degrees Celsius.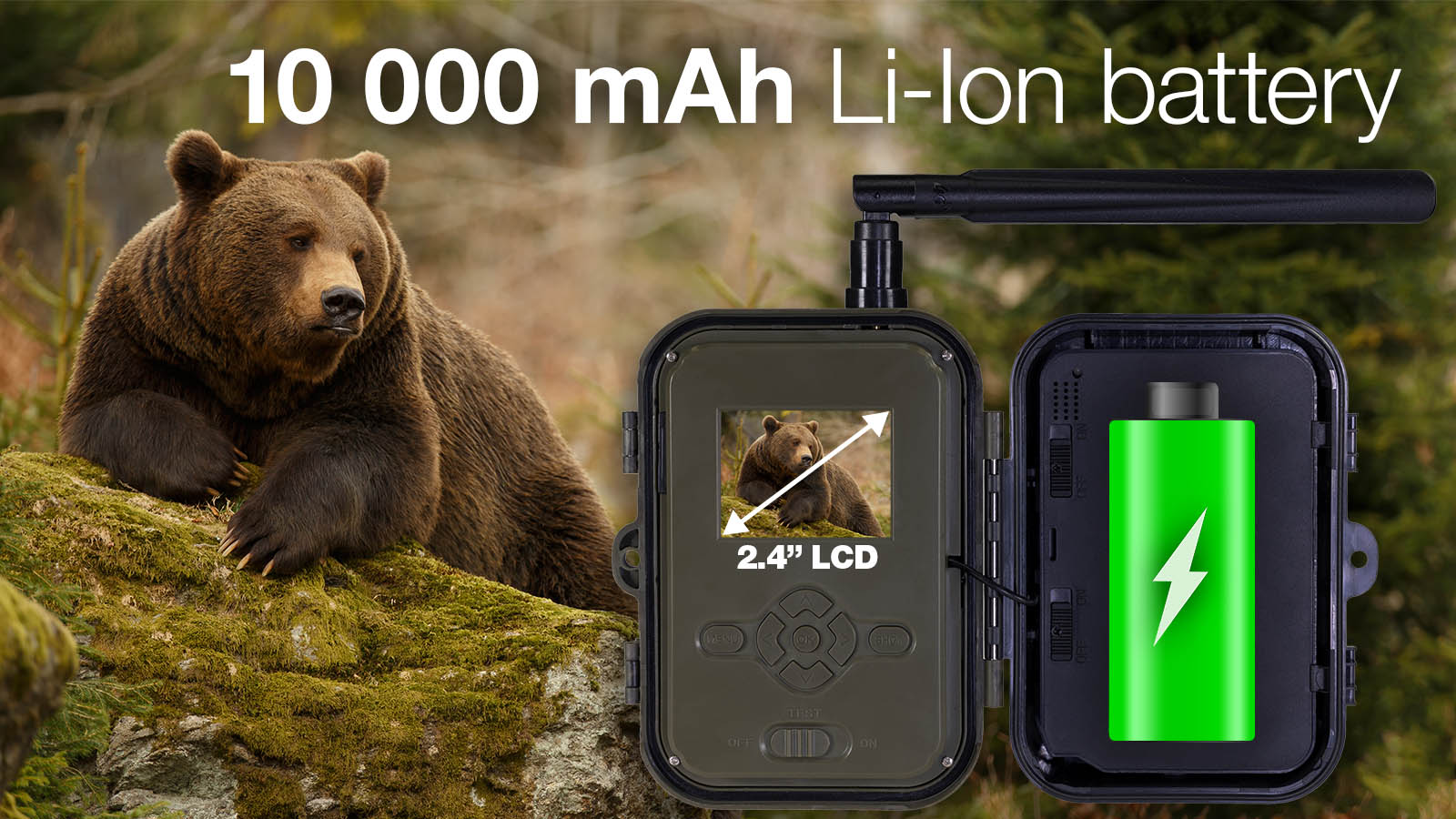 Free app and cloud storage
The app is free and always will be. The same goes for the cloud storage, which is unique for each device. The servers are located in Europe in on the Amazon platform. You can set up multiple camera traps in one app. You can also name each camera trap, which makes it easier to know where it is. When you receive a notification in the app, you will immediately know which one it is. A new feature allows you to change settings when the device is on, such as adjusting the photo and video resolution, or the trap activation schedule.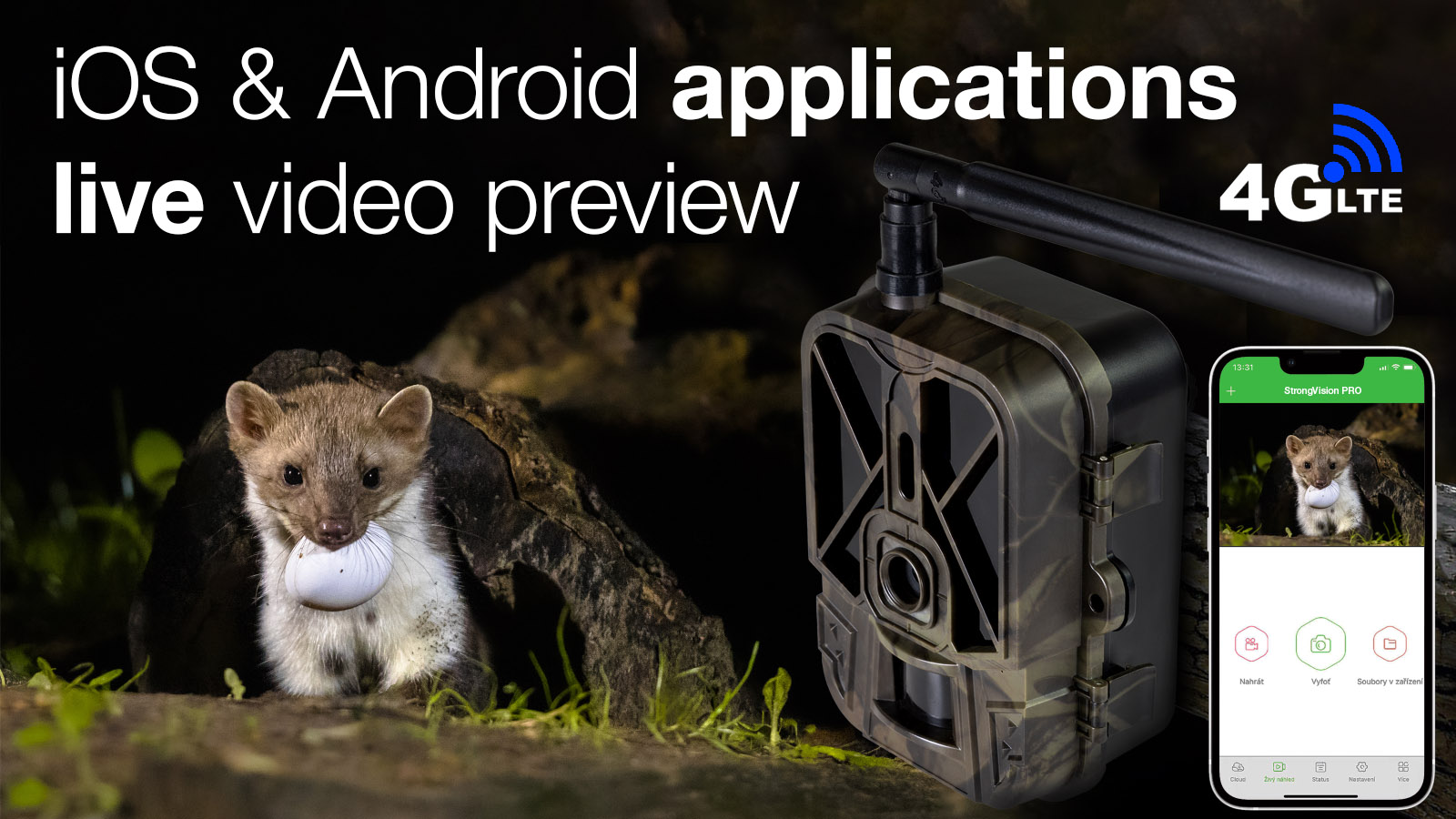 Nighttime illumination with 58 IR LEDs with 940 nm
Infrared nighttime illumination is an important feature on any camera trap. Thanks to the 940 nm LEDs, you can use the device not only to watch wild animals, but also as a security camera, because the intruder cannot see this light, as opposed to 850 nm light. Thanks to 58 IR LEDs with 940 nm wavelength, you can illuminate the night scene very well.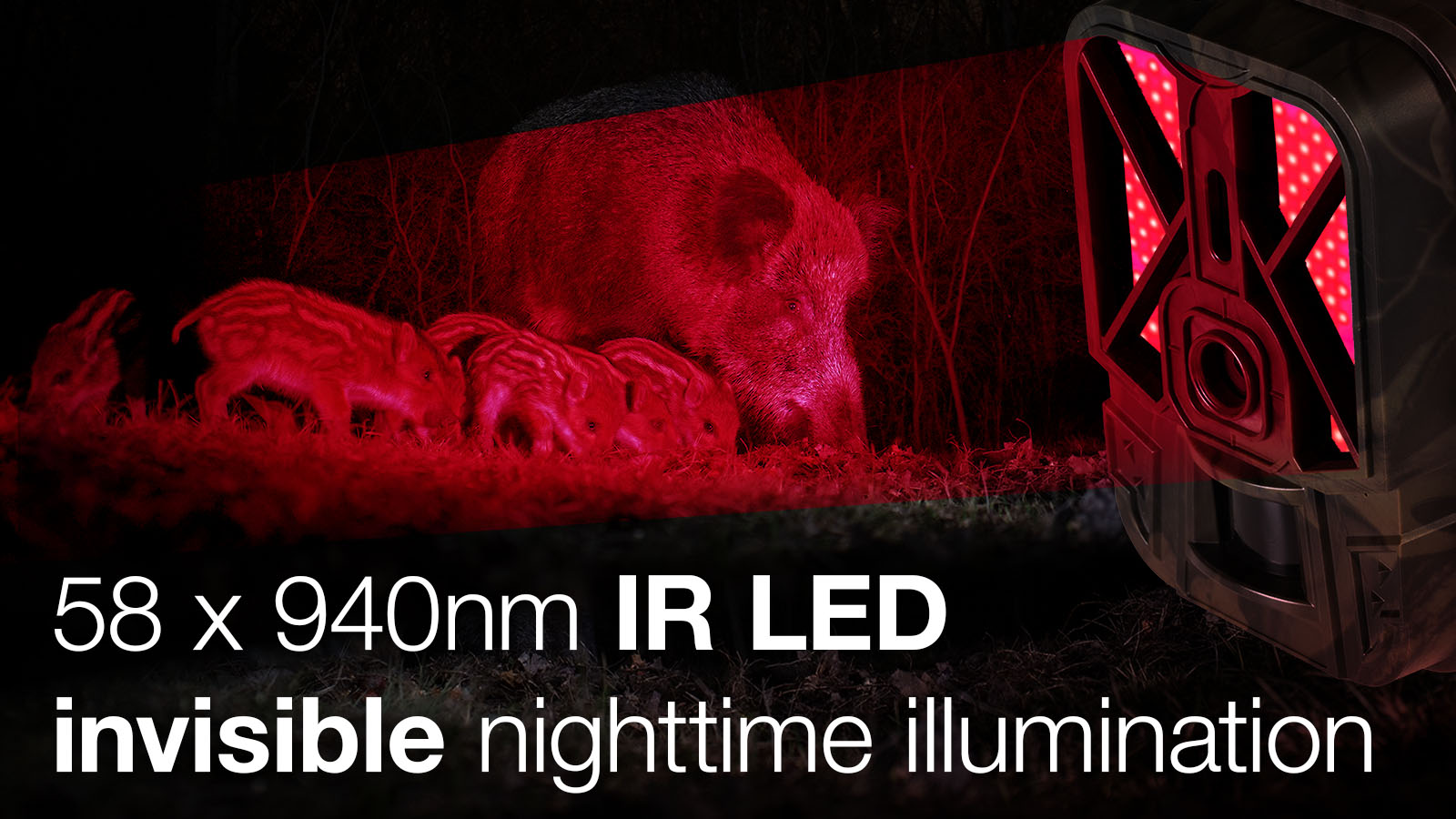 Accessories for easy operation
There are accessories available for the camera trap that offer better protection and safer operation. We also make a protective metal case – the StrongVision MB2, which is specifically designed for this camera trap. The case protects the camera trap against damage, wild animals, and thieves, whether it's situated in the woods, at your cottage, or on a construction site. Another great accessory is our cable lock, the StrongVision LOCK, which is 2 m long and 8 mm thick, making it easy to mount the camera trap on a tree, for example. The lock can be paired with the metal box.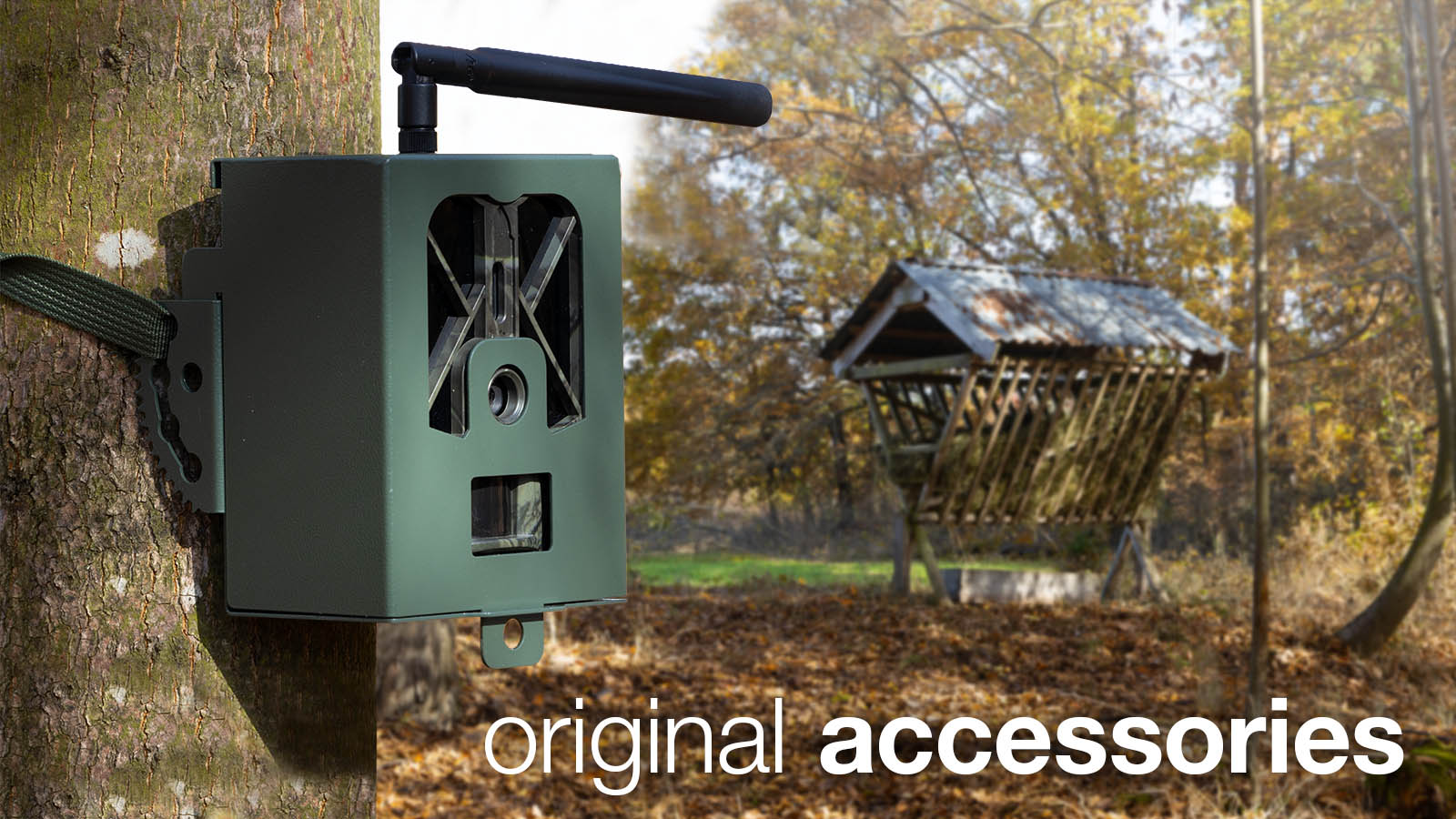 Parameters
Sensor: 8 MP CMOS
Memory: SD card up to 256 GB
Camera lens: F=3.1; FOV=57°
Dimensions: 138 mm * 90 mm * 86 mm
TFT display: 2.4 inch TFT
Nighttime illumination: 58 x 940 nm IR LED
PIR range: Adjustable sensitivity: High/Normal/Low
PIR sensor angle: 120°
Maximum IR LED beam distance: 20 meters
Start-up time 0.8 s
Shutter speed 1/5/10/30 s/min
Photo resolution: 8 MP–30 MP
Multiple photos in one take (multishot): 1/3/6/9
Video resolution: 4K /2.7K/1080p/720p/VGA
Photos are sent at full quality: Yes, to cloud
Video sending: Yes, to cloud
Date on photos: Yes
Daylight saving time switch – Yes, manual in the app
Security: PIN during start-up (4 digits)
Mobile bandwidths:

FDD-LTE: B1/B3/B5/B7/B8/B20
TDD-LTE: B38/B40/B41
WCDMA: B1/B5/B8
GSM: 900/1800

App: Evolveo CAM
App features: Settings, operation info, recorded footage management, and viewing – LiveView
SIM: Mini SIM card
Stand-by current: 0.1 mA
Stand-by operation time: 6 months
Power source: 12 V/1.5 A DC
Battery 10,000mAh – charging connector – input 12 V/1.5 A DC
IP65 protection
Mounting: Band, 8 mm cable, tripod thread
Contents of the package
StrongVision PRO 4G – SGV CAM-PRO
Li-Ion battery – SGV CAM-BAT2
Power adapter 230 V AC/12 V DC
User manual
SD card reader
Extendable GSM antenna
Be the first who will post an article to this item!
Be the first who will post an article to this item!