EVOLVEO PowerCharge 1000, charging station
Mobile, independent and versatile backup power source
Capacity: 40.5 Ah, 1036.8 Wh
Battery type: Lifepo4
Outputs:

2× 230 V socket
1× 12 V socket
4× USB-A
1× USB-C

Inputs: 1× DC5521 (230 V)
Max. output power: 1000 W
Peak power: 2000 W
Quiet noiseless operation
LCD display
Robust handle
Surge protection, overheating protection
Three charging options including solar panel charging
Charging cables included:

1× for 230 V socket
1× for car
1× for solar panel
Category

:

Charging stations
EAN

:

8595683203401
Obj.kód

:

NSE PowerCharge 1000
Waranty

:

24 months
Evolveo PowerCharge 1000 charging station
Always have plenty of power on hand for a wide range of devices, wherever, whenever you need it! Traveling, fishing, cottaging, outdoor activities, camping and roadtrips will be more convenient with the PowerCharge 1000 charging station.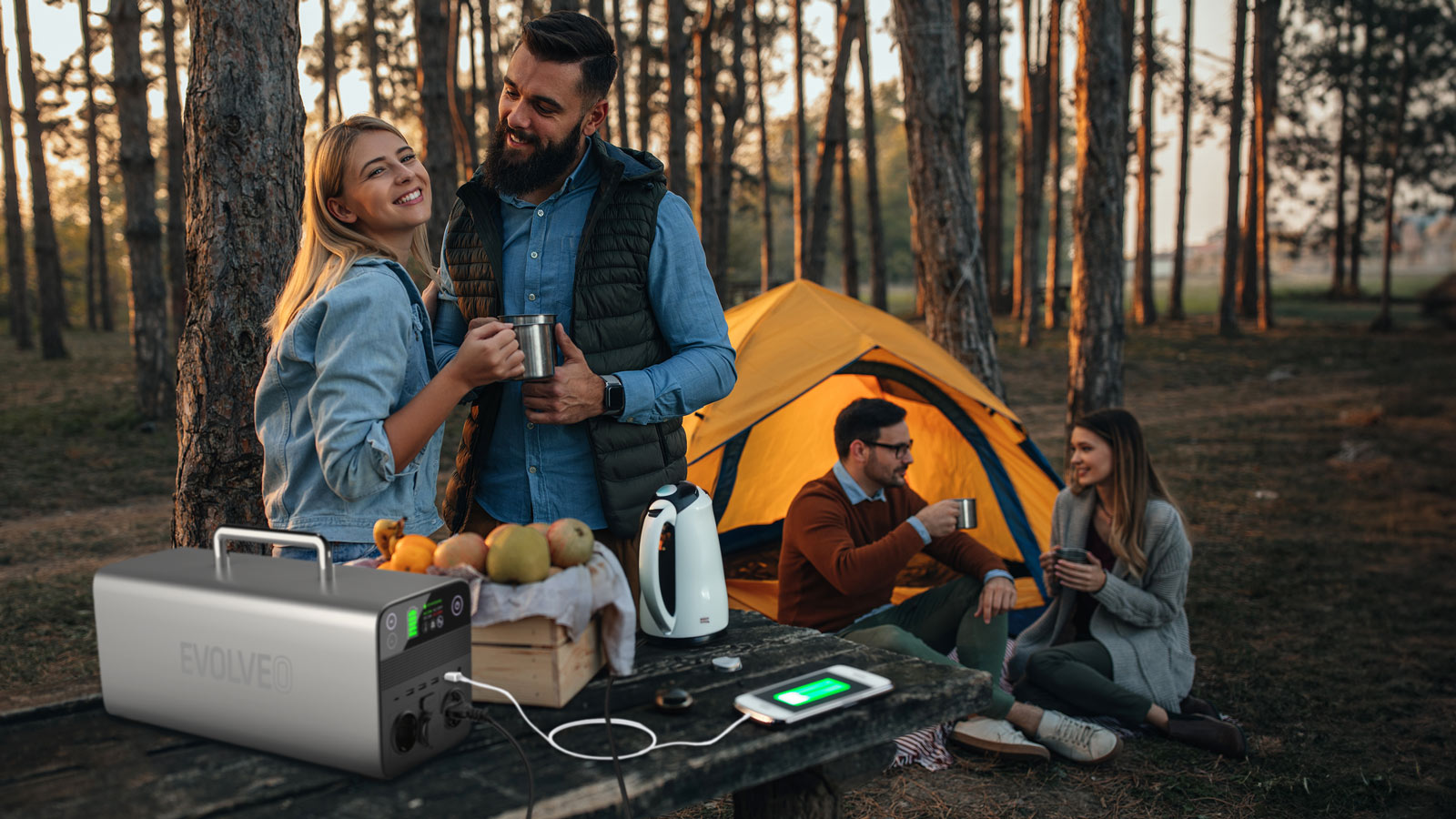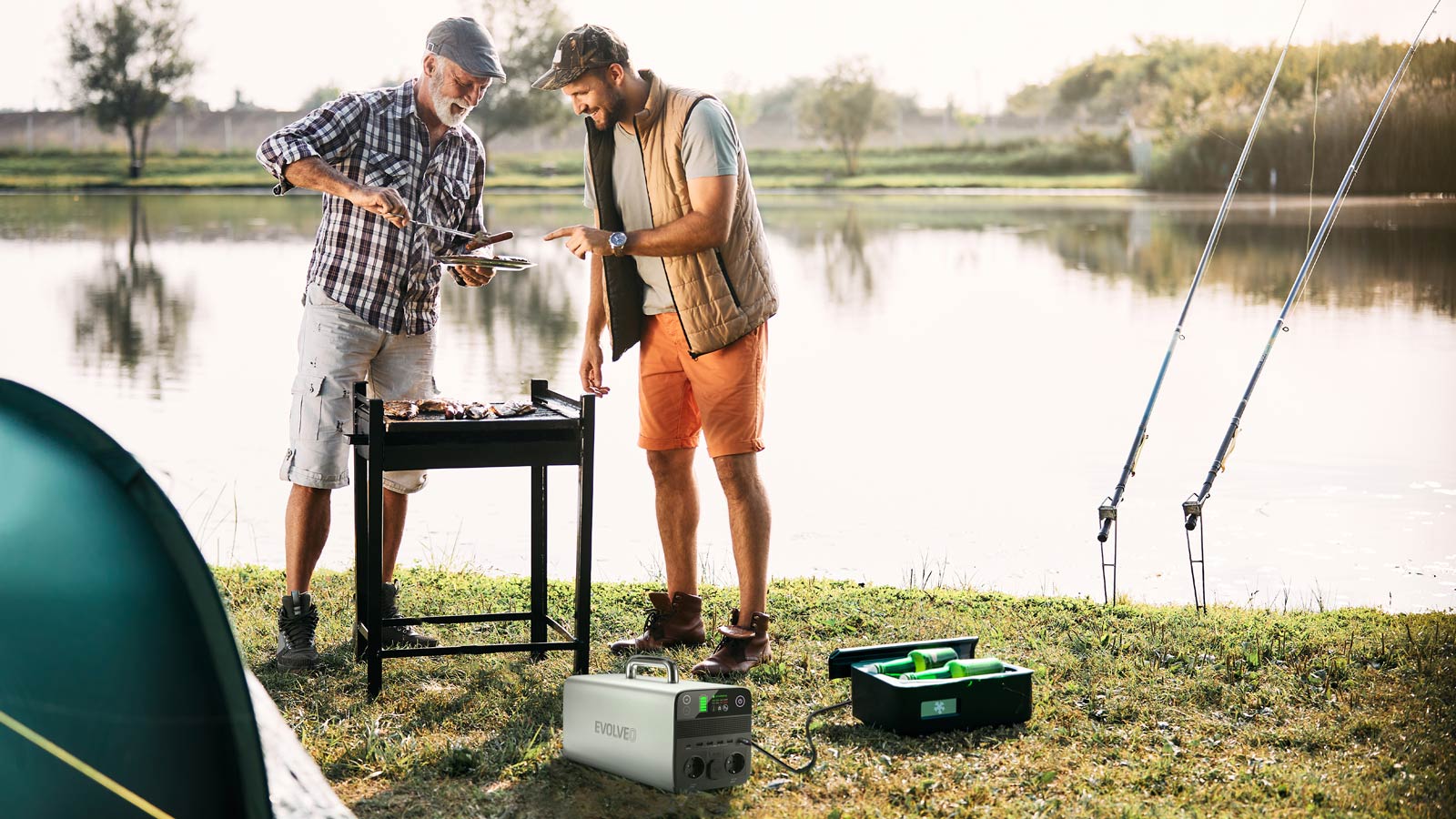 Advanced handling and safety
Evolveo PowerCharge 1000 is very easy to use. The touch buttons on the front display can be used to easily switch the AC or DC output on and off, and the remaining battery level can also be monitored. The station is equipped with a fan for efficient cooling and is also equipped with a sensor that prevents overheating.
High Performance Flexible Charging Station
The charging station is compact and easy to carry. With its capacity of 1037 Wh and total output power of 1000 W, it can charge a wide range of devices such as mobile phones, tablets, cameras, speakers and other devices with USB-A or USB-C input. In addition, devices that require AC power (220V-240V) such as drones, laptops, TVs, fans, etc., can be connected using AC outlets.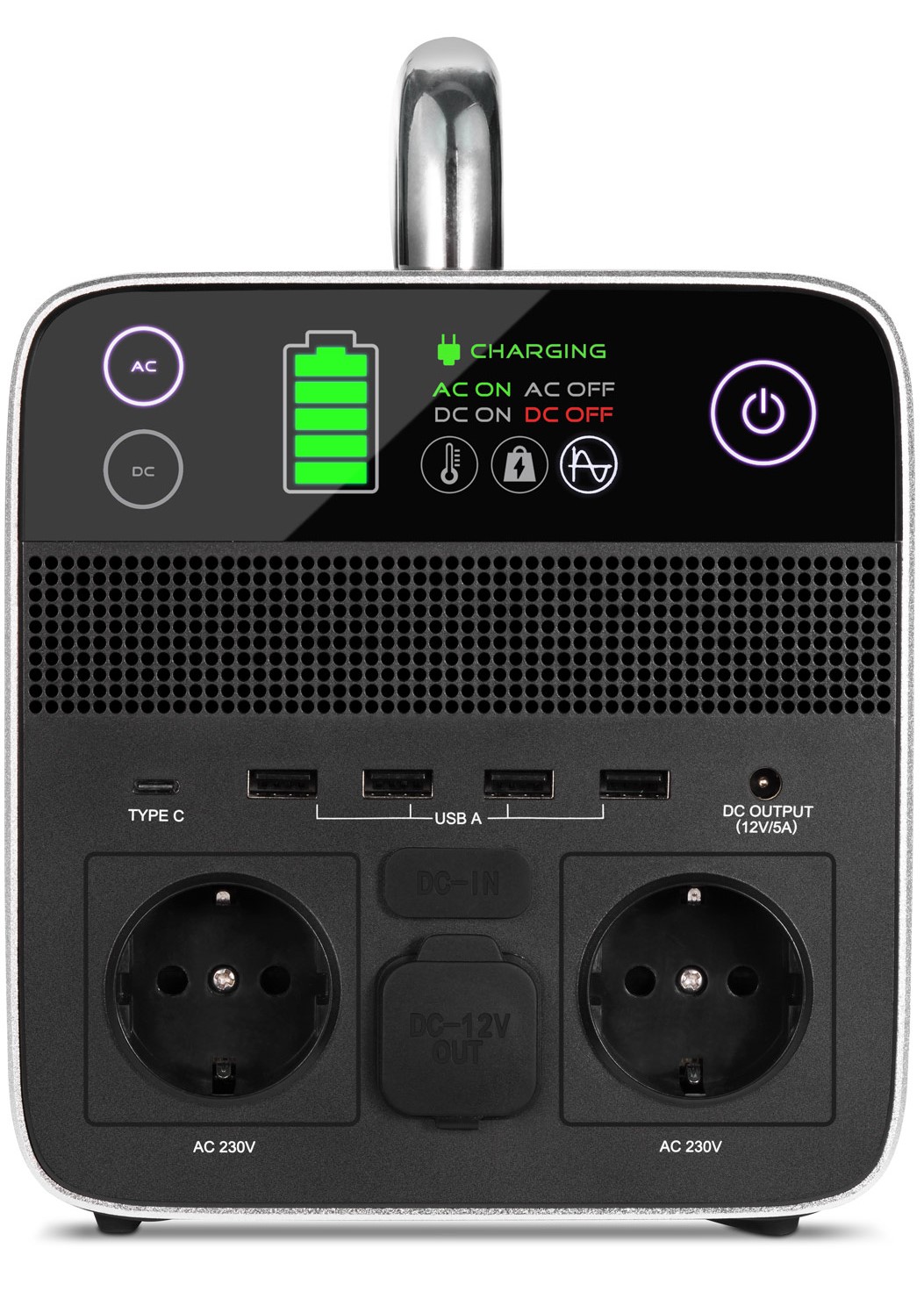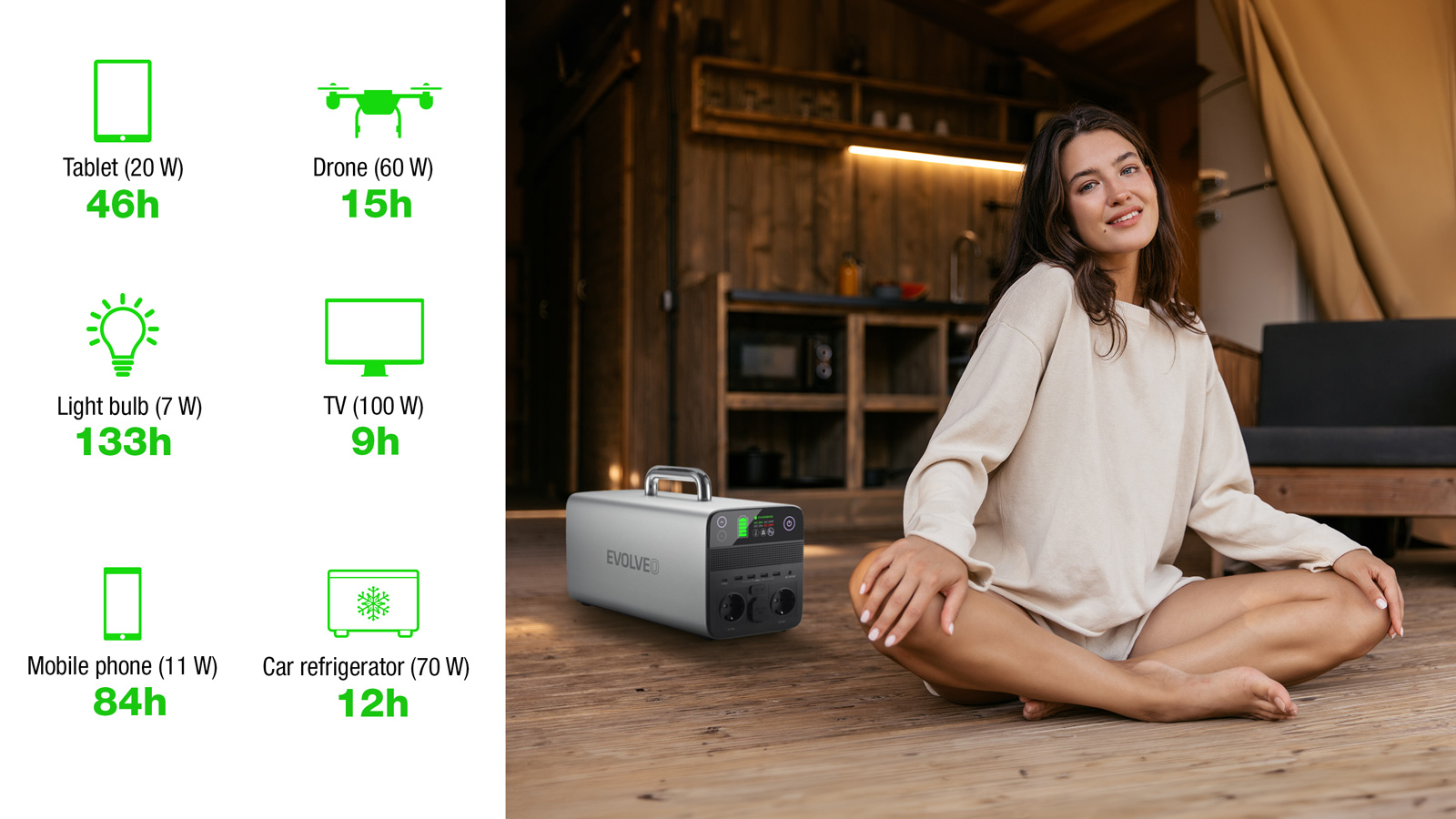 Charging
There are three ways to charge the station. The station can be charged from the mains, using a solar panel and the last option is charging from a car via a car charger. In all cases, the charging status is shown on the display.
Charging cables included
Included in the package is a set of charging cables. This kit includes a power cord, car charging cable and solar charging cable. Thanks to these cables, you will be able to conveniently charge your charging station not only from a power outlet, but also while driving or using a solar panel.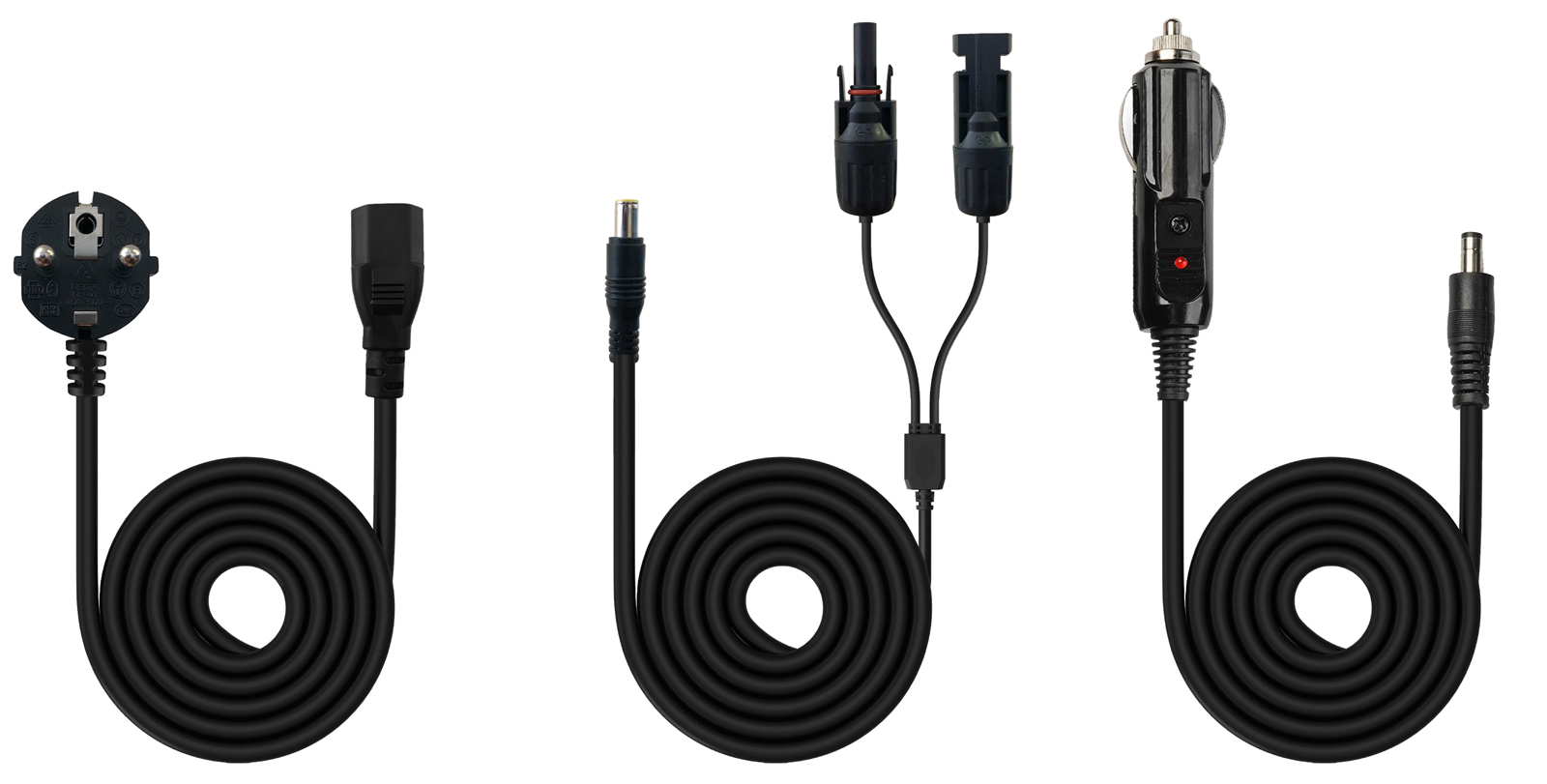 Complete Specifications
Ideal for powering car refrigerators, party speakers, mobile phones, tablets, drones, TVs, lighting, kettles, toasters, summer fans
Capacity: 1036.8 Wh (25.6 V, 40.5 Ah)
Lifepo4 rechargeable battery
Nominal power input: 1000 W
Peak power: 2000 W
Total AC output power: 1000 W
Robust body made of aerospace aluminium
Three possible charging methods:

230 V mains (AC 100-240 V, 50/60 Hz, 200 W)
Solar panels (DC 12-30 V, max. 200W, MPPT)
Outlet (DC 12 V)

2x AC output ports: 100-230 V, 50/60 Hz
7x DC output ports:

4x USB-A port (5-20 V, 18 W)
1x USB-C (Type-C) port (5-20 V, 18 W PD)
1x 5521 (12 V, 5 A)
1x CL cigarette port (12 V, 7 A)

Input port 5521 for charging from solar panels (12 V, 5 A)
Shared QC 3.0 (18 W) support on USB-A ports
PD 3.0 (Power Delivery) 18W support on USB-C (Type-C) port
Maximum Power Point Tracking (MPPT) support for solar charging tracking the highest panel current and voltage to obtain the most optimal battery charging parameters
Charging time: 6 hours
Appliance power life: tablet (20 W) - 46 h, drone (60 W) - 15 h, mobile phone (11 W) - 84 h, light bulb (7 W) - 133 h, TV (100 W) - 9 h, car refrigerator (70 W) - 12 h
Large and clear display with touch sensors to control the station
Colour display backlight
Display graphic indicators:

Indicator for switching on the whole station
AC port power on/off indicator
On/Off indicator for DC port power supply
Battery charge indicator (5 levels)
Indicator of the station charging in progress
Sinusoidal AC output waveform indicator
Overheat indicator
Simple overload indicator

Sound signaling of station control
Colour indication when station capacity reaches below 3%
Separate power on/off for AC and DC ports
All wiring is included:

Power cable to power adapter (length 1.5 m)
Solar charging cable MC4 (length 1.8 m)
CL car charging cable (length 1.5 m)

Inverter AC port waveform: pure sine wave for maximum appliance protection
High performance and quiet cooling fan
Automatic fan switching when the internal temperature of the station reaches 35 °C
Massive handle for easy carrying and transport
Silent and noiseless operation
Rubber non-slip feet
Power adapter parameters:

AC input 100-240 V, 5-2.5 A, 50/60 Hz
Dc output 24 V, 10.41 A, 250 W

AC output: AC 230 V, 4.35 A, 1000 W
Double security protection:

Overheating protection (if the internal temperature reaches 85 °C, the power supply to the output ports is stopped and an acoustic alarm is triggered)
Anti-overload

Operating temperature range: 0-40 °C
LVD, EMC, RoHS certification
Dimensions (w × h × h): 16.5 × 38.5 × 17.3 cm
Weight: 13.5 kg
Contents of the package
Charging station
Power adapter
Power cord to power adapter
Solar charging cable
CL car charging cable
Instructions for use (EN, DE, CZ, SK, HU, RO, IT, SLO)
Be the first who will post an article to this item!
Be the first who will post an article to this item!