EVOLVEO StrongVision MINI 4G, hunting camera/security camera
30 Mpx foto, 2K Video 30fps
SD card up to 256GB
Live view - live video preview
Android & iOS apps, Free Cloud
8xAA 1.5V batteries 
3 IR LED 850nm for night photography
4G LTE
Applications in CZ,SK,EN,HU,RO languages
Category

:

GSM hunting cameras
Baterie

:

Li-Ion 10 000 mAh
Cloud

:

Ano - zdarma
Dosvit

:

<25m
Externí napájení

:

12V
Lanový zámek

:

Ano
Noční IR přísvit

:

940nm
Ochranný box

:

Ano
Podpora MMS/SMTP

:

Ne
Pohybový snímač

:

PIR
Přenos dat

:

4G/LTE
Rozlišení foto

:

30mpx
Rozlišení snímač

:

8mpx
Rozlišení video

:

4K30fps
SD karta typ

:

SD
SD karta velikost

:

256GB
Úhel snímání

:

120°
EAN

:

8595683203784
Obj.kód

:

SGV CAM-MINI-4G
Waranty

:

24 months
StrongVision MINI 4G
EVOLVEO StrongVision MINI is a compact photo trap designed for watching game as well as for protecting your property such as a cottage or construction site. Thanks to its small size, the camera can be positioned so that it is not conspicuous and can record video or photos unobtrusively. The camera is fully customized for use with the EVOLVEO CAM app for Android or iOS, where you simply set up what you need without having to remove the camera from its place when changing settings or downloading images. Thanks to the fast data transfer 4G LTE, you can use the LiveView - live preview function, where you can see the current events in front of the camera in real time, or download and work with the files that the camera has saved on its SD card. The camera is powered by 8xAA 1.5V batteries, which guarantee long operation. You can also extend the operating time with original Evolveo accessories, such as the SP1, or a cable to connect an external 12V battery.
LiveView - live preview
Thanks to fast 4G connectivity and an upgraded chipset, you can take advantage of Liveview - live video preview. You can see online what is happening at the installation site, the only requirement is a good data signal. This function can also be used as a viewfinder during installation, so there is no need to move the camera several times, just start the live preview in the application and set the position as you like. Once a Liveview connection is established, you can also remotely access files directly on the device to copy, move or delete them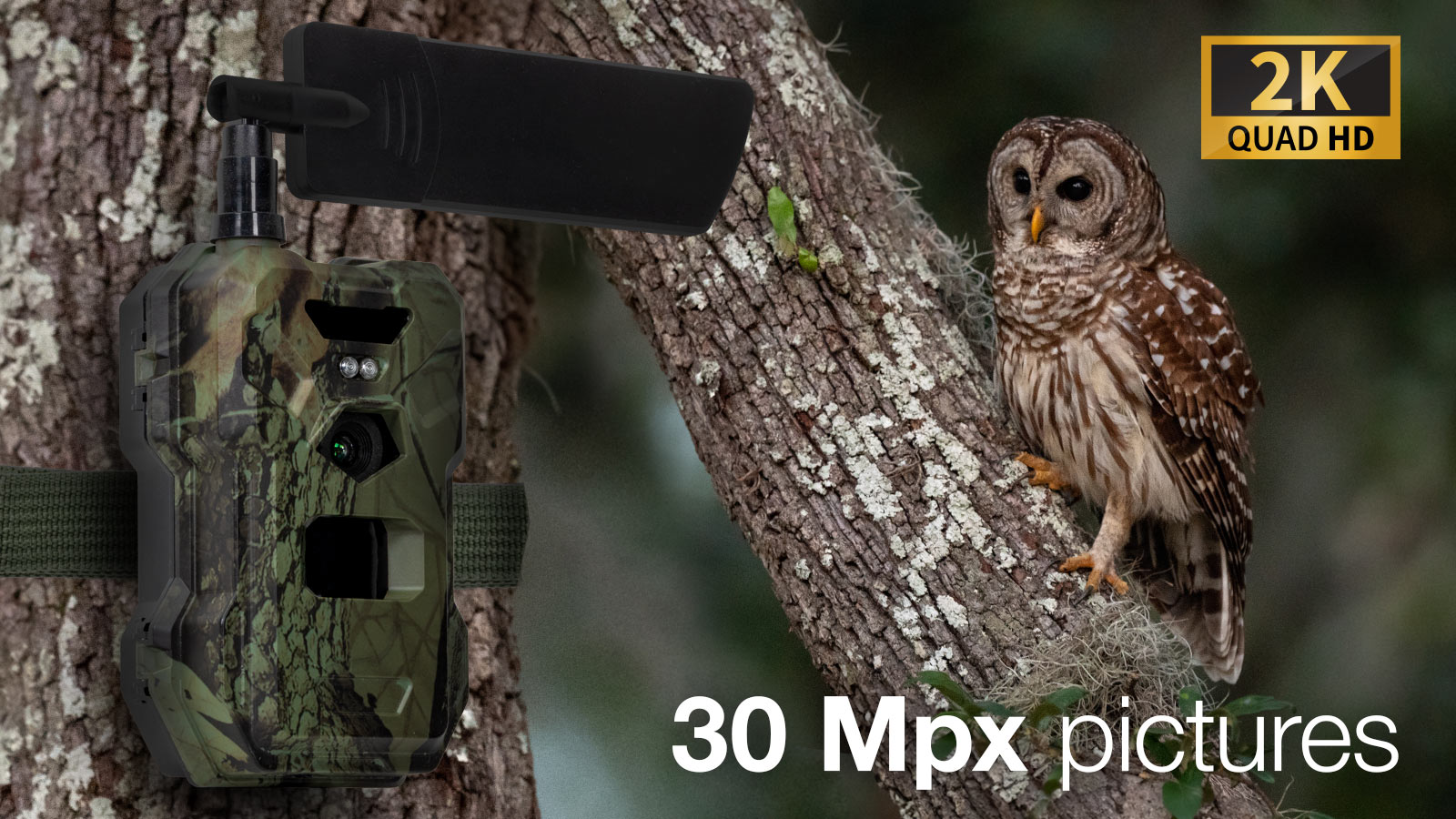 Universal Camera
Fotopast can also be used universally to secure your property, wherever you don't have a fixed internet connection for a regular CCTV system. For example, for your cottage to build a house, or as security for your garage. Whenever the camera detects motion, it notifies you with a notification to your phone or smartwatch, and you can then view the captured image or video in the app. Alternatively, with LiveView you can see a live preview. Thanks to the integrated PIR sensors you will not miss any movement and the camera is activated only when it is needed, thus extending the battery life.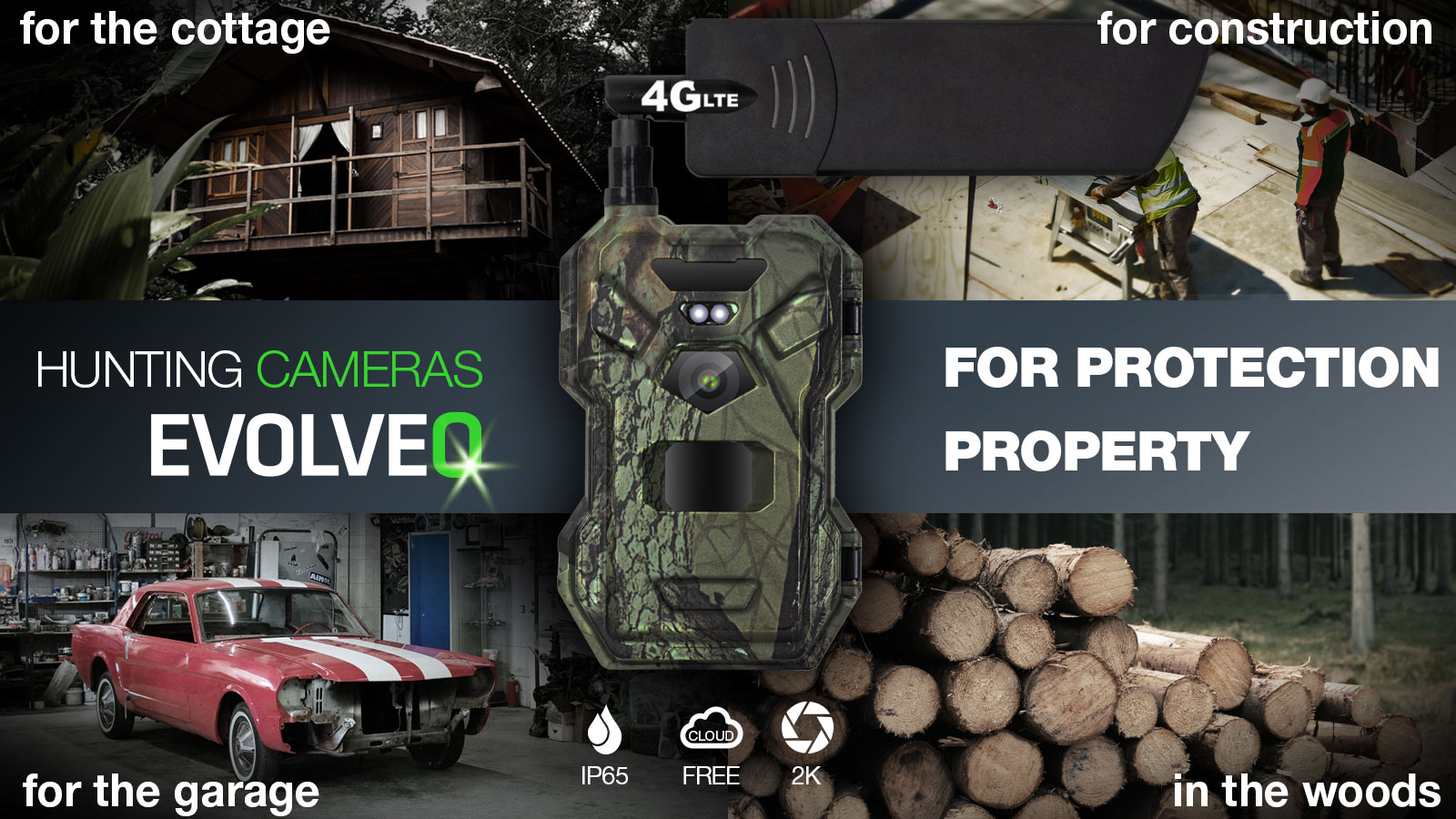 Free Apps and Cloud
The app is free and always will be, as is the cloud storage that is unique to each device. The servers are located in Europe on Amazon's platform. Within one application, you can have several photo traps added. You can assign a name to each photo trap to distinguish its location and see directly in the notification where what is happening. Now you can change any settings, such as the resolution of photos, videos or change the time for which the photo trap should be active, even in the enabled mode.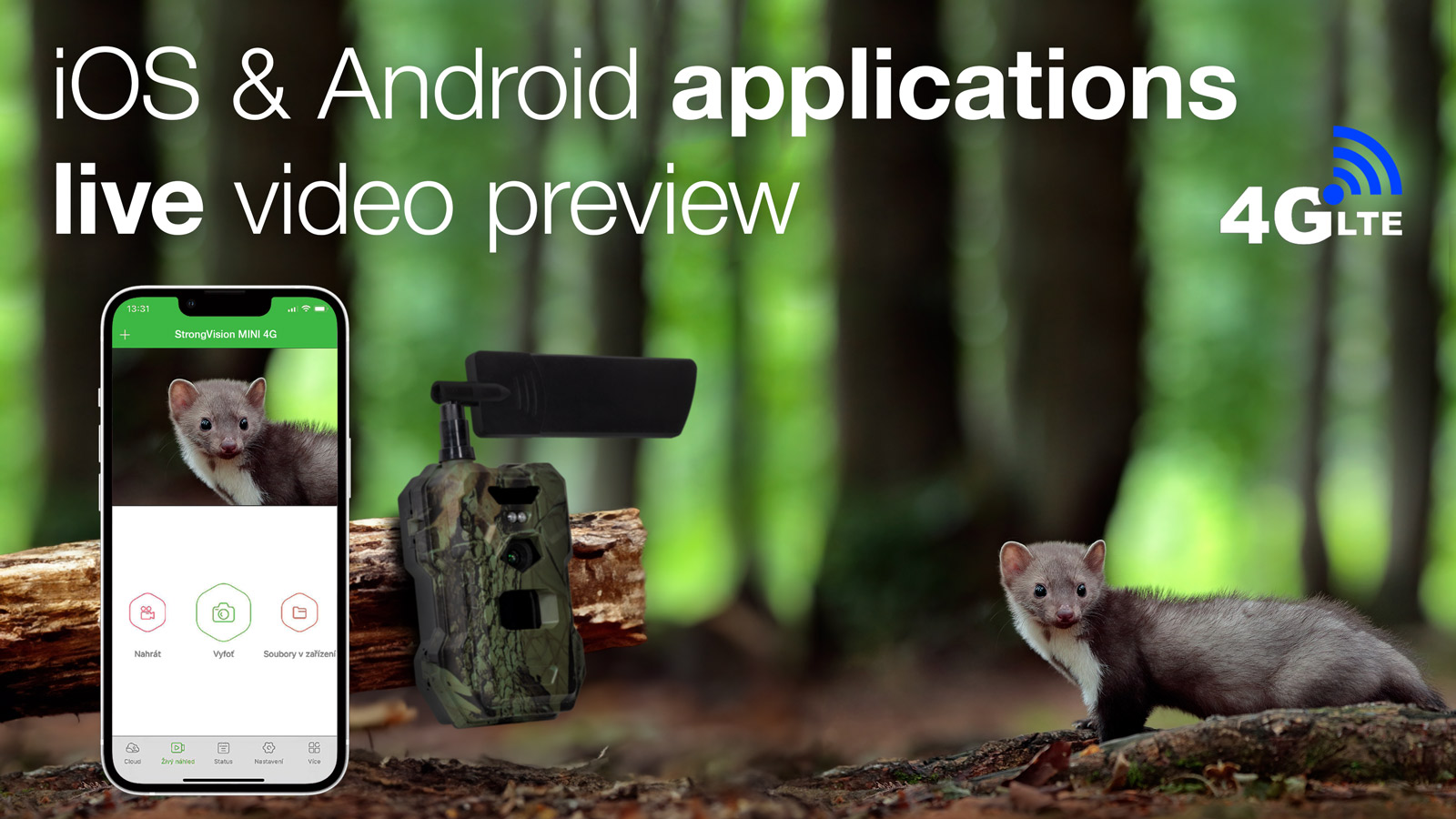 Night infrared illuminator with 2x 3W IR led with 850nm
Infra night illumination is an important feature of any photo trap, thanks to 850nm LED diodes the device can be used not only for game surveillance but also for object surveillance, where the intruder is not able to observe this type of illumination at night, unlike 850nm technology. Thanks to 2x3W IR LEDs with 850nm technology, the night scene is very well illuminated.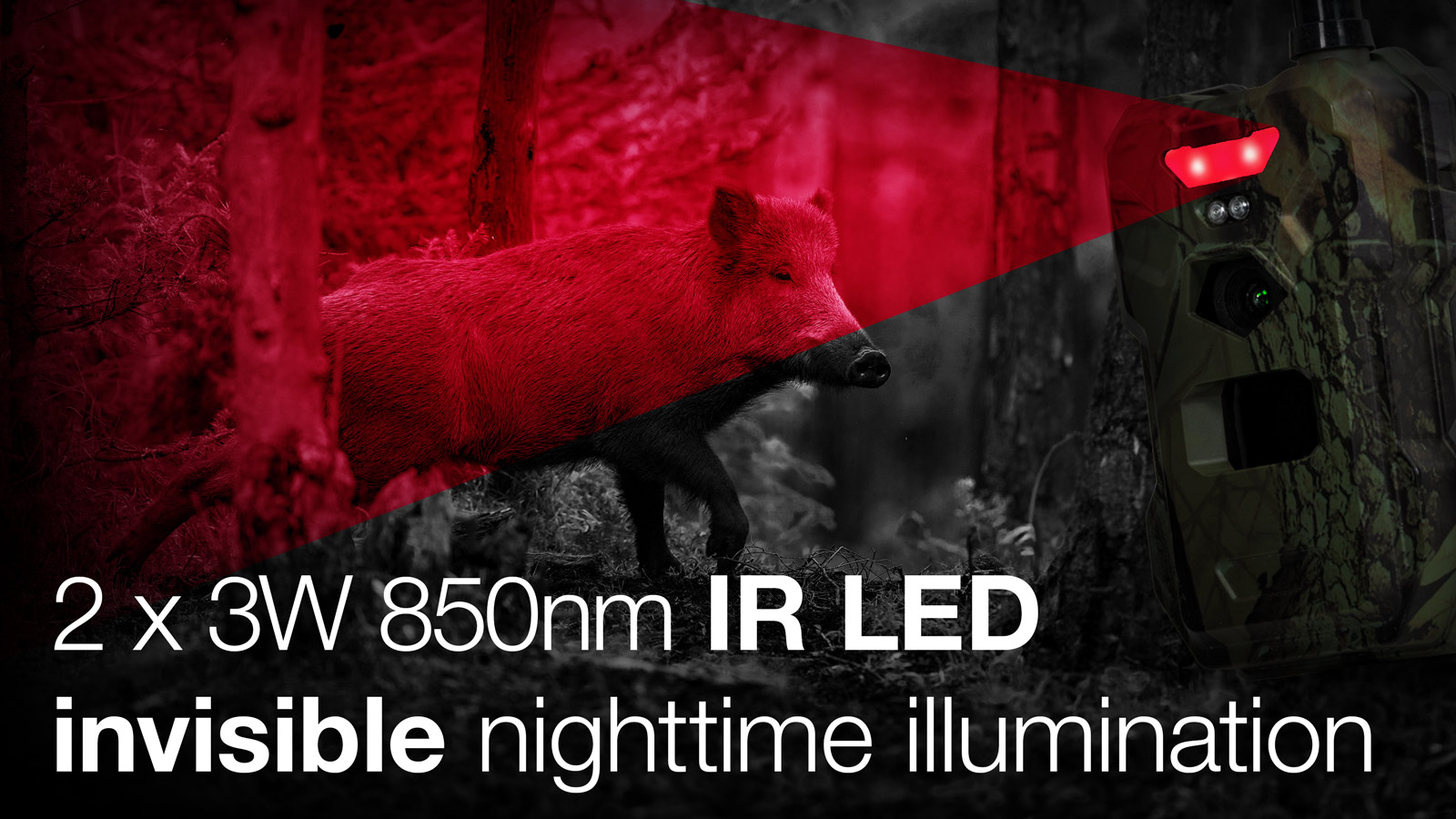 Accessories for worry-free operation
A great addition can be an adjustable rope lock StrongVision LOCK, which, thanks to its 2M length and 8mm thick cable, will serve well for attaching the camera to a tree trunk, for example.
For the case when you have the possibility to connect the camera to the mains, you can buy a 12V power adapter EVOLVEO StrongVision ADAP, the camera will be primarily powered by the adapter and if the mains power fails, the inserted batteries will serve as a backup power supply.
Solar panel is useful for longer lasting EVOLVEO StrongVision SP1 with an integrated Li-ON battery that can extend the operating time up to twice
If you want to use any other power supply or backup lead-acid battery, you can purchase EVOLVEO StrongVision PWRC power cable directly for evolveo photo traps.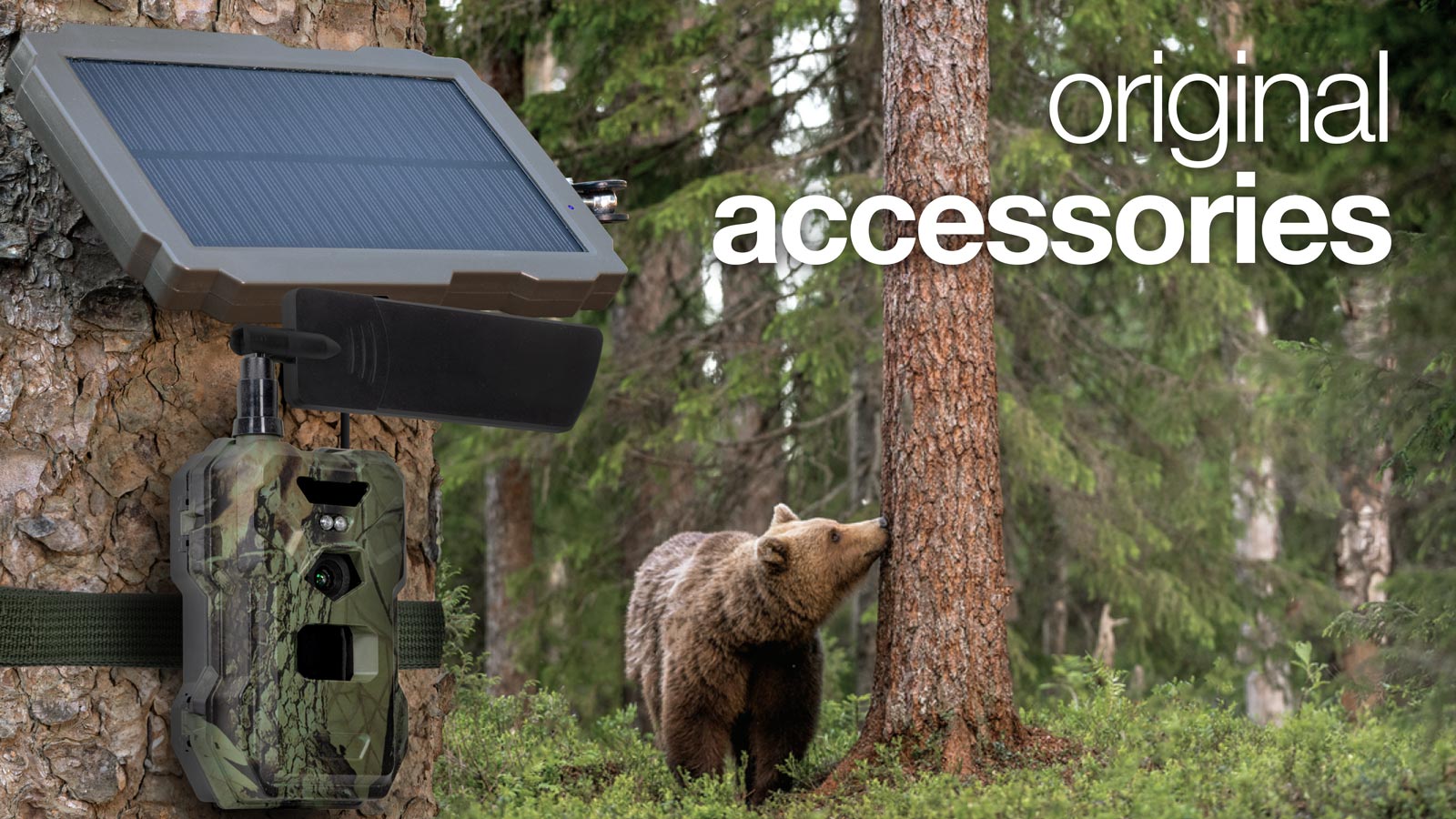 Parameters:
Sensor: 8 MPX CMOS
Memory: SD Card up to 256GB
Camera lens: F=3.1; FOV=90°
Dimensions: 187mm * 118mm * 87mm
Night light: 2x 3W 940nm Infrared LED
PIR Dosah: Selectable sensitivity High/Normal/Low
PIR Sensor Angle: 90°
Maximum IR LED range: 20 meters
Run speed 0.8s
Interval spouště 1/5/10/30s/min
Photo resolution: 8MP - 30MP
Multiple frames per activation (multishot): 1/3/6/9
Video resolution: 2K/1080P/720P/VGA
Upload full quality images: Ano na Cloud
Sending video: Ano na Cloud
Date in photo: Ano
Summer/Winter Time - Yes manually in the app
Security: PIN at start-up (4 digits)
Mobile bands:

FDD-LTE: B1/B3/B5/B7/B8/B20
TDD-LTE: B38/B40/B41
WCDMA: B1/B5/B8
GSM:900/1800

Application: Evolveo CAM
Application Features: Device settings, operational info, viewing and working with records -Live view
LCD: No LCD - control via app
SIM: Mini SIM card
Stand-by current: 0.1mA
Stand-by time: 6 months
Charging connector-input voltage 12V/1.5A DC
USB-C connector for data transfer
IP65 protection
Fixing: Belt, 8mm wire, tripod thread
Contents of the package
StrongVision MINI 4G
User manual
SD card reader
Removable GSM Antenna
Fastening strap
Be the first who will post an article to this item!
Be the first who will post an article to this item!