EVOLVEO StrongVision PRO 2G, EMAIL/MMS hunting camera
2G GSM, MMS/Email, EVOLVEO Mail server
20 Mpix stills, Full HD video
night photo and video
2.4" display, IP65 protection
SD card support up to 64GB
PIR sensor 120°
Power supply 10x AA battery or Li-Ion battery BAT3
Category

:

GSM hunting cameras
Baterie

:

10xAA
Cloud

:

Ne
Dosvit

:

<25m
Externí napájení

:

12V
Lanový zámek

:

Ano
Noční IR přísvit

:

940nm
Ochranný box

:

Ano
Podpora MMS/SMTP

:

Ano
Pohybový snímač

:

PIR
Přenos dat

:

2G/GSM
Rozlišení foto

:

20mpx
Rozlišení snímač

:

8mpx
Rozlišení video

:

FHD
SD karta typ

:

SD
SD karta velikost

:

64GB
Úhel snímání

:

120°
EAN

:

8595683203142
Obj.kód

:

SGV CAM-2G
Waranty

:

24 months
Time-lapse camera with EMAIL / MMS sending
The compact modern camera allows you to take photos or video recording with sound wherever you cannot use a classic camera system. It sends the captured photos to your mobile phone in the form of an Email using the EVOLVEO mail server or via MMS. Easily record movement around your home, cottage, garden shed, business, warehouse, construction site or when tracking wildlife in remote locations. Set up the camera quickly and easily using PC software. Whenever the camera detects motion, it will inform you either by email or MMS according to the selected settings and will also send you a picture of what is happening in front of the camera. Thanks to the integrated PIR sensors, you will not miss any movement and the camera activates only when it is needed, thus extending the battery life.
Easy SMS Setup
For easier setup, we've added Easy SMS Setup** to the StrongVision PRO 2G. To send emails with photos, you no longer need to create a file on your computer using EVOLVEO Config. Simply send an SMS to the SIM card inserted in the already activated photo trap with the SD card inserted, and it will set itself up. The device will confirm the successful activation by sending you an SMS* back. If you decide to use EVOLVEO Config for the setup, just remove the SD and format it and save the settings from EVOLVEO Config on it.
*SMS is charged according to your tariff **If you purchased CAM-2G without this feature, just update the FW. For the procedure and files, please refer to the Downloads section.

EVOLVEO e-mail server
To make it easy for you to send your pictures, we have prepared the Evolveo mail service. In the EVOLVEO config app, you only need to enter the email address to which the photo will be sent, and that's it, no passwords or usernames. Everything is done on secure communication between the photo trap and our mail server.
20Mpix photos and FullHD video
The camera can record photos up to 20mpix and video at 1080p/30fps. All this, both in day and night mode. To capture game in motion, you can also select multishot in the shooting mode. The camera then records up to 9 images per activation, so you don't miss anything. However, it will only send the first image, the rest will be safely stored on the inserted SD card with a size of up to 64GB.

Time-lapse camera
Time-lapse mode allows you to easily record, for example, a construction project. Simply set the time interval and the camera will take a picture according to the set parameter and does not react to intrusion by the PIR sensor. You can then use the images to create a time-lapse video of, for example, the construction of your house.
Accessories
Without the original accessories, you cannot use the full potential of the EVOLVEO StrongVision PRO 2G photo trap. There are cases when the camera needs to be protected against vandals, theft or unwanted animals. We have thought of all this and prepared the following rich accessories:
StrongVison MB2 - a durable metal box, with locking option. Made of 1.5mm thick steel plate so that you can still connect the power adapter or screw in the antenna.
StrongVision BAT3 - 8,000 mAh Li-Ion battery to replace the already inserted 10AA cell battery box. It can extend the battery life several times on a single charge and saves you money on repeated purchases of AA batteries.
StrongVision LOCK - an 8mm thick steel cable fitted with a lock that allows you to attach the photo trap, even with its metal casing, to a tree. Or alternatively, it can be used on your bicycle.
For more accessories and parts, see HERE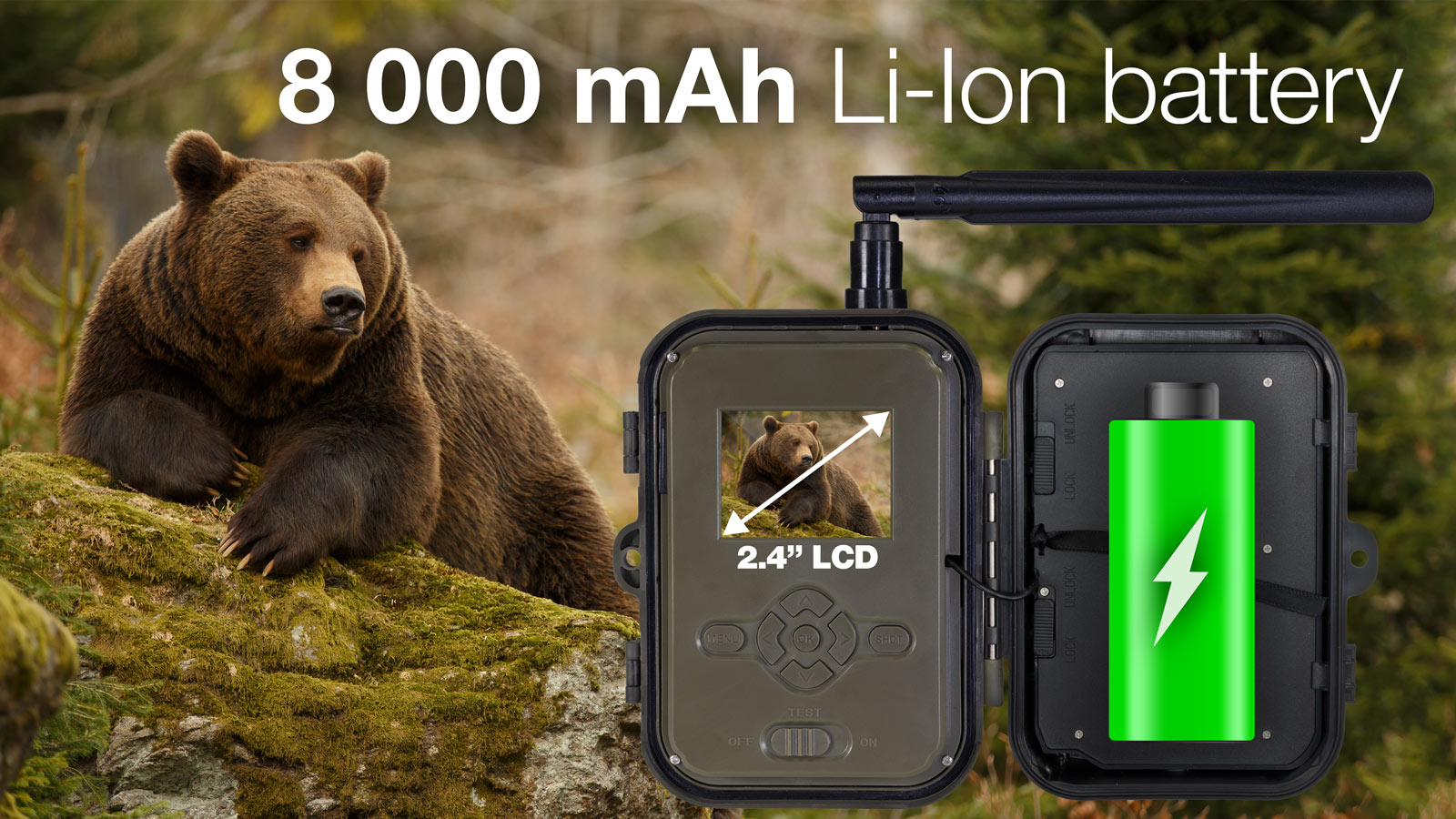 Quality night photography and video and 120° motion detection
Video can be recorded in the highest quality Full HD, night recording or photography is enabled by 58 infrared LEDs with a wavelength of 940nm, which is invisible to the human and animal eye and does not scare the game in front of the lens. Motion is detected in a wide field of view of 120° using a PIR sensor with adjustable sensitivity, which ensures automatic recording whenever game passes in front of the camera.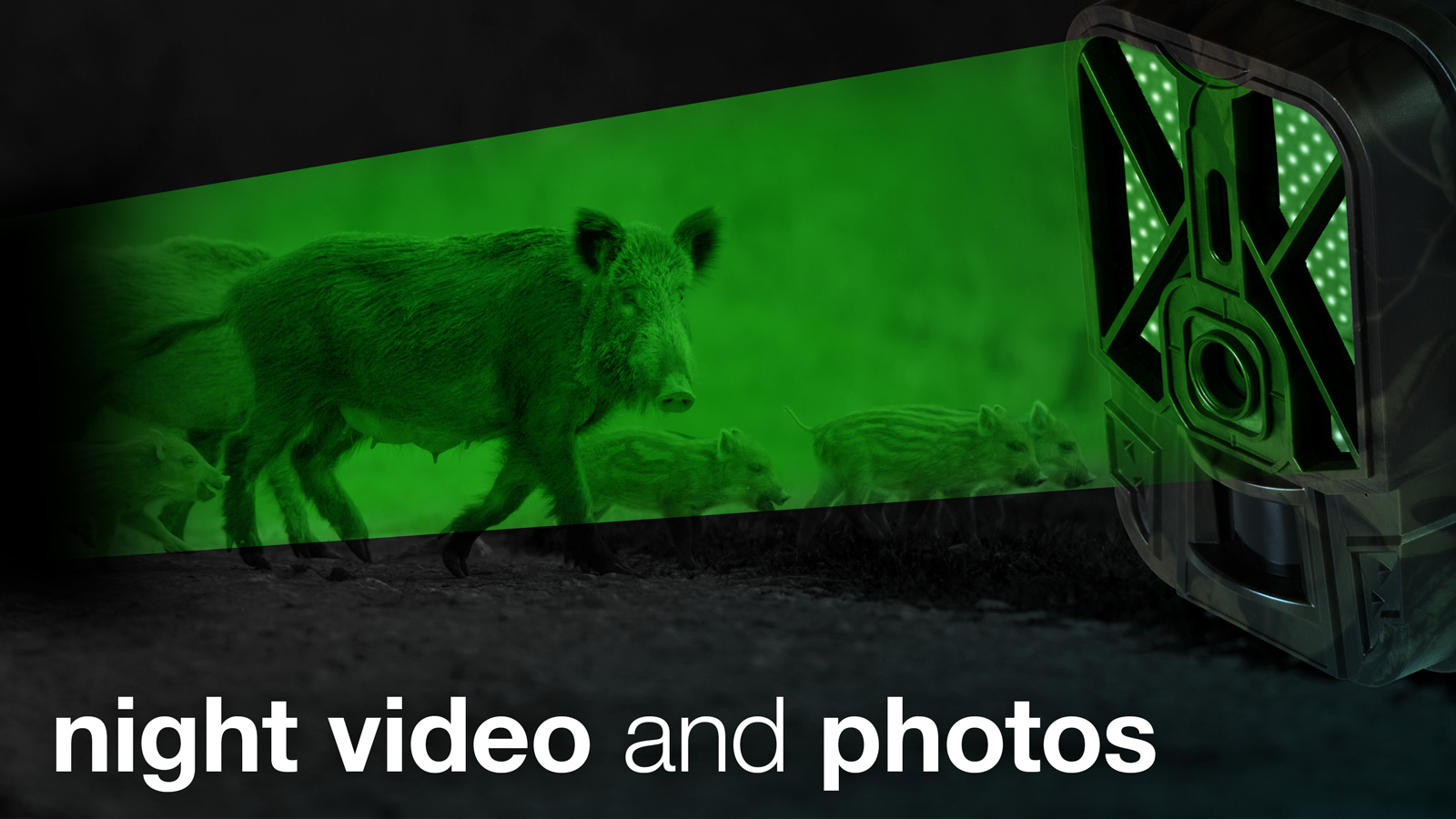 Parameters:
Sensor: 8 MPX CMOS
Camera lens: F=3.1; FOV=57°
video resolution: 1080P/720P/VGA
video length: 10/30/60/90s
sending MMS/Emails to several numbers or addresses at once
support for 2G GSM networks
TLS 1.0/1.1 support for SMTP
waterproof IP65
photo resolution: 12MP/16MP/20MP
Trigger speed: 0.8s
Mode: Photo, Video, Photo&video, Time-lapse, Multishot.
SD Card up to 64GB
2.4" TFT Display
nightlight: 58 x 940nm Infrared IR LED
PIR Range: Selectable sensitivity High/Normal/Low
PIR Angle Sensor: 120°
maximum IR LED range: 20 metres
Trigger interval: 1/5/10/30s and 1/2/5/10/30min
multiple frames per activation (multishot): 1/2/3/6/9
date in photo: Yes
Security: PIN at start-up (4 digits)
option to set the scanning in time interval (TimeShot)
Capture interval setting 5/30/60/120min 6/12/24h for time-lapse
attaching the camera with a strap or rope lock StrongVision LOCK
Operating temperature -10°C to +50°C
batteries in separate battery box, for electronics protection
Fixing: Belt max. 30x2mm cross section, 8mm wire, tripod thread 1/4'
Interface: USB-C, SD card, mini SIM
Batteries: 10x AA 1.5V LR6 (not included) or StrongVision BAT3 Li-Ion battery
power connector DC Jack 3.5x1.3 mm
Input voltage 12V/2A DC - StrongVision ADAP
quiescent current: 0.1mA
stand-by time: 6 months
Dimensions 151 x 118 x 87 mm
weight 371 g (without batteries)
Contents of the package

- EVOLVEO StrongVision PRO 2G
- antenna
- tweezers for SIM removal
- fastening strap
- SD card reader
- user manual
Video is available with English subtitles only
Be the first who will post an article to this item!
Be the first who will post an article to this item!