EVOLVEO StrongVision PRO A, photo trap/security camera
4K Video
30Mpx photos
Night photo and video
PIR sensor 120°
2.4" display
SD card support up to 256GB
6x High Power IR LED 940nm
Powered by 10x AA battery or 8000 Li-on battery
IP 65 protection
Category

:

Basic hunting cameras
Baterie

:

10xAA
Cloud

:

Ne
Dosvit

:

<20m
Externí napájení

:

12V
Lanový zámek

:

Ano
Noční IR přísvit

:

940nm
Ochranný box

:

Ano
Podpora MMS/SMTP

:

Ne
Pohybový snímač

:

PIR
Přenos dat

:

Ne
Rozlišení foto

:

30mpx
Rozlišení snímač

:

8mpx
Rozlišení video

:

4K
SD karta typ

:

SD
SD karta velikost

:

256GB
Úhel snímání

:

120°
EAN

:

8595683203166
Obj.kód

:

SGV CAM-PROA
Waranty

:

24 months
Universal Camera
StrongVision PRO A is the basic camera of the new PRO series of EVOLVEO photo traps. The camera stores all captured images on an inserted SD card, and you can view individual images or videos directly on the camera on the large 2.4" LCD display. The camera is suitable for both in the woods for game observation, as well as for taking time-lapse footage or monitoring the development of your building. Thanks to its compact size and conveniently placed brackets on the camera body, it can be mounted using the included strap, as well as possibly secured with a rope lock such as the EVOLVEO StrongVision LOCK. The camera is powered by 10x AA batteries with 1.5V voltage, which ensures long operation time.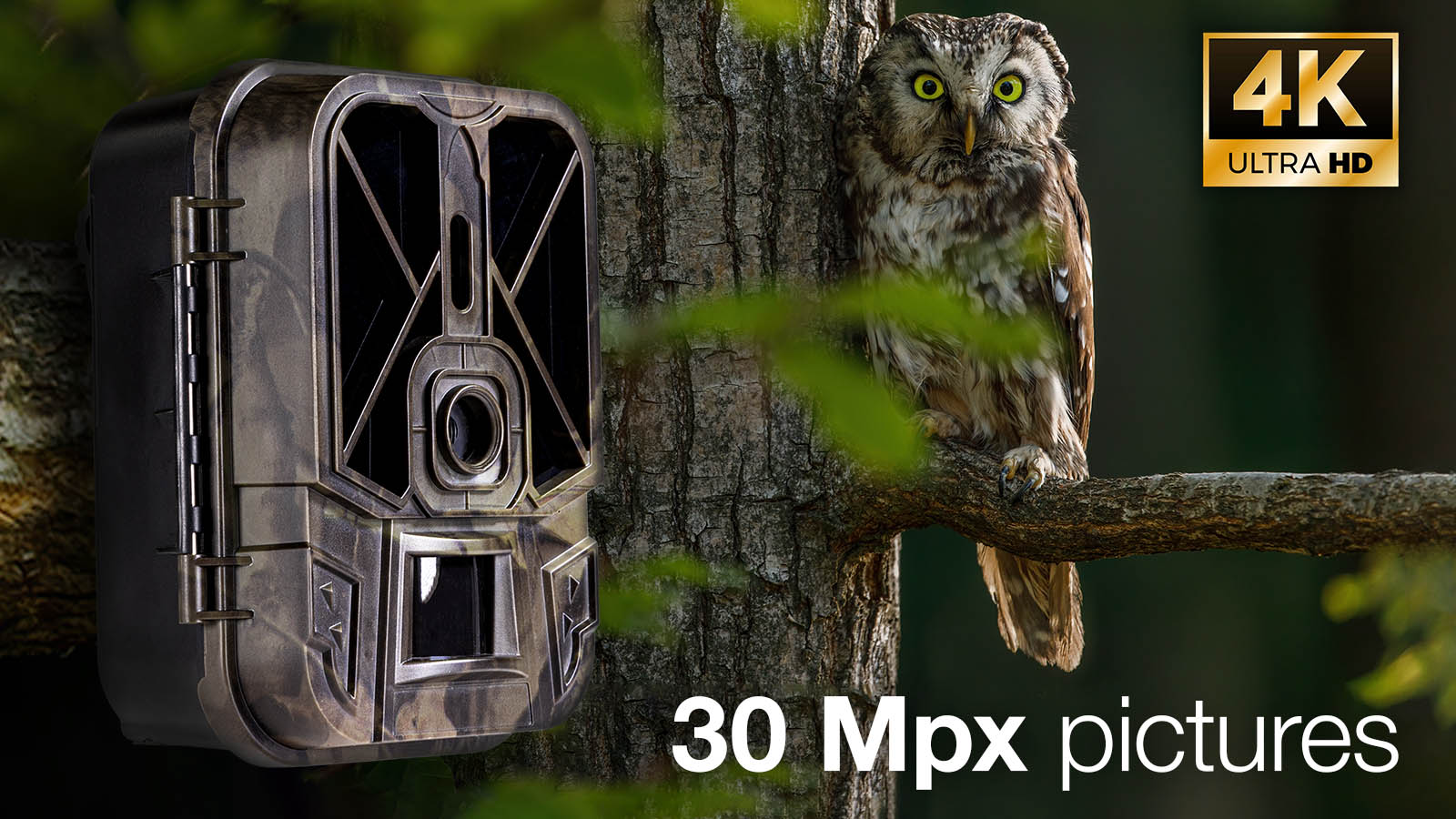 Clear image in any conditions
The camera is equipped with an 8Mpx sensor and an active IR filter. They enable the camera to record video in 4K format and photos with a maximum resolution of up to 30 Mpx. The active IR filter works automatically and helps when recording at night, when the camera senses the surroundings with the help of a powerful IR illuminator. Invisible illumination is provided by 6x high-brightness IR LEDs, each with a power of 3W. The illumination has a wavelength of 940nm, which makes it very difficult to discern by the human or animal eye. So you don't have to worry about the camera being recognized by wildlife or unwanted visitors passing in front of the camera. In the daytime, the recording is in color for both photos and video, which is recorded with sound. At night, recording is in black and white and switching between modes is fully automatic.
Rich accessories
With battery-powered cameras, the biggest issue is always their endurance and the associated efficiency of operation.StrongVision PRO A is powered by 10xAA 1.5V cells, which, depending on the frequency and type of recording, allows a battery life of 1 to 4 months per set. If you want to ensure long-term and inexpensive operation, the camera can be equipped with a rechargeable 8,000mAh battery StrongVison BAT3, which can extend the battery life up to 6 months depending on the settings used. The rechargeable battery also allows you to operate more economically, as you do not have to constantly buy new AA cells.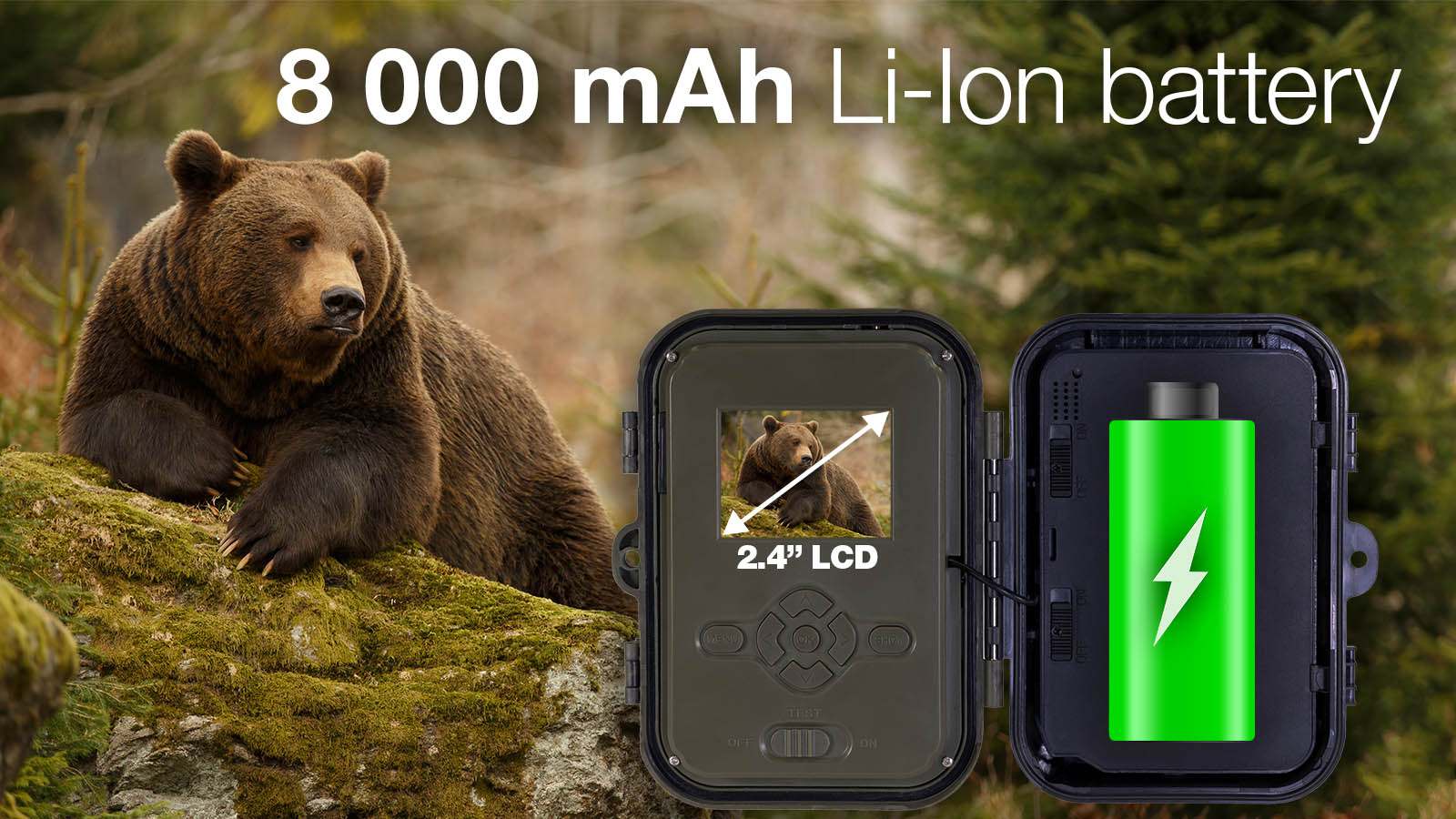 Although the camera itself is durable and meets IP65, there may be many situations when you need to protect it from either a naughty person or a squirrel that likes to test the durability of the plastic housing. For this reason, we have a protective and lockable metal box EVOLVEO StrongVision MB2 available for the entire StrongVision PRO series. The box is made of 1.5mm thick sheet metal, has all the holes so that you can connect an external power supply or use a steel cable for attachment and is weatherproof thanks to the matt protective coating.
For the case when you have the possibility to connect the camera to the mains, you can buy a 12V power adapter EVOLVEO StrongVision ADAP, the camera will be primarily powered from the adapter and if there is a power failure from the mains, the inserted batteries will serve as a backup power supply.
If you want to use any other power supply or a backup lead-acid battery, you can purchase the EVOLVEO StrongVision PWRC power cable directly for evolveo photo traps.
Parameters:
Sensor: 8 MPX CMOS
Camera lens: F=3.1; FOV=57°
video resolution: 4K/2,7k/1080P/720P/VGA
Photo resolution: 12MP - 30MP
Trigger speed 0.8s
Mode: Photo, Video, Photo&video, Time-lapse, Multishot.
SD Card up to 256GB
2.4" TFT Display
nightlight: 6 x 940nm Infrared powerful 3W IR LED
PIR Range: Selectable sensitivity High/Normal/Low
PIR Angle Sensor: 120°
maximum IR LED range: 20 metres
Trigger interval 1/5/10/30s/min
multiple frames per activation (multishot): 1/2/3/10
date in photo: Yes
Security: PIN at start-up (4 digits)
option to set the scanning in time interval (TimeShot)
possibility to set the scanning interval from 1 second to 24h for time-lapse
attaching the camera with a strap or rope lock StrongVision LOCK
Operating temperature -10°C to +50°C
batteries in separate battery box, for electronics protection
Fixing: Belt max. 30x2mm cross section, 8mm wire, tripod thread 1/4'
Interface: USB-C, SD card
Batteries: 10x AA 1.5V LR6 (not included) or StrongVision BAT3 Li-Ion battery
power connector DC Jack 3.5x1.3 mm
Input voltage 12V/1.5A DC - StrongVision ADAP
peace stream: 0.1mA
stand-by time: 6 months
Dimensions 151 x 118 x 87 mm
Weight 371 g (without batteries)

Package contents
EVOLVEO StrongVision PRO A
fastening strap
SD card reader
user manual
Be the first who will post an article to this item!
Be the first who will post an article to this item!