EVOLVEO is expanding its range of video surveillance products with three new sets of complete Detective systems that secure private homes and apartments, as well as corporate premises, offices, warehouses and production halls. Wireless video surveillance systems Detective WN8 Smart, Detective POE8 Smart and Detective IP8 Smart use the EVOLVEO Smart app for iOS and Android. The individual kits consist of four cameras and an NVR unit to which a monitor can be connected. The cameras are equipped with night IR illumination and meet IP 66 standards. They are therefore also suitable for outdoor use. The NVR units of all these systems support up to 8 channels and the systems can be further expanded with four more compatible cameras of the EVOLVEO series, including a highly durable antivandal camera. The NVR has a SATA 3.5 or 2.5-inch drive bay for up to 8 TB of stored data.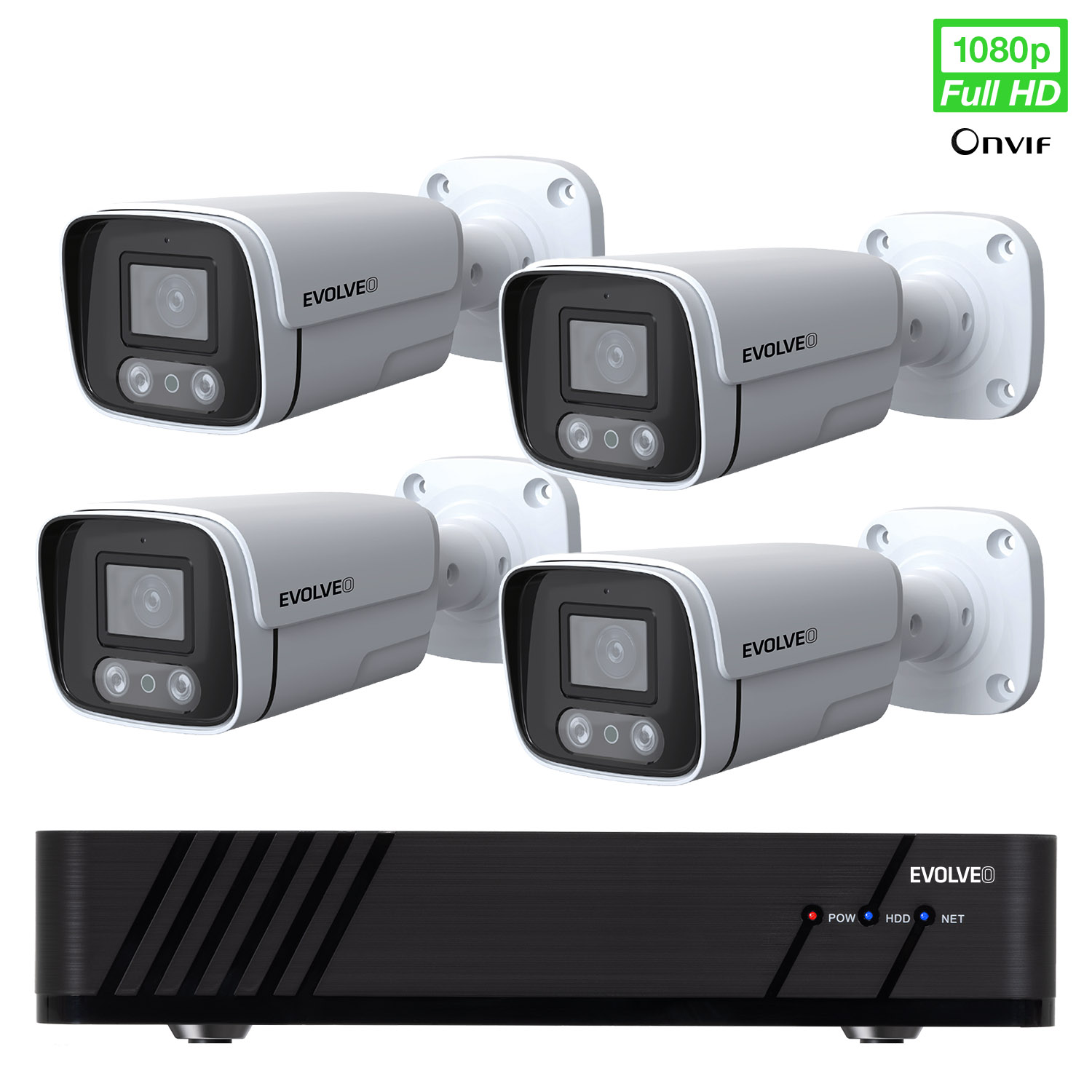 The EVOLVEO Detective IP8 SMART provides FULL HD 1920×1080 px resolution recording and uses a 2Mpx CMOS camera sensor. The wireless cameras are powered via a power adapter. The system uses a LAN connection and, in addition to SMART, supports the iCMS application for Windows and the ONVIF protocol for easy connection of other cameras to the system.
Security camera system for video surveillance EVOLVEO Detective POE8 SMART, whose cameras use POE power (directly from the NVR unit), provides FULL HD recording and, like the EVOLVEO Detective IP8 SMART suite, supports SMART and iCMS for Windows applications and ONVIF protocol.
Security camera system for video surveillance EVOLVEO Detective WN8 SMART is equipped with wireless cameras (2Mpx CMOS for FULL HD) with power adapter, which have a range from the main unit in built-up areas of 15 - 25 m and in open areas of up to 50 m. Again, support for SMART and iCMS for Windows and ONVIF protocol is included.
For more information on EVOLVEO surveillance camera systems and products for their extension, please visit here.
EXTENSION WITH ADDITIONAL CAMERAS
If the basic 4 wireless cameras in the package are not enough, or if the camera design is not suitable, the EVOLVEO camera system can be expanded with additional cameras in various versions. For example, the EVOLVEO Detective WIP 2M SMART camera, which is fully self-contained and supports ONVIF protocol, which allows you to add it under one camera system in the network.

Availability and price
The EVOLVEO Detective IP8 SMART security camera system is available through a network of online stores and selected retailers for €327 including VAT.
Evolveo Detective Security Camera System POE8 SMART for the price of €357 including VAT and EVOLVEO Detective WN8 SMART also for €357 including VAT.