EVOLVEO brings to the market a new computer power supply EVOLVEO G1000, which is designed primarily for the gaming community and computer enthusiasts. This 1 000 W modular power supply achieves 90% efficiency with 80 PLUS GOLD certification and supports PCIe 5.0. It has aPFC cooling, which uses a 140mm fan. Due to the size of the output, this power supply does not have semi-passive cooling. The power supply fan is always running and its speed is regulated depending on the cooling demand. The power supply is fully modular, only the most necessary cables can be connected. The EVOLVEO G1000 is currently the most powerful power supply in the Evolveo range.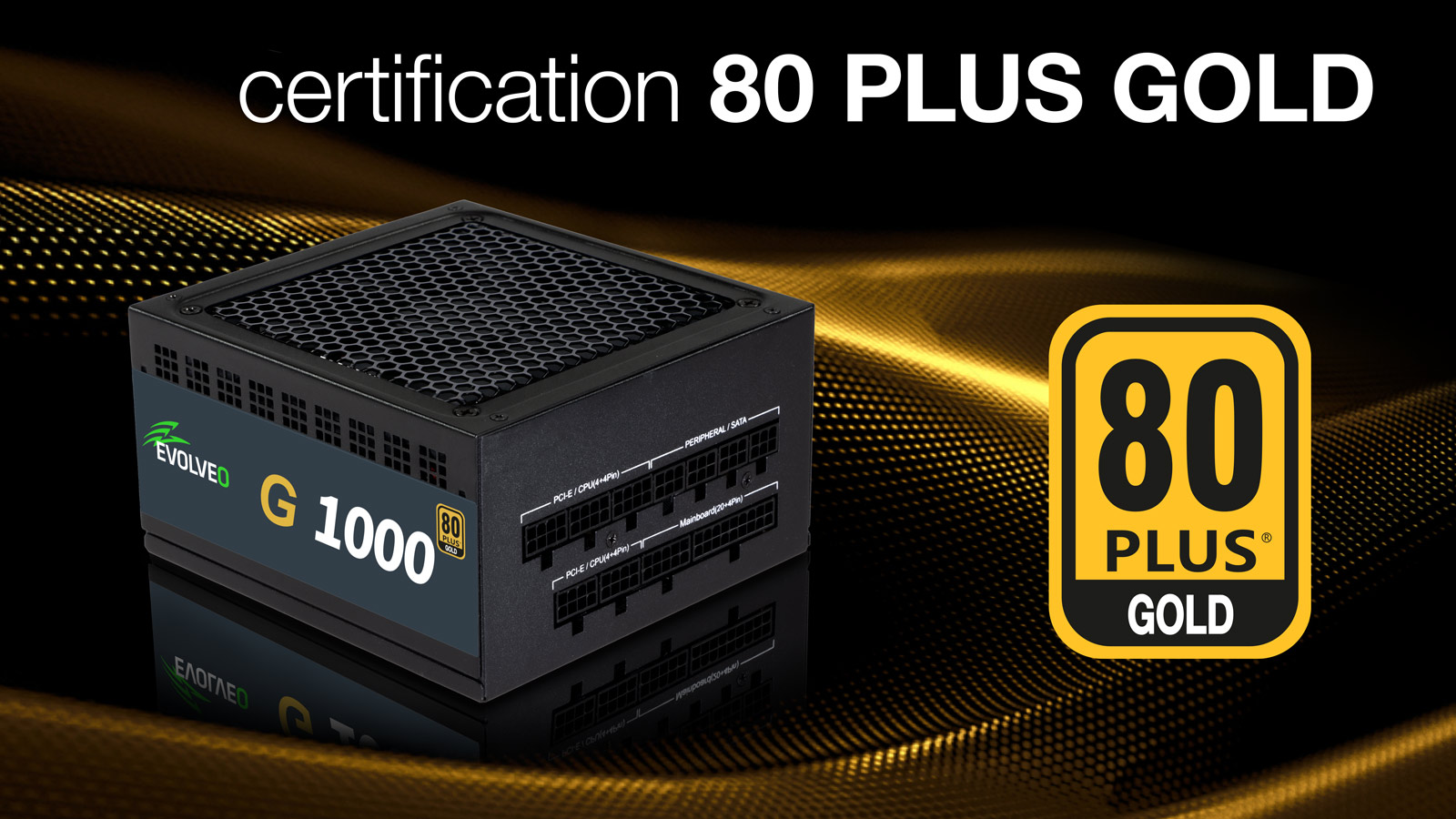 The EVOLVEO G1000 is an ideal choice for a gaming PC that has a PCIe 5.0 graphics card. It provides high efficiency (up to 90%) confirmed by the 80 PLUS GOLD certification. The cooling system uses a 140mm fan and the power supply regulates its own speed as needed.
The EVOLVEO G1000 is 80 PLUS GOLD certified. This certification guarantees high efficiency at different power supply load values. At half load, the efficiency is guaranteed to be 90%. At high or, on the contrary, low load of the power supply, the efficiency decreases. Therefore, the efficiency of the power supply will be 87% at 20% load. The same power supply efficiency (87%) will be achieved at full, 100% power supply load. The EVOLVEO G1000 is equipped with a variety of protection features, including short circuit, overload, overvoltage, undervoltage and thermal protection.
The complete modularity of the EVOLVEO G1000 gaming power supply means that it is not necessary to install all cables in the computer case, including those that are not used in the setup. The result is much better internal organisation and incomparably more efficient cooling. Sufficient cables are available to cover most component power requirements.
Availability and Price
Source EVOLVEO G1000 is available through a network of online stores and selected retailers for as little as 3 900 CZK including VAT.
Specifications
quiet 14cm fan with speed control
active PFC
Certification 80+ GOLD
efficiency: 90%
colour: black matt
Efficiency minimum 87%/90%/87% at 20%/50%/100% load
Short circuit, overload, overvoltage, undervoltage and thermal protection
Cabling
1× 20+4 Pin (600 mm)
2× CPU 4+4 pin (700 mm)
1× PCI-E 5.0 (12+4) pin (600 mm)
3× Molex+Molex+Molex+FDD(450+150+150 mm)
9× Sata+Sata+Sata (450+150+150 mm)
4× PCI-E (6+2) +(6+2) pin (600+150 mm)