EVOLVEO NightVision W25
EVOLVEO introduces the EVOLVEO NightVision W25 binoculars with night vision and a Wi-Fi function that allows you to remotely control the device with your smartphone. Binoculars with optical zoom (4×) also allow digital magnification (8×). It is a multi-purpose device that can be used in complete darkness and in sunlight. The EVOLVEO NightVision W25 excels at nighttime operation thanks to its high-brightness IR LED night vision illuminator. The EVOLVEO NightVision W25 binocular is the perfect choice for a wide range of activities from exploring unknown territories, night hunting, sports games and as a product to enhance safety.
Light range at night: up to 300 meters
The EVOLVEO NightVision W25 binoculars feature glass optics with anti-reflective coating for sharper and brighter images in any lighting conditions, even in total darkness. The range of the illuminator is up to 300 metres and the brightness of the built-in infrared illumination can be adjusted. There are 7 brightness levels. The minimum level extends battery life, the maximum level allows you to observe an extremely bright image. At night, the rendered image will be black and white.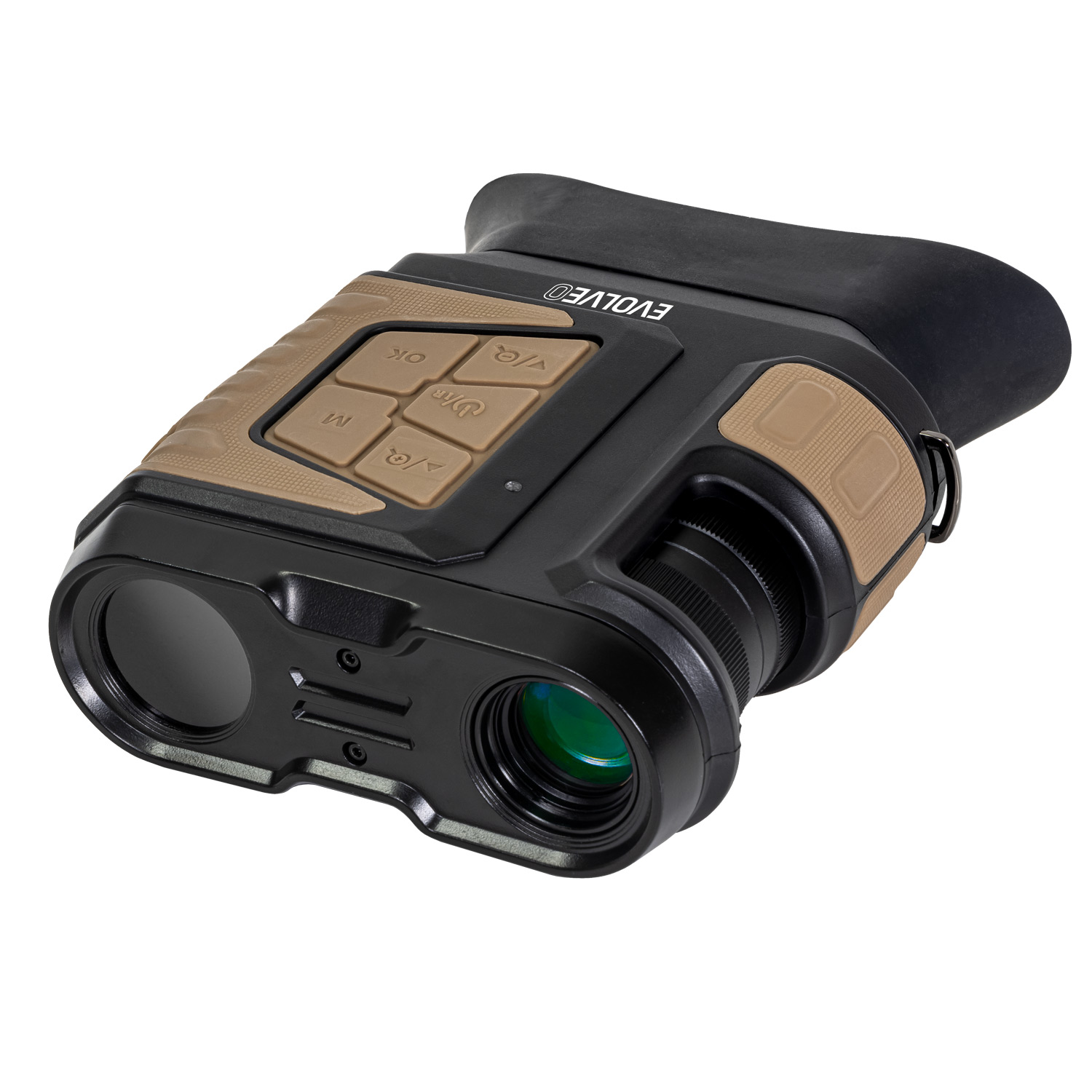 Up to 10 hours of continuous operation and video recording
One charge is enough for approximately 4-10 hours of continuous operation, battery life depends on how intensively the IR light is used. All observations can be recorded in photo and video modes. If there is not enough space on the memory card, the resolution can be reduced. Video can be recorded up to 4K at 30 frames per second. Photos and videos are recorded to a memory card (cards up to 32 GB are supported) and everything that is recorded can be viewed on the device screen. Data is transferred to the computer using the USB-C connector.
Ergonomický desin
The EVOLVEO NightVision W25 binoculars have an ergonomic, waterproof body. The non-slip surface ensures a safe and stable grip, the control buttons are placed directly under the user's fingers.

Wi-Fi control via smartphone or tablet
Wi-Fi connectivity allows you to remotely control the binoculars with your smartphone or tablet. You can use the app to adjust infrared brightness, take photos and videos, and view, download and delete recorded footage. The signal range is up to 15 metres. The free app is available on the App Store and Google Play.
Warning: During operation, infrared illumination (infrared radiation) can be detected.
Availability and price
The binocular EVOLVEO NightVision W25 is available through a network of online stores and selected retailers for only 4 290 CZK including VAT.
Vlastnosti:
Night illumination up to 300 m
IR lED 850nm - 7 adjustable levels
Night photo and video black and white, daytime colour
Optical magnification: 0-4×
Digital magnification: 0-8×
Manual focusing
micro SD cards up to 32 GB
Manual optical zoom
3.16" LCD
Photographs in *.JPEG format
Video in MP4/ H.264 max 4K quality
Simple and convenient: only 5 control buttons
Baterie 5000mAH Li-Ion
USB-C DC 5V/1A power supply
Wi-Fi allows connection to a smartphone with the RoadCam app for iOS or Android
Menu in CZ, SK, RO, HU, EN, PL, DE, IT
Manual in localization: CZ, SK, RO, HU, EN
Application language: EN
Weight: 626 g
Dimensions: 127 × 160 × 50 mm