EVOLVEO presents a new product in their Ptero Gaming series, designed for the gaming community – the universal EVOLVEO Ptero 4PS gamepad. The advantages of this gamepad include wireless connection, cross-platform compatibility, earphones jack, loudspeaker, and dual vibrations for a more intense experience when playing. The EVOLVEO Ptero 4PS is compatible not only with PlayStation 4, but also PCs with Windows, or mobile devices with iOS or Android operating systems, including Android boxes.
Bluetooth technology ensures the wireless connection, although the EVOLVEO Ptero 4PS gamepad can be also connected using the microUSB connector. The set includes a removable mobile phone holder which allows games to be played on a 6.9" and 8 cm-wide screen smartphone (max. size). The gamepad has an ergonomic gaming design and classic push-button layout, with two precise joy sticks. There are four buttons on the back and four on the front. The gamepad also has a touch pad for playing PS4 games. The gamepad has an effective RGB backlight, indicating selected, currently activated functions. The high-capacity Li-ion 600 mAh battery is charged using USB cable.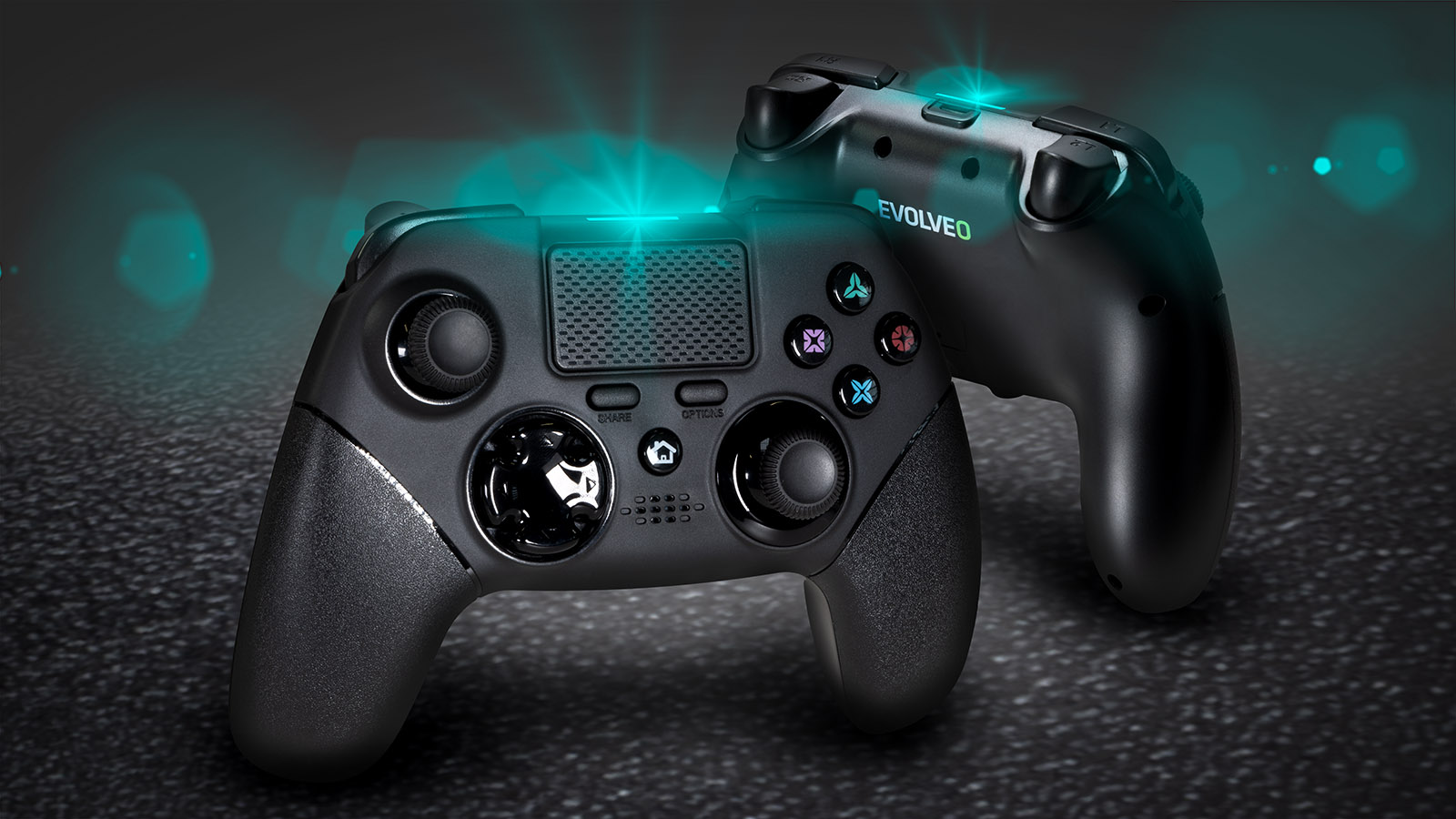 Gamepad EVOLVEO Ptero 4PS is fully compatible with Windows 10, as well as Android 10 and higher, which enables you to play the latest games, such as Asphalt 8: Airborne, Assassin's Creed Identity, Badland, Bike Mania – Racing Game, COD, Dead Trigger, Dead Trigger 2, Dragon Fly Full, Metal Slug, and Skateboard Party 2.*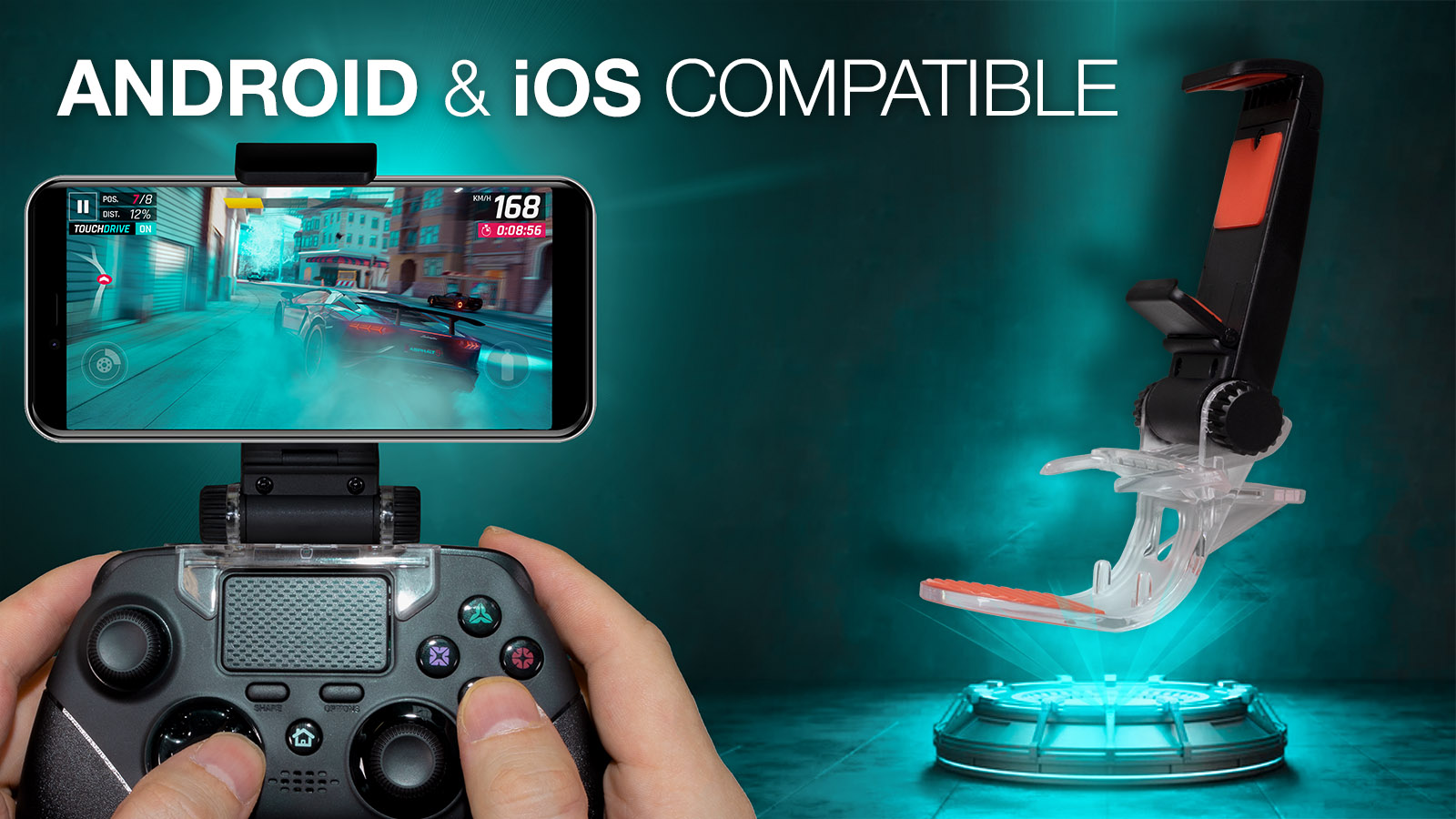 Compatibility with iOS 13 and higher enables you to use the EVOLVEO Ptero 4PS gamepad for playing games such as Grid & Real Racing 3, Evoland 2, Asphalt 8, Monster Hunter Unite, Modern Combat 5, Death Road to Canada, Galaxy on Fire 2, Bastion, Wayward Souls, Inside, Neon Chrome, or GTA: San Andreas.*
Availability and price
The wireless gamepad EVOLVEO StrongPhone 4PS is available in e-shops and selected stores. The recommended retail price is CZK 1,149, including VAT.
Specifics:
removable mobile phone holder
suitable for smartphones with up to a 6.9" screen and 8 cm in width
ergonomic design for maximum comfort
wide compatibility and classic push-button layout
two precise joysticks
4 back buttons (L1/L2/R1/R2)
4 function buttons
automatic switch-off to save battery
touchpad for gaming on PS4
loudspeaker
3.5mm jack output
600 mAh high-capacity Li-ion accumulator
charging via USB cable
supported operating systems: Android 10 and higher, iOS 13 and higher, Windows 10 and higher
The series of EVOLVEO Ptero Gaming products belong to a series of professional gaming accessories. These accessories have been designed in cooperation with professional gamers, and meet the strictest criteria of the gaming community. Focus goes on speed, precision, and user comfort. The high-quality material offers superb durability and a long service life, even with heavy use.
*The indicated apps are owned by third parties. Their support, availability, or functioning may change without previous notice.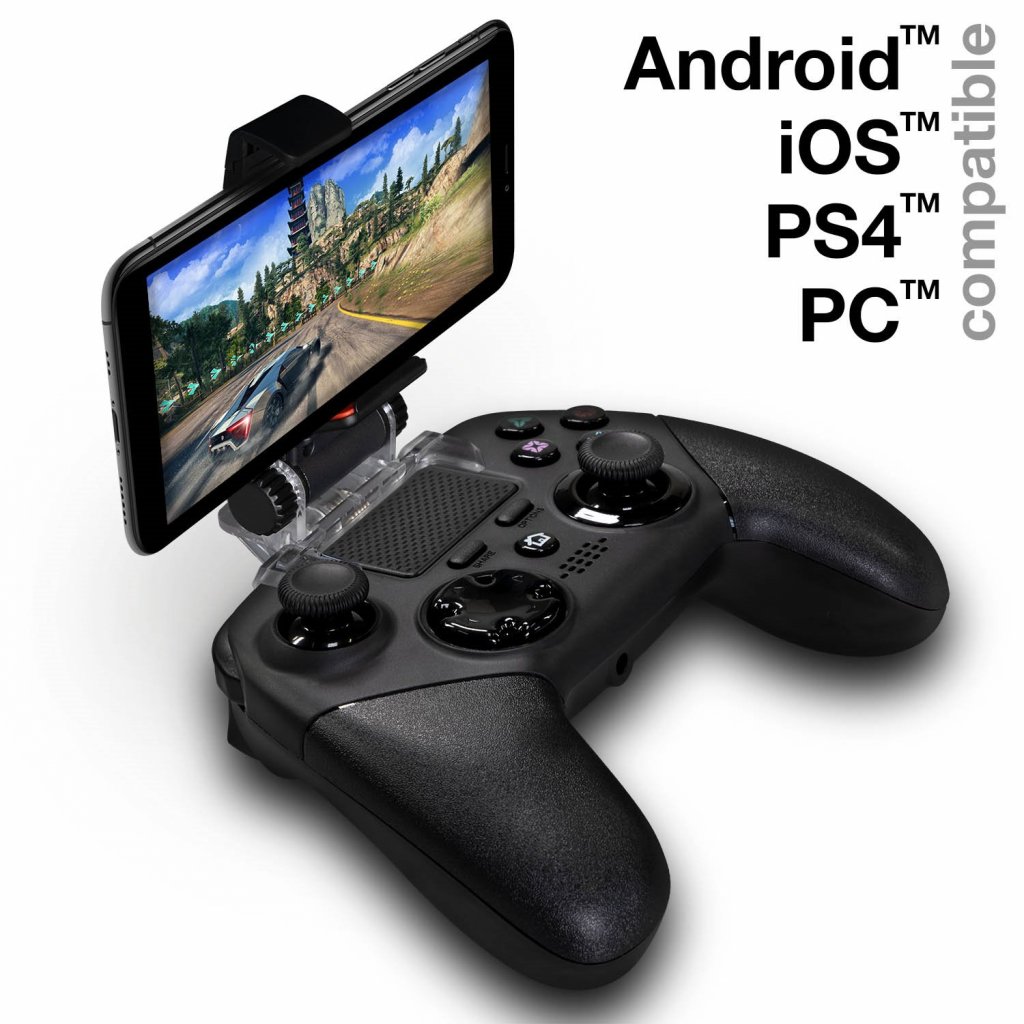 EVOLVEO Ptero 4PS – wireless gamepad for PC, PlayStation 4, iOS and Android