The next new product in the EVOLVEO range of durable telephones follows its successful predecessor, the StrongPhone Z3 model, bringing many new advantageous features.
The resilient and rugged StrongPhone Z4 is the best choice for everyone who wants more from their phone. The durable body with IP68 certification can handle impacts and environmental effects without a problem. The outdoor Z4 phone is equipped with a large and perfectly legible 2.8" IPS LCD display. Thanks to its generous 2500 mAh battery, it offers a power bank function. It also has an SOS button and charging station. All of the above make the telephone a universal solution when working at the workshop, construction site, in challenging environments, during freezing cold or very hot weather, or in humid environments.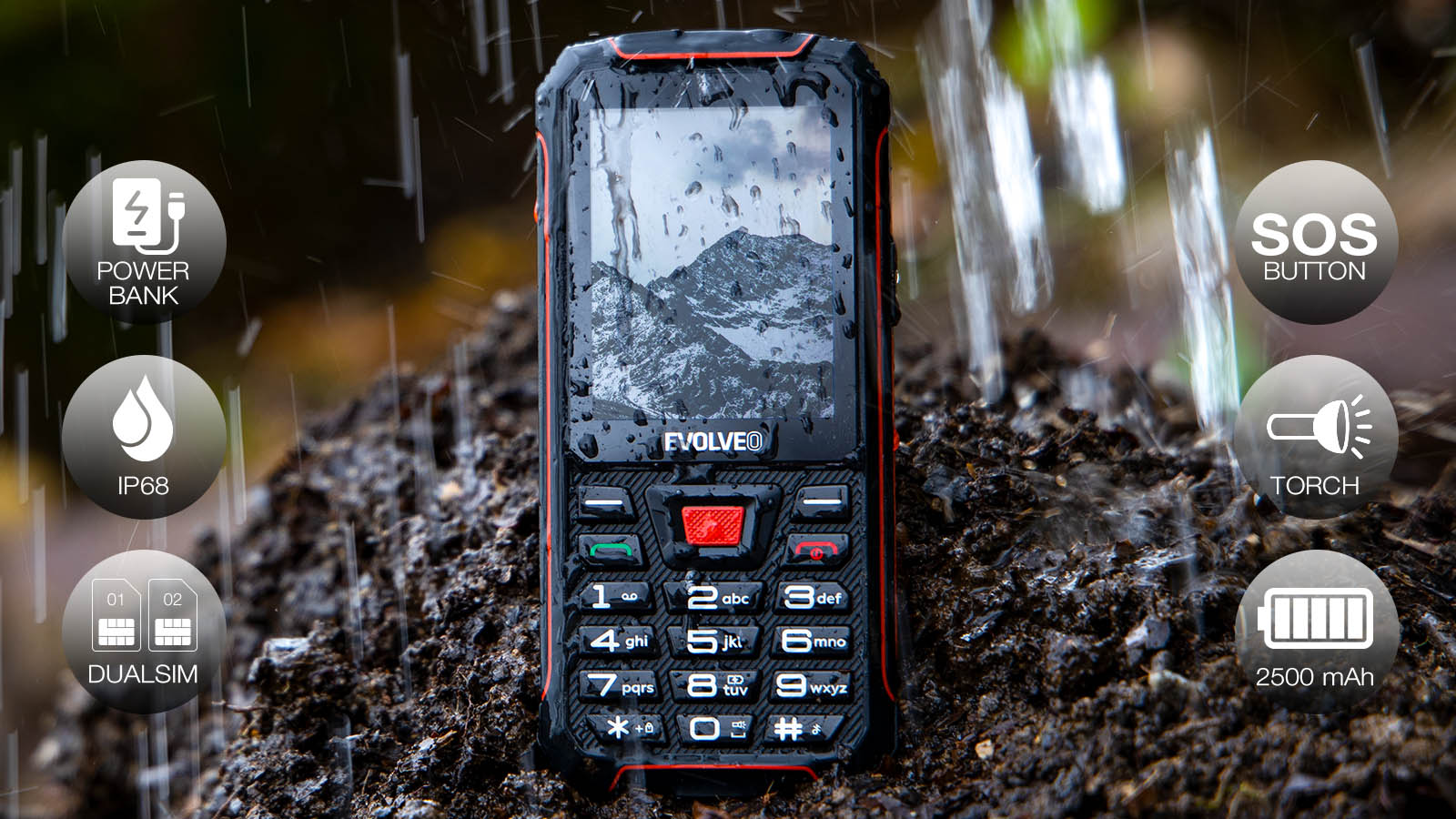 Large 2.8" IPS screen
The StrongPhone Z4 rugged mobile has a 2.8" IPS screen. The IPS technology also provides realistic rendering of colours, a wide range of viewing angles, and low power consumption. Increased durability against scratches and pressure allow you to use the phone under any circumstances.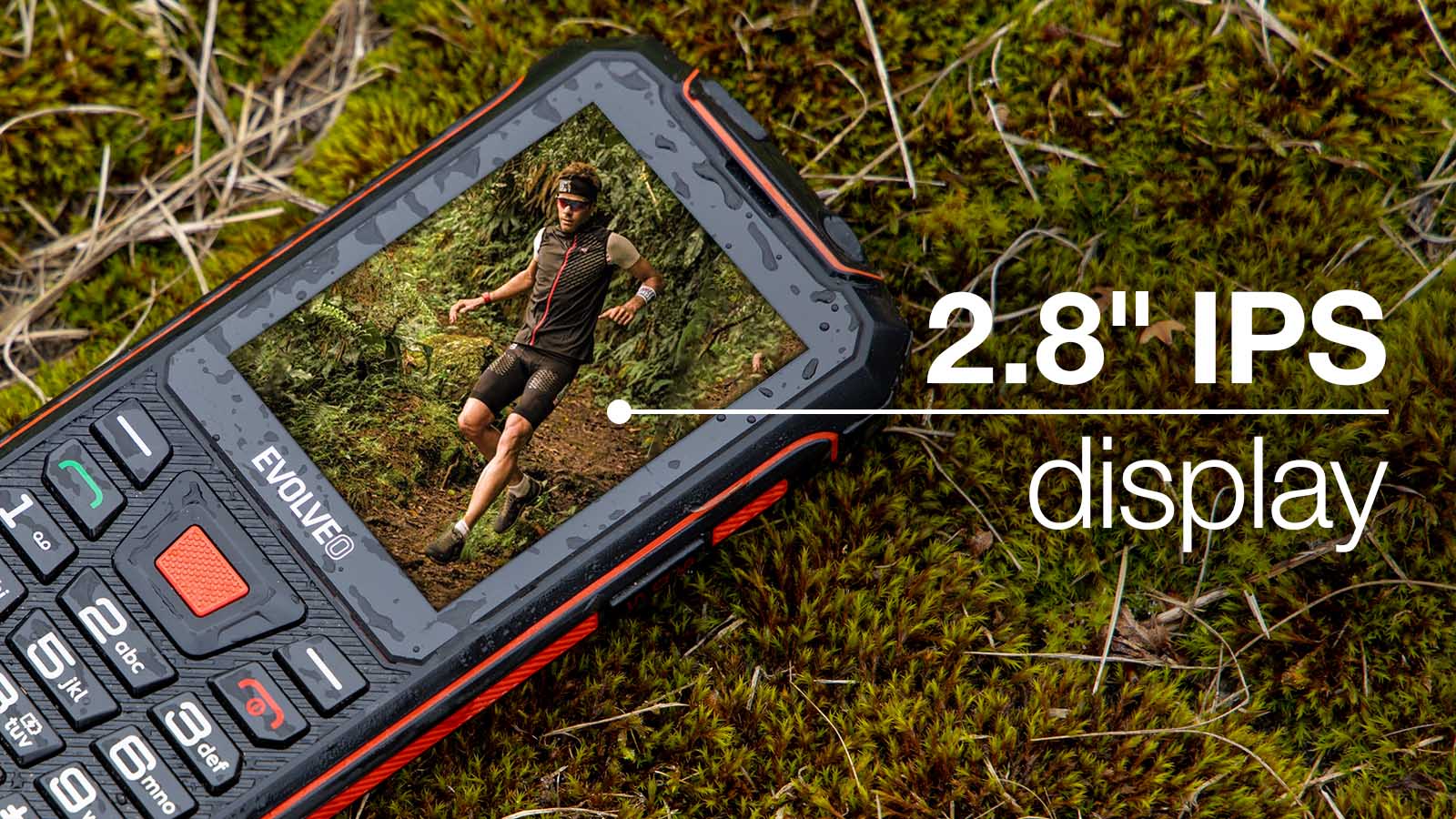 2500 mAh battery/power bank
The modern, high-capacity Li-ion 2500 mAh battery can power your phone for up to two weeks. In addition, you can use its capacity to charge your other devices. The StrongPhone Z4 rugged mobile has a power bank function which allows you to utilise the extra battery capacity.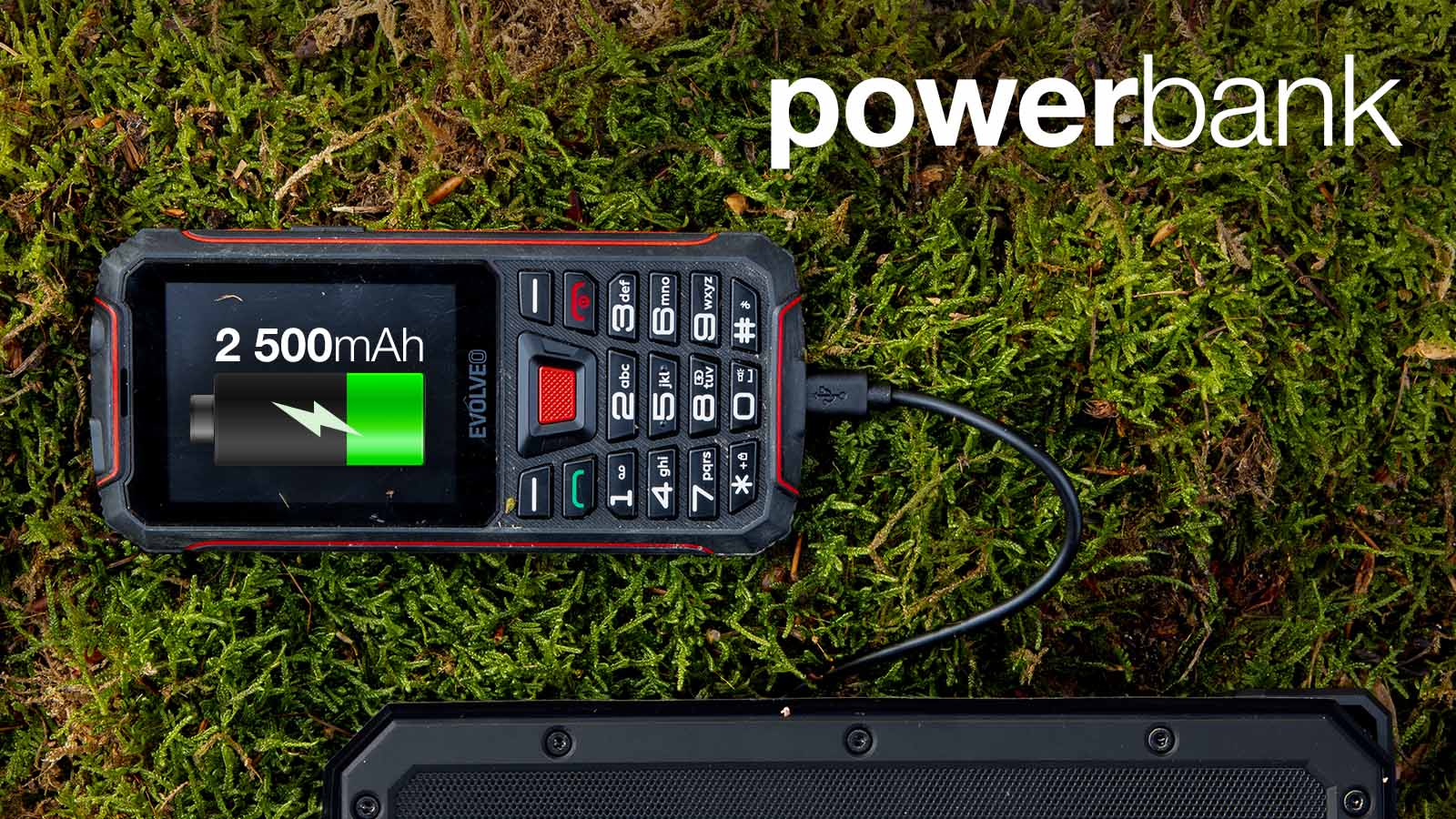 SOS calls and SMS
The outdoor EVOLVEO StrongPhone Z4 has an SOS button, enabling you to easily get help in case of emergency. Pressing the button automatically dials preset numbers and sends a SOS text message.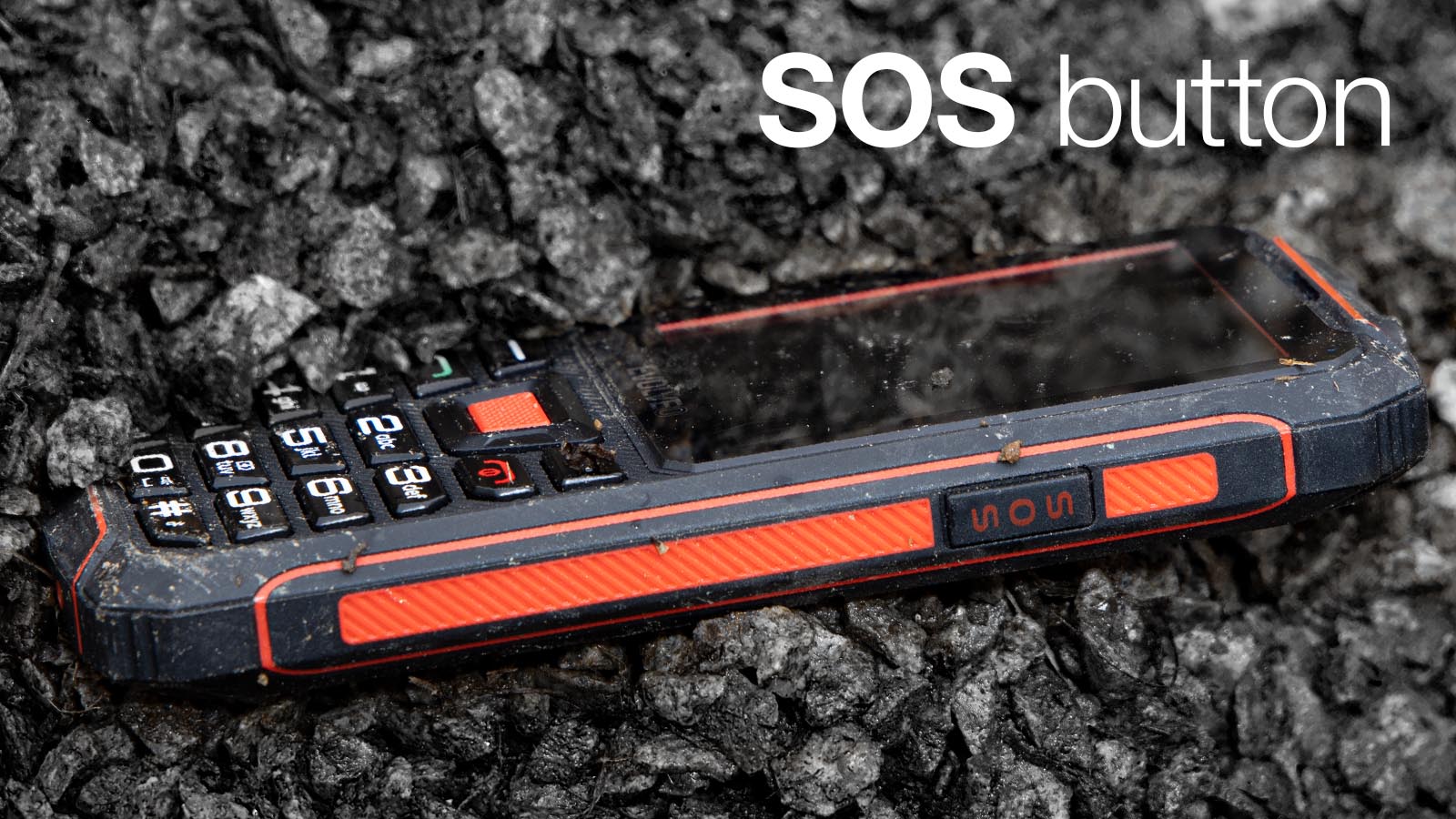 Multimedia accessories
Among the features of the durable phone is a 2 Mpx camera, powerful LED flashlight and FM radio with an integrated antenna and automatic station tuning. You can also use the calendar, alarms, or calculator.
Charging stand
To make the charging process easier, we have equipped this model with a charging stand, which ensures easy charging with no need to connect a USB cable to the phone.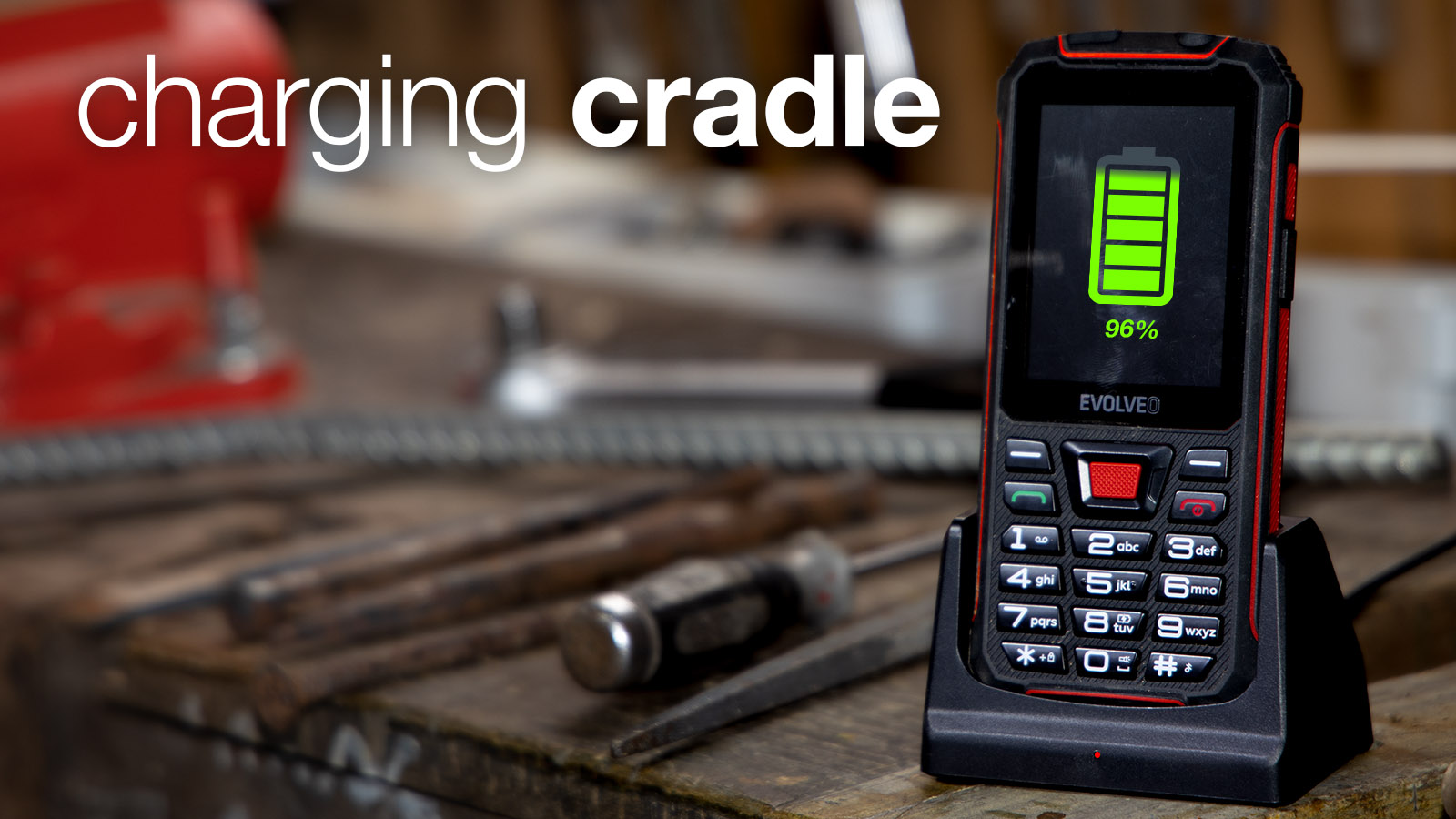 Waterproofness is certified according to the IP68 norm. The phone is water resistant for 30 minutes at a depth of 1.2 metres.
large 2.8" IPS anti-scratch display resilient to pressure
power bank feature
SOS call/text message
resilient to impacts and vibrations
IP68 waterproof specifications
durable rubber-covered surface
strong 2500 mAh battery
charging stand
Dual SIM
GSM 850/900/1800/1900 MHz
2.0 Mpix camera
Bluetooth
SMS/MMS
supports microSDHC cards
FM radio
calendar
alarm
calculator
photo viewer
video recorder
video player
audio player
digital answering machine
polyphonic ringtones/vibrations
handsfree – a microphone is integrated in the headphone cable
2500 mAh high-capacity battery
dimensions 143.6 x 64.4 x 16.5 mm
weight 169 g
Availability and price
The EVOLVEO StrongPhone Z4 rugged mobile is available in e-shops and selected stores for CZK 1,490, including VAT.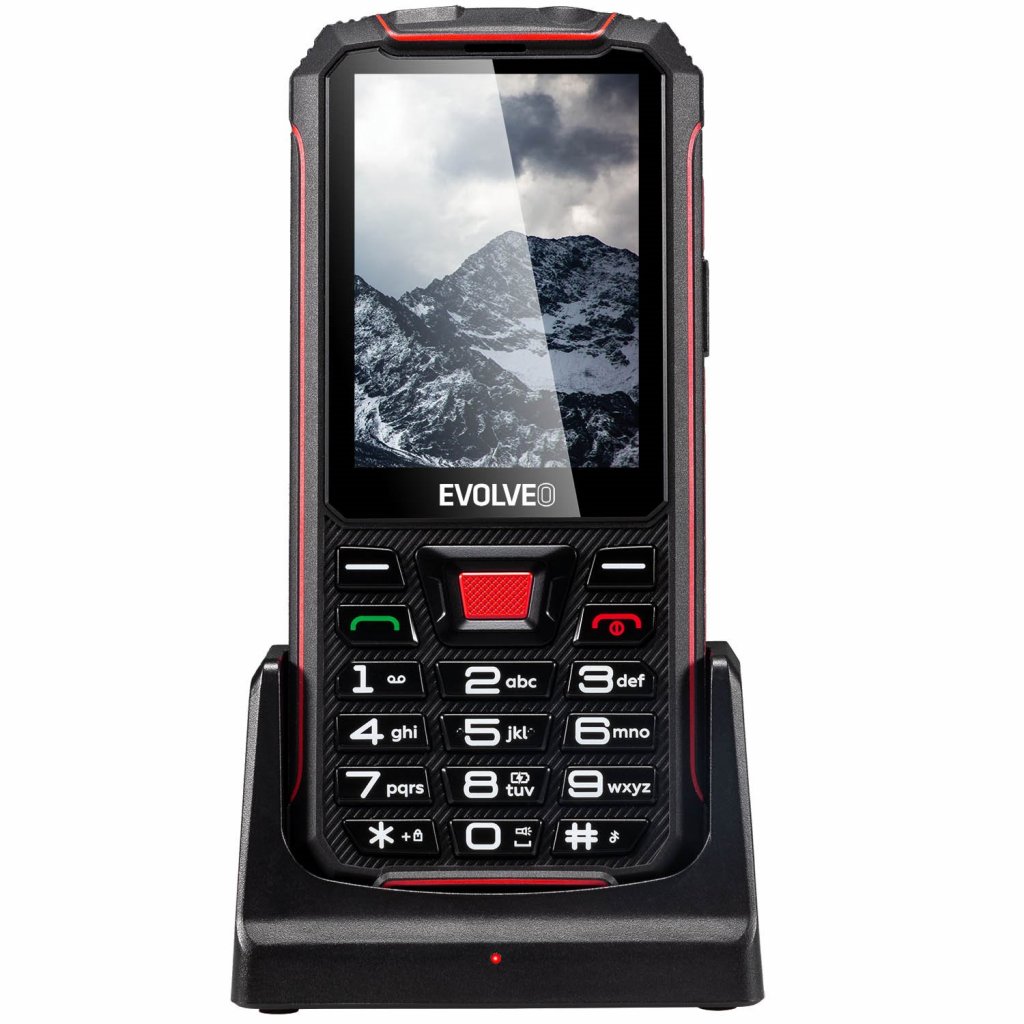 EVOLVEO StrongPhone Z4, a rugged, waterproof mobile phone