EVOLVEO expands its product offering for smart home and brings to the market videophone EVOLVEO DoorPhone AP1. It is a modern videophone with Smart Life (Tuya) app for remote management, a 7-inch Wifi screen in Full HD and a pair of relays to control the opening of the entrance gate and the entrance gate. Thanks to its simple wiring with only two wires, its installation can be done by anyone. In addition, the unit with the screen is equipped with an internal 32GB memory for recording events in front of the camera. The external unit is highly durable.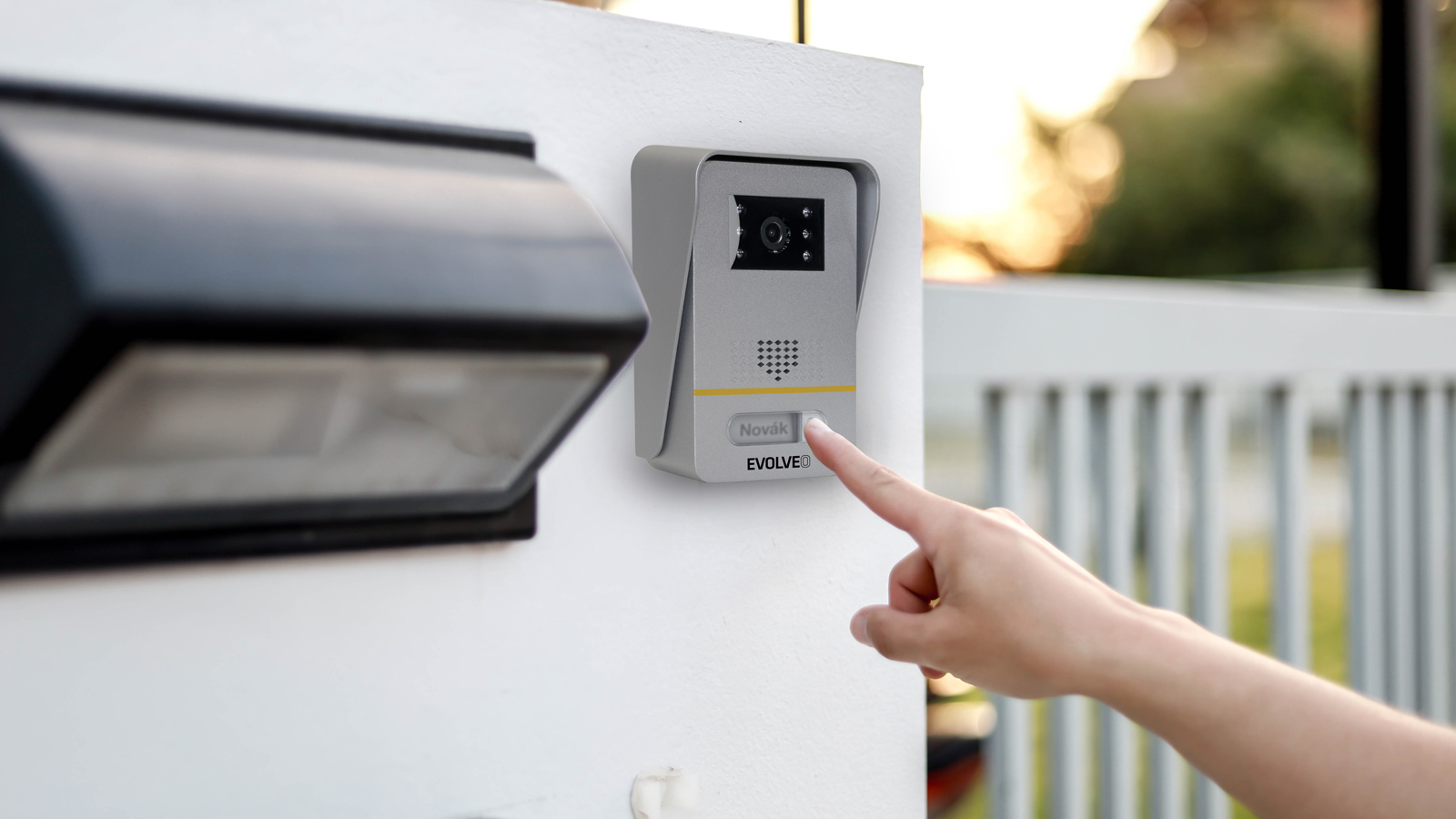 There is also a AP2 version, which has two screens in the supplied set and an external panel equipped with an RFID chip reader for keyless access. Chips (6 pcs) are included.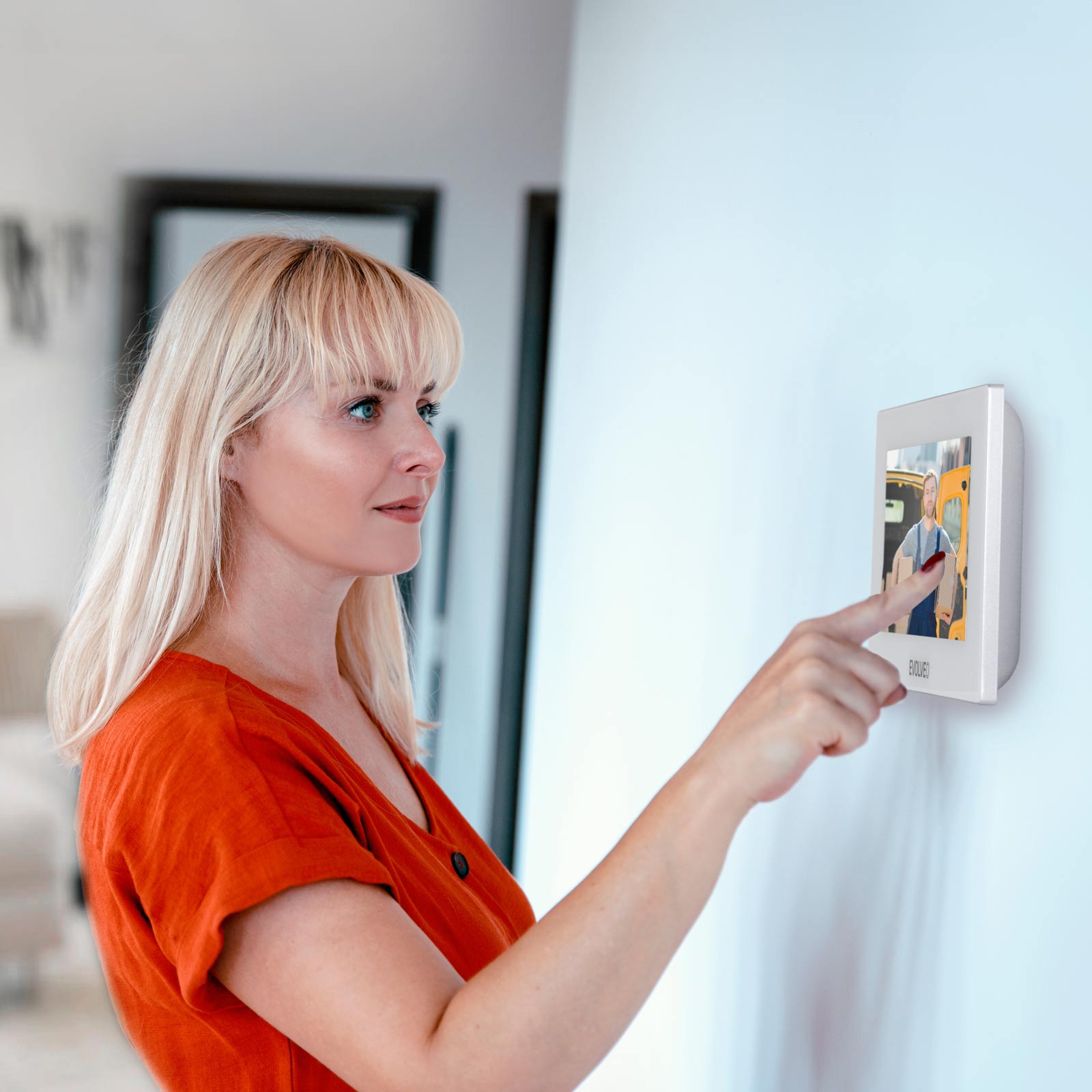 Simple operation
The weather-resistant exterior panel is equipped with a button and a camera for guests and visitors to communicate. When a guest presses the call button on the outdoor station, the monitor rings and the visitor's image is displayed on the screen. This useful feature ensures a complete system of secure access control.
Quality durable design
The door, outdoor unit with push button and camera is made of durable aluminum alloy. When properly installed using the supplied gasket, the device achieves IP65 weather protection. The camera is equipped with night invisible illumination.
Only two wires are enough
Installation has never been easier, only two wires are needed to connect the door unit and monitor. The video phone can also be connected to the place of the original doorbell with a two-line cable. In addition, there is no need to watch the polarity of the wires, just use the prepared lever clamps and quickly connect everything. The power adapter plugs into the side of the monitor. Both the door unit and the monitor are designed for mounting on a standard KU68 installation box.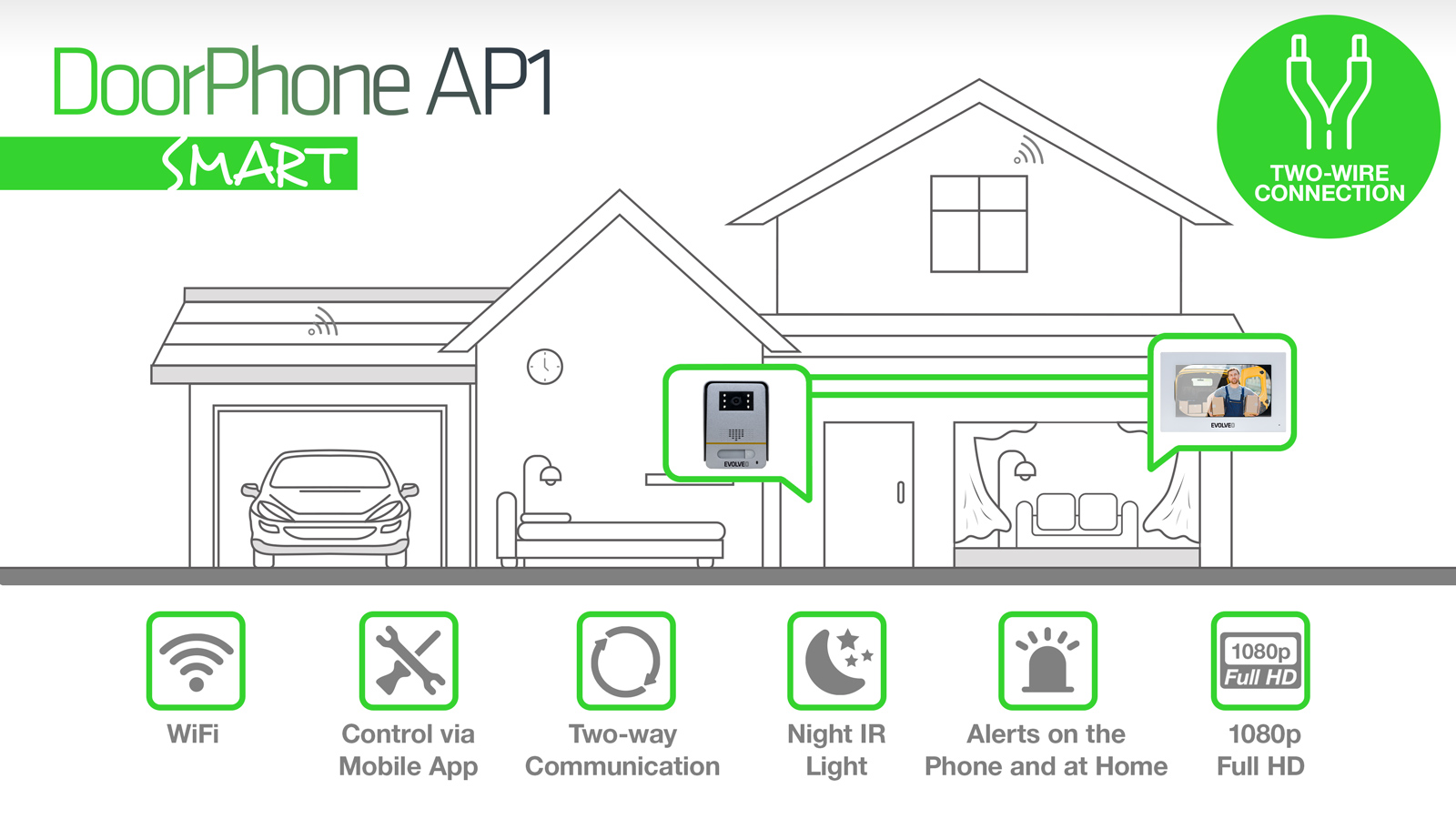 The package contains everything needed for easy installation: indoor monitor, outdoor unit with camera, set of screws and dowels, cable clamps with lever.
Availability and Price
Smart Video Phone EVOLVEO DoorPhone AP1 is available through a network of online stores and selected retailers for just €219 including VAT.
Smart Video Phone EVOLVEO DoorPhone AP2 is available through a network of online stores and selected retailers for just €348 including VAT.
Main functions of the input panel
Camera: CMOS 1/3 sensor, 1.22mm
Image resolution: 1080P
Microphone: Yes - two-way voice communication
Selectable ringtones: yes 6 melodies
Internet connection: WiFi 2.4Ghz monitor
Monitor colour: white
Monitor size: 7"
Door panel colour: aluminium
Intercom function: yes (communication between monitors)
Remote Management: yes Smart Life (Tuya platform)
Nepolar, two-wire system for simplified installation
Model with 1 button
Equipped with clamps to add a button to open the gate
Night IR illuminator - night black and white photo
Surface mounting with gasket
Weatherproof - IP65
Large backlit nameplate
2× 5A relay for gate and gate opening
Monitor power supply: 18V DC
Adapter cable length: 120 cm
Menu in languages: CZ, SK, EN,HU and RO
Monitor dimensions: 130 × 200 × 40, H×W×D(mm)
Mounting of the monitor: using a bracket with spacing on the wiring box KU68
Dimensions of the door unit: 100 × 138 × 40 H×W×D(mm)
Panel mounting: using a bracket with 4 screws spaced 45 × 100mm
Package contains:
1× 7″ monitor (AP1)
2× monitor (AP2 only)
6× RFID chips (AP2 only)
1× entrance panel, door unit
1× power supply
1× set of screws and dowels
1× set of cables for connecting the units
1× User Manual