Cutting-edge technology that will keep your property safe
The compact wireless GSM safety alarm EVOLVEO Sonix is the ideal choice for securing your house, apartment, cottage, shop, office, garage or workshop.
You can easily install EVOLVEO Sonix at home by yourself, without having to call in professionals. The wireless technology requires no drilling or laying cables. All you need to do is place the wireless sensors inside your building, or outside – up to a distance of 80 m.
In the case of an attempted break-in, the event will be notified by text messages sent to up to 5 preset numbers and also by voice call. The alarm is very easy to operate. You can (de)activate it using the remote control – a keychain, just like for the central locking on a car.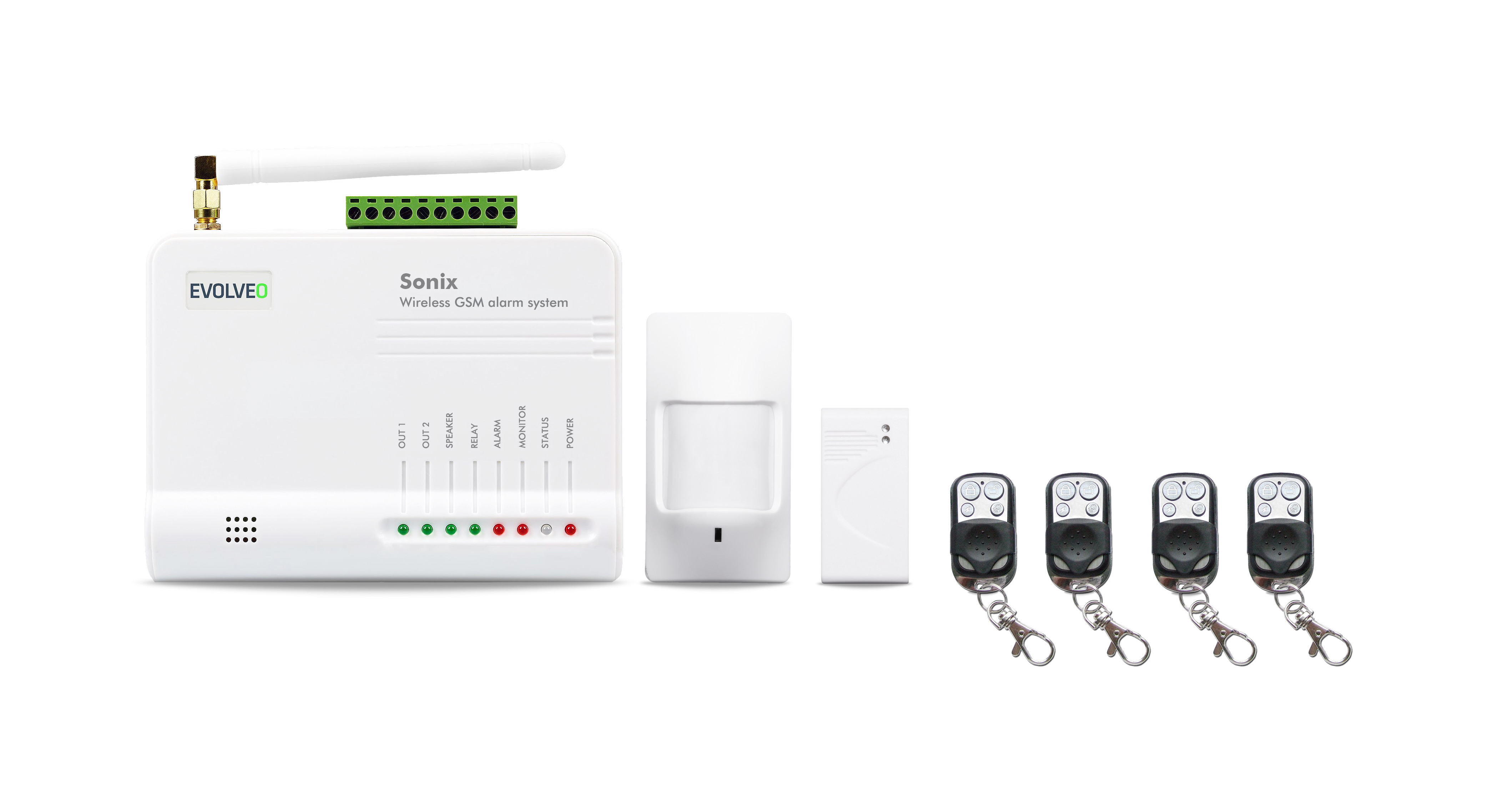 The system is supplied in a standard package with 4 high-quality metal remote controls, so that every family member can have their own.
• ideal for securing offices, homes, cottages, shops, garages, etc.
• easy installation and operation – no drilling or cables, no external contractors required
• you can select up to 5 phone numbers to receive notification texts/calls
• in the case of intrusion, the alarm and siren are activated, and you will receive texts/calls to the 5 pre-selected emergency numbers
• if you forget to turn on the alarm when leaving, you can easily do so later using your phone
• you can use any SIM card (not just from one operator)
• automatic text/call if the alarm is set off
• in the case of a power outage you will receive a text message, while an integrated accumulator will ensure approx. 6 hours of problem-free operation
• an internal microphone will allow you to hear everything happening inside your property
• supplied with an external loudspeaker, so the intruder will hear everything you say into your phone
• SOS button on the keychain remote control, siren activated/text sent in the case of an emergency (your child can easily get help if in danger, etc.)
• remote alarm switch
• you can easily add more PIR motion/door/smoke/gas sensors or sirens, etc. (up to 3 wired and 16 wireless sensors), or another keychain remote control – only EVOLVEO external sensors
• supports the activation of 2 contacts, remotely controls apliances/lights, or simulates motion on the premises (to frighten off the intruder)
• easy setting and configuration by text/call command, password protected
• main alarm unit and sensors, working at a wireless frequency of 433 MHz, are intended for indoor use
• also easily controlled using the app "EVOLVEO Sonix" on your Android or iPhone mobile
Package includes
1x – GSM alarm system, central unit controlling all sensors, setting off alarms, sirens, and emergency calls
1x – wireless PIR sensor with an integrated antenna, monitors movement in a room
1x – magnetic wireless window/door sensor with an integrated antenna, monitors entrance door or windows
4x high-quality metal keychain remote control with integrated alarm switch
1x – GSM antenna
1x – indoor mini siren 110 dB
1x – audio loudspeaker + microphone (both integrated into the main unit)
1x – power source for the central unit
1x – detailed user manual for easy setting and operation
With EVOLVEO Sonix apps, available in Google Play and the App Store, you can easily control the whole system, giving commands on the touch display of your phone. These apps are merely to improve the user-friendliness and convenience of the system, the main control feature is the metal keychain remote included in the alarm package.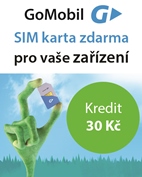 You get a free SIM card with your purchase
With your EVOLVEO Sonic alarm you get a free GoMobil SIM card prepaid with CZK 30 credit.
Be the first who will post an article to this item!
E
Sensors
EVOLVEO
How many sensors can I connect to one alarm? Thank you.
E
Sensors
EVOLVEO
Hi, you can add up to 16 wireless peripherals to the alarm, including keychains, PIR sensors, and magnetic detectors, etc.
E
GSM
EVOLVEO
Hi, what GSM network does Alarm use? Does it support 4G?
E
GSM
EVOLVEO
Hello, a 2G network is used.
E
Siren
EVOLVEO
Hi, how can I connect an outdoor siren? I couldn't find any instructions. Thanks
E
Siren
EVOLVEO
Hello, the siren's receiver connects into the alarm's screw terminal. The male connector from the receiver is plugged into the alarm, and alarm adapter into the female splitter. The alarm needs to be switched off completely if the system is to pair up after being switched on. The siren needs to be plugged in before pairing.
E
Deletion
EVOLVEO
Hello, an alarm was installed in our apartment when we bought it. How can I delete the original settings? Thank you.
E
Deletion
EVOLVEO
Hello, turn off the central unit and disconnect it from the power source. While holding the Reset button down, connect to the power source, switch the system into the ON position, and wait 5 seconds until the diodes flash. Then you can release the Reset button. The system should now be in its default setting.
E
How do you switch outputs O1–O3?
EVOLVEO
The commands for O1–O3 can be found in the code table. The outputs are LOG1 during start-up and must be connected to a transistor switch. Nothing with a power consumption larger than LOG1 can be connected directly.
E
I have an older version of Sonix. Can I upgrade to newer firmware?
EVOLVEO
New firmware is not compatible with the older versions of the device.
E
I cannot pair the external EVOLVEO ACS OTS siren with SONIX
EVOLVEO
SONIX – alternative pairing with EVOLVEO ACS OTS 1. Plug in the communicator as indicated. 2. Connect the siren to the power source. 3. Hold the K1 button down for three seconds – the red LEDs will light up. 4. Press the red button inside the external communicator – the red LEDs will flash. 5. Hold down the K1 for 3 seconds - the red LEDs will switch off. 6. Activate the alarm using the keychain – this will test the siren.
E
Cannot send text messages to Android 8.0 and the Alarmex/Sonix app.
EVOLVEO
The telephone number must be entered with the international area code +420 123456789, sometimes including the space, others not.